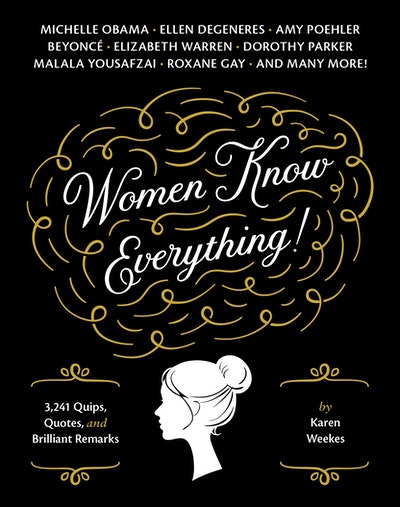 Published:

15 April 2011

ISBN:

9781594745065

Imprint:

Quirk Books

Format:

Trade Paperback

RRP:

$27.99
Women Know Everything
---
---
With more than 3,000 quotations on fashion, family, science, art, history, love, laughter, and more, this massive compilation proves once and for all that women know everything! It's full of wit, wisdom, and inspiration from a host of legendary women—everyone from Abigail Adams and Eleanor Roosevelt to Oprah Winfrey, Donna Karan, Tina Fey, Margaret Cho, Debbie Stoller, and others. Here's what they say about:
Fashion: "I base most of my fashion sense on what doesn't itch."—Gilda Radner
Men and Women: "Remember, Ginger Rogers did everything Fred Astaire did, but backward and in high heels."—Faith Whittlesey
Careers: "Some women choose to follow men, and some women choose to follow their dreams. If you're wondering which way to go, remember that your career will never wake up and tell you it doesn't love you anymore."—Lady Gaga
First published in 2007, this revised edition has been updated with a beautiful new design and an assortment of new quotations from leading luminaries—everyone from Susan Boyle to Sarah Palin. Women Know Everything! is a superb gift for thoughtful women of all ages.
Published:

15 April 2011

ISBN:

9781594745065

Imprint:

Quirk Books

Format:

Trade Paperback

RRP:

$27.99