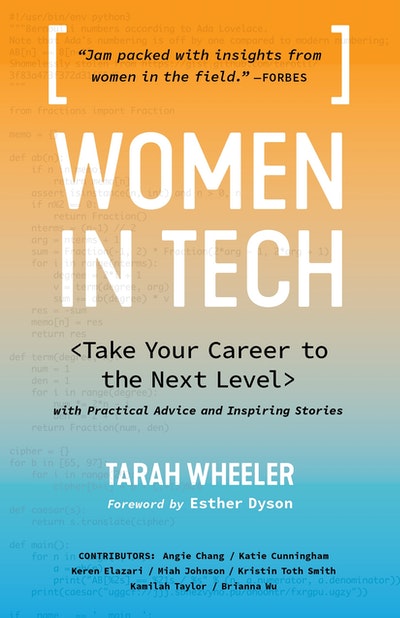 Published:

1 July 2018

ISBN:

9781632171405

Imprint:

Sasquatch

Format:

Trade Paperback

Pages:

272

RRP:

$32.99
Women in Tech
Take Your Career to the Next Level with Practical Advice and Inspiring Stories
---
---
"Jam packed with insights from women in the field," this is an invaluable career guide for the aspiring or experienced female tech professional (Forbes)
As the CEO of a startup, Tarah Wheeler is all too familiar with the challenges female tech professionals face on a daily basis. That's why she's teamed up with other high-achieving women within the field—from entrepreneurs and analysts to elite hackers and gamers—to provide a roadmap for women looking to jump-start, or further develop, their tech career.
In an effort to dismantle the unconscious social bias against women in the industry, Wheeler interviews professionals like Brianna Wu (founder, Giant Spacekat), Angie Chang (founder, Women 2.0), Keren Elazari (TED speaker and cybersecurity expert), Katie Cunningham (Python educator and developer), and Miah Johnson (senior systems administrator) about the obstacles they have overcome to do what they love. Their inspiring personal stories are interspersed with tech-focused career advice. Readers will learn:
• The secrets of salary negotiation
• The best format for tech resumes
• How to ace a tech interview
• The perks of both contracting (W-9) and salaried full-time work
• The secrets of mentorship
• How to start your own company
• And much more
BONUS CONTENT: Perfect for its audience of hackers and coders, Women in Tech also contains puzzles and codes throughout—created by Mike Selinker (Lone Shark Games), Gabby Weidling (Lone Shark Games), and cryptographer Ryan "LostboY" Clarke—that are love letters to women in the industry. A distinguished anonymous contributor created the Python code for the cover of the book, which references the mother of computer science, Ada Lovelace. Run the code to see what it does!
Published:

1 July 2018

ISBN:

9781632171405

Imprint:

Sasquatch

Format:

Trade Paperback

Pages:

272

RRP:

$32.99
"Tarah Wheeler Van Vlack is a brilliant role model. With this book, she offers something rare and wonderful--straightforward and honest guidance for women. I am often approached by women asking, 'How do I get started in tech?' I recommend reading this book for answers--I wish I'd had it when I was starting out!" — Elissa Shevinsky, editor of Lean Out: The Struggle for Gender Equality in Tech and Start-Up Culture  "The essential handbook for women in technology—engaging, practical, and inspirational, with ready-to-use advice, examples, and stories." —Library Journal "[Women in Tech] features insights from several successful female tech professionals." —LinkedIn "With contributions from hackers, gamers, analysts, and more, this is the book Game Developer Barbie would use to guide her career." —Bustle "[Women in Tech] contains advice ranging from interviews, networking and entrepreneurship, right over to developing, mentorship and the family balance. It's actually jam packed with insights from women in the field." —Forbes "Tarah Wheeler Van Vlack's recently-released book Women in Tech features contributions from badasses like Angie Chang, Katie Cunningham, Keren Elazari, Miah Johnson, Kristin Toth Smith, Brianna Wu, and Kamilah Taylor. You should definitely check out the book." —The Mary Sue "[Women in Tech] discusses salary negotiation, interviewing, and business practices. Along with practical career advice, the book includes personal stories from female tech professionals." —GeekWire "Read Tarah Wheeler Van Vlack's new book, Women in Tech, which offers both success stories and advice on leveling the playing field." —Light Reading "[Women in Tech] gives women an insider's knowledge of how to break into the tech field and earn a fair wage for their work." —Seattle Weekly "Tarah Wheeler Van Vlack, author of Women in Tech, wants to stop women from leaving tech jobs mid-career.... [Her] book offers career advice to women who are considering getting into tech, or those already in it who want to take their career to the next level. It combines workplace tips with inspiring personal stories from female tech professionals."  —Seattle magazine "[Women in Tech] has practical advice and personal stories from a variety of voices, and it covers every stage of a tech career, from applying for your first job to starting your first company. The book is lively and entertaining, and it's a vital read for any woman, non-binary, or transgender person working in technology. But even if you don't know the difference between C++ and C#, if you interact with technology-focused companies at all (or really, if you're navigating any traditionally straight-white-cis-male-dominated field), you can learn a whole lot from this book." —Bitch magazine "If you're a woman in the tech world, or are looking to join it, what's the best way to succeed? Women in Tech is one expert's answer."  —GeekGirlCon "If you're seriously considering tech as a career, this book is for you. Combining practical career advice and personal stories from successful female tech professionals, you're bound to get inspired and motivated by these amazing women."  —FabFitFun  "Tarah decided to write Women in Tech… simply because it had never been done before." —Medium "[Tarah Wheeler Van Vlack] explains the societal norms that inform [negotiations] and why women don't feel comfortable asking for more."  —Glassdoor "[Tarah Wheeler Van Vlack] juggles many important roles, which all lead back to her passion for tech." —Power to Fly "Whether you are into tech or not, Tarah Wheeler Van Vlack provides the most honest and straightforward career advices, useful for many – not only for 'Women in Tech'" —Annica Rynbeck "Both inclusive and empowering" —The Market for Computer and Video Games "[Helps] tech professionals navigate the social side of their careers." —Silicon Prairie News "With this book, [Van Vlack] sets out to buck the system, giving great advice on how women can forge their own tech career paths." —The Bellingham Herald "[Wheeler examines why] women [aren't] pursuing a degree in a lucrative sector like tech and why…the rate [is] decreasing every year." —Mountain Khabar "This book features advice from several female professionals on how to succeed in this male-dominated field." —Business Insider "Here's what you need to know [from] security researcher Tarah Wheeler." —Teen Vogue "The author is CEO of a startup and offers practical career advice and inspiring personal stories from successful female tech professionals." —Publishers Weekly "Pros share advice in this book aimed at the next generation." —Entertainment Weekly "This book is perfect for women considering getting into the tech industry or for those already in tech who want to boost their career to the next level." —Her Agenda "Women in Tech combines practical career advice and personal stories from female entrepreneurs and tech professionals to motivate, inspire, and show women what a career in the field is like and how to succeed in it." —DreamHost Blog