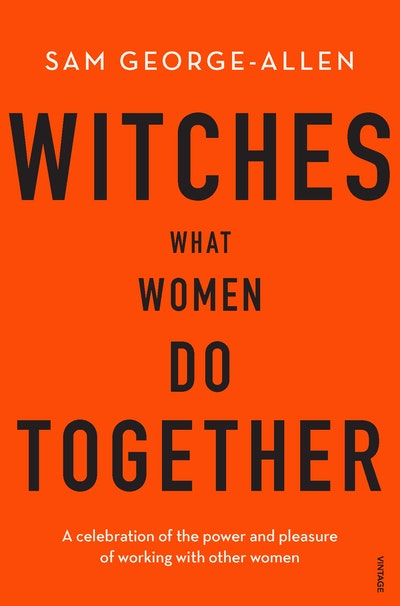 Published:

5 March 2019

ISBN:

9780143788294

Imprint:

Vintage Australia

Format:

Trade Paperback

Pages:

288

RRP:

$32.99
Witches
What Women Do Together
---
---
---
An exploration of the work women do together.
Covens. Girl bands. Ballet troupes. Convents. In all times and places, girls and women have come together in communities of vocation, of necessity, of support. And wherever women gather, magic happens. Female farmers change the way we grow our food. Online beauty communities democratise the intricacies of skincare. Teen girls invent phrases that enter the urban lexicon, and choose our next pop superstars.
Patriarchal societies have long been content to uphold men's and boys' clubs, while viewing groups that exclude men as sites of rivalry and suspicion. In this deeply personal exploration of what women make together, Sam George-Allen delves into workplaces, industries and social groups to dismantle the cultural myth of female isolation and uncover evidence that these groups are formidable.
Thoughtful, intimate, and convincing, Witches is a long-overdue celebration of the power and pleasure of working with other women.
Published:

5 March 2019

ISBN:

9780143788294

Imprint:

Vintage Australia

Format:

Trade Paperback

Pages:

288

RRP:

$32.99
Engaging . . . An uplifting celebration of women's power through communion. A quirky, wide-ranging look at women's lives.

Kirkus
Her words are carefully chosen to compellingly describe women's experiences. These words are funny and kind; they are also angry, incredulous, demanding, smart, harsh, gentle, and complicated. Simply put, the stories she paints with these words are as multifaceted as the women she describes, just as women actually are.

Booklist (starred review)
It's this emphasis on the lived experiences and words of her subjects, above her authorial interpretation of their lives, that makes Witches such an honest and considered collection of thoughts on girl- and womanhood. While it takes into account the lived experiences of many kinds of women, it never offers one fixed definition of what it is to be a woman. Instead, it highlights the endless possibilities of what women can achieve by boosting each other up.

Ellen Cregan, Kill Your Darlings
The West has a history of discrediting feminine knowledge. In exploring different communities of women, George-Allen offers a sense of collaboration – she doesn't keep her interview subjects as just subjects, she also lets them tell their own stories; when she writes outside her own experience, she literally collaborates with her subjects, giving them space to write in their own words. Witches honours the heritage of the women who have come before us and those still fighting for equality today. George-Allen represents girlhood as something multi-faceted that isn't easily defined, but shows how the power of women working together is magic.

Cindy Morris, Readings Carlton
Witches uses interviews, historical research and critical theory to tell the stories of 13 distinct sets of women. [George-Allen's] book shines a great light on women and the work they do that so often gets trivialised or goes unnoticed. It's a thoroughly researched and thoughtfully written study. Witches also articulates an intimate self-appraisal of the author's own experiences and beliefs – her feelings towards childbirth, her feelings about religion – and she doesn't shy away from interrogating those feelings.

Catie McLeod, The Sydney Morning Herald
As I read Witches by Sam George-Allen, I couldn't stop enthusiastically nodding my head. This is an engrossing book that looks at women on the fringes of society – the ones who don't fit into neat and tidy concepts of what womanhood means. Reading this book feels like having a great conversation with a close friend about feminism, and how we can best boost each other up.

Ellen Cregan, Readings blog
George-Allen uses Witches to make space for other women to speak – and to highlight that her own narrative only comes into being by virtue of its connections to the narratives of other women. This happens as she interviews and incorporates the responses of an array of Australian women from different cultural backgrounds, careers, generations and geographical spaces into each chapter she writes. She uses real names, she quotes directly, and she paraphrases with care.

Madeleine Gray, Sydney Review of Books
Article
Article