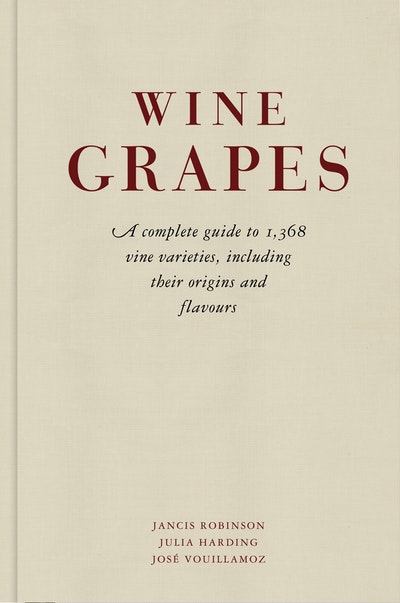 Published:

3 October 2012

ISBN:

9781846144462

Imprint:

Allen Lane

Format:

Hardback

Pages:

1280

RRP:

$400.00
Wine Grapes
A complete guide to 1,368 vine varieties, including their origins and flavours
---
---
An indispensable book for every wine lover from some of of the world's greatest wine experts.
An indispensable book for every wine lover, from some of the world's greatest experts.
Where do wine grapes come from and how are they related to each other? What is the historical background of each grape variety? Where are they grown? What sort of wines do they make and, most importantly, what do they taste like?
Using the most cutting-edge DNA analysis and detailing almost 1,400 distinct grape varieties, as well as myriad correct (and highlighting almost as many incorrect) synonyms, this particularly beautiful book includes revelatory grape family trees, and a rich variety of illustrations from Viala and Vermorel's seminal ampelography with century-old illustrations. Combining Jancis Robinson's world view, nose for good writing and good wines with Julia Harding's expertise and attention to detail plus Dr Vouillamoz's unique level of scholarship, Wine Grapes offers essential and original information in greater depth and breadth than has ever been available before. A book for wine students, wine experts and wine lovers everywhere.
Published:

3 October 2012

ISBN:

9781846144462

Imprint:

Allen Lane

Format:

Hardback

Pages:

1280

RRP:

$400.00
This thousand-plus-page monument combines 21st-century science with the ambition, scale and authority of 19th-century scholarship. It may be the nerdiest wine book ever published (and, trust me, that's a competitive title) but it's also a work of astounding scholarship, and as a piece of book-making, is an outright masterpiece

John Lanchester, Guardian, Books of the Year 2012
Features extraordinarily detailed profiles of close to 1,400 vine varieties employed in the production of wine around the world ... I learned a huge amount ... What struck me most, though, was how engaging and passionate it was. This wasn't a dry cataloguing of grapes, a microscopic look at their DNA; this was a heartfelt exploration of wine history.

Max Allen [Australia's best-known wine writer], Weekend Australian
This book is a thing of beauty - classic, well written and splendidly illustrated - and will be a point of reference for decades to come. With Christmas coming it may well be worth considering as a present for those wine enthusiasts amongst your friends and family. I am going to put it on my list when I write to Santa that's for sure!

Bordeaux Undiscovered
A fantastic Christmas present for any wine geek, and one that will provide an endless source of fiendish questions for quiz-setters

Fiona Beckett, Guardian
A magnificent achievement: colossally informative, illuminating and intriguing

Andrew Jefford, Decanter.com
A phenomenal book in its detail and research ... the definitive guide to grape varieties ... an incredible piece of work, detailing 1,368 varieties (out of a possible 10,000 worldwide) with 80 beautiful colour plates - essential for all wine students, wine lovers, wine growers keen to experiment with new grapes - and anyone with a passing interest in grapes

Rose Murray Brown, The Scotsman
This has got to be the wine reference book to top all such guides

S Irene Virbila, Los Angeles Times
Definitely the WINE BOOK of the decade, if not the century!

Wine Appreciation Guild, San Francisco
Even for the already knowledgeable and deeply well versed, the book offers countless new discoveries, surprises about grapes' true origins and kinships, and a plethora of varieties you've never even heard of

Michel Jamais, LivetsGoda.se
It is almost bible-like, which is perhaps quite fitting. I found the overall appearance quite beautiful. I was especially pleased to see many varieties have a description of the taste of their wines. From a drinker's perspective this must be the most important information

Steve Slatcher, Winenous.co.uk
Wine Grapes sets a new standard; it is a seminal new work

Joelle Thomson, Dominion Post and Christchurch Press
Oenophiles, you have here the ideal book to give others (and yourself!) this Christmas

Victor Franco, Polakia.com
Every wine lover MUST have this on their shelves

René Langdahl Jørgensen, Gastro.dk
Amazingly informative and insightful ... Wine Grapes is an essential reference that belongs on every wine lover's bookshelf, right up there next to The World Atlas of Wine. One of the biggest pleasures of wine is its diversity. Wine Grapes will inspire you to stick your nose and tongue into new aromas and flavors

Elin McCoy, Business Week/Bloomberg.com
There have been books on grapes before, but we were badly in need of a bang up-to-date properly researched book, and we indeed have it in the new Wine Grapes. To me it is already indispensable ... I can already see that this big fat book is a fabulous resource and essential for all serious wine lovers to own

Wink Lorch, Winetravelmedia.com
Wine Grapes is an invaluable resource destined to find a fascinated, albeit niche, audience

Anthony Rose, anthonyrosewine.com
What seemed at first like a prim reference tome to crack when I needed to sort out the 13 different varieties of Lambrusco has a more compelling mystery underneath ... The thoroughness (Listán Negro and Listán Prieto? Not the same thing, Canary Island fans) is matched by a sense of purpose, mostly because equal space is devoted to the esoteric (Grillo, Menu Pineau, Parellada) as to the obvious ... Along the way, it nullifies most simple homilies that litter the world of wine, instead offering a more complicated and interesting tale, one that reinforces wine as one of history's great culturing forces

Jon Bonné, San Francisco Chronicle
It is very rare for me to buy a wine book but I had no hesitation in buying it from Amazon for £78, and cheap for this amount of scholarship and research

Jim Budd, editor, Circle [of Wine Writers] Update
The ultimate reference work on wine grapes

LeVinPerdu.be
I am impressed by the depth of scientifically justified and clearly formulated answers to a wide range of origin-related questions ... Wine Grapes gains an extra dimension for its attention to the diversity of grape-names ... With this book Jancis Robinson and her team have not only enriched our genetic knowledge of grape varieties, but also made it accessible to all wine enthusiasts who would like to know more about their names, ancestors and characteristics ... The most important wine book since The Oxford Companion to Wine has arrived, and with it Jancis Robinson has universally established her name as wine educator

John Bindels, Wijnwijs.eu
It will undoubtedly race to its place ahead of the few other 'must stock' books in any serious winey-person's library ... the book genuinely breaks new ground, which is (a) quite rare for wine books, and (b) always a joy to fact-nerds like myself. Its main premise is to genetically trace the origins and ancestors of these grape varieties, and there are some surprises here

Sally Easton MW, Winewisdom.com
The most important wine book in years ... I am presented with a tome that will garner my attention for the rest of my life, make me smarter and give me pause to reconsider every time I imagine I might have done something of significance ... this book could easily pass for any writer's proudest moment, the culmination of a life's work

Tom Wark, Fermentation
Wine Grapes - the new book from the @JancisRobinson team - incredible! Staggered by the detail. Seminal work, am speechless, thank you

Ronan Sayburn MS
In 'Abbuoto to Zweigelt' describes the book as one 'that I think any wine-lover would want to own'

Fiona Beckett, Guardian
An extraordinary new book ... an impressive new encyclopedic doorstop

Eric Asimov, New York Times
Some things you know you just have to have ... What a book!

Actor Sam Neill @ TwoPaddocks
[the] book is for me a sine qua Doon

Randall Grahm, Bonny Doon Vinyard
The most important event of the century so far... In its way this book is the equivalent to Diderot's Encyclopedie, Johnson's Dictionary or Grove's Dictionary of Music and Musicians.

Robert Slotover, Slotovino
...a beautiful object and a work of scholarship... an essential Christmas present for wine lovers

Henry Jeffreys, The Lady
The grape book to end all grape books

Joanna Simon, House & Garden
The only important new standard work of recent times; revolutionary!

Stuart Pigott
Despite its density, a page-turner... An epic book

Talia Baiocchi, Eater.com
In short, if you are only going to have one wine grape book, then this is it

Mark Greenaway, Vinodiversity.com
Setting aside the book's beauty and reference value, there's a lot of good reading here... Wine Grapes is awesome, a reference that anyone interested in wine, botany, culture and history should have on hand

Tara Q. Thomas, Wine & Spirits: BEST BOOK OF 2012
According to Wine Grapes, the Pinot family, Noir, Meunier, Gris and Blanc, are genetically identical. In fact more than one type of Pinot has been found in the same vine. It's one of the things I love most about wine is that just when you think you've grasped something, it slips out of your grasp. Buy this amazing work of scholarship and you'll realise quite how little you know.

Henry Jeffreys, Henry's World of Booze
The most complete guide ever to grapes, vines and the bottles they produce. A wine buff's bible

Sunday Telegraph, Stella magazine
A masterly work ... not only timely, but overdue ... a must-have

Eric Asimov, New York Times
Graced with lavish color plates depicting dozens of important grape varieties, this trusty encyclopedia will inspire novel wine match-ups for favorite recipes and settle wine trivia debates around the dinner table. History buffs, like your reviewer, will absolutely love how the book examines the earliest written references to their favorite grapes; for example we learn that Cabernet grapes trace back to ancient Basque varieties in northeast Spain; who knew!

David Lincoln Ross, Saveur
For anyone serious about wine, this is an endlessly fascinating volume - and a beautifully designed one too

Andrew Neather, Evening Standard
The most magnum of magna opera ... with the authoritative text and lovely illustrations reminiscent of a great, scholarly botanical book of the 19th century with its full colour plates ... a timeless classic

Wine-Pages.com
Best Wine, Beer and Spirits Book and winner of the Jane Grigson award

IACP (International Association of Culinary Professionals) Awards 2014
A wine book of the year, 2013

The Times
Faiveley International Wine Book of the Year 2013

Roederer Awards
Best Viticulture Book 2013

OIV Awards
Best Drink Book 2012

Fortnum & Mason Food and Drink Awards
Best Beverage Book 2012

James Beard Awards
Best Drink Book 2012

André Simon Awards
Hall of Fame for Best Wine Book 2012

Gourmand World Cookbook Awards
Best Drinks Book 2012

Wine & Spirits magazine