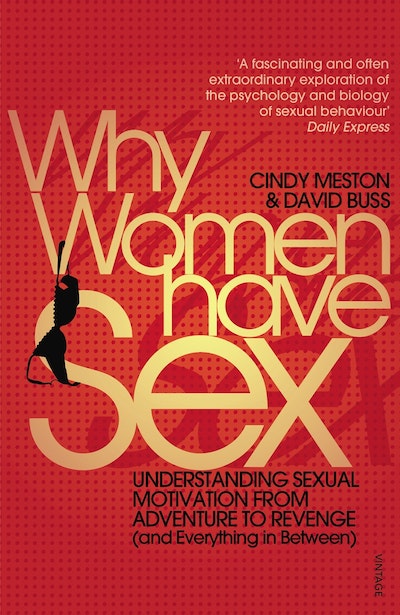 Published:

15 October 2010

ISBN:

9780099546634

Imprint:

Vintage

Format:

Paperback

Pages:

336

RRP:

$22.99
Why Women Have Sex
Understanding Sexual Motivation from Adventure to Revenge (and Everything in Between)
---
---
---
Why Women Have Sex is a fascinating exploration of the mysteries underlying women's sexuality that rivals the culture-shifting Kinsey Report.
Why do women have sex? Is it purely for pleasure or the desire to reproduce?
In their ground-breaking book, clinical psychologist Cindy Meston and evolutionary psychologist David Buss investigate the underlying sexual desires of women and identify 237 distinct motivations for sex. Drawing on more than a thousand intensive interviews conducted solely for the book, as well as their pioneering research on physiological response and evolutionary emotions, Meston and Buss give us a remarkably complex and nuanced portrait of female sexuality. They explore the use of sex as a defensive tactic against a man's infidelity (protection), as a ploy to boost self-confidence (status), as a barter for gifts (resource acquisition), or even as a cure for a headache (medication).
Why Women Have Sex explores the deep-seated psychology and biology of female sexuality, and promises to inform every woman's – and her partner's – awareness of her relationship to sex and her own sexuality.
Published:

15 October 2010

ISBN:

9780099546634

Imprint:

Vintage

Format:

Paperback

Pages:

336

RRP:

$22.99
Praise for Why Women Have Sex
A fascinating and often extraordinary exploration of the psychology and biology of sexual behaviour

Daily Express
A readable, brutal analysis of how your brain chooses partners for you

Evening Standard
Why Women Have Sex is a fascinating tour of what psychology and biology can tell us about women's sexual motivation. Meston and Buss are first-rate scientists and skilled writers who actually answer the question that everyone was afraid to ask.

Daniel Gilbert, author of Stumbling on Happiness
Why Women Have Sex is an endlessly well informed and irresistibly readable book...the most fascinating and illuminating look at female sexuality since Kinsey's Sexual Behaviour in the Human Female.

Mary Roach, author of Bonk: The Curious Coupling of Science and Sex
one of the best books I've ever read on human sexuality...fascinating

William Leith, Evening Standard
undeniably fascinating

Holly Kyte, Sunday Telegraph
The most thorough taxonomy of sexual motivation ever compiled.

John Tierney, The New York Times