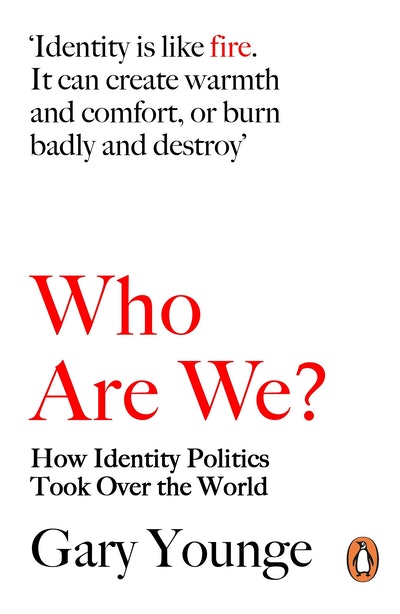 Published:

5 January 2021

ISBN:

9780141029948

Imprint:

Penguin General UK

Format:

Paperback

Pages:

256

RRP:

$24.99
Who Are We?
How Identity Politics Took Over the World
---
---
---
A punchy, witty and provocative look at contemporary ideas of identity and why we are all obsessed with nationality, race and religion.
The way we think and live, who we vote for and who we fear, has become ever more dictated by our personal identity. In his ground-breaking book, Gary Younge argues that we have recoiled into refuges of race or class, religion or national identity to survive in a state seemingly indifferent to our lives. Ranging from his Stevenage childhood to present day America, from the borders of Europe to division in South Africa, Younge explores the issues that bind the powerful elite and the poor immigrant, the fundamentalist and the conservative. In this powerful dissection of modern society Gary Younge challenges us not to succumb to what divides us, but through solidarity to search for a common - and higher - ground.
Published:

5 January 2021

ISBN:

9780141029948

Imprint:

Penguin General UK

Format:

Paperback

Pages:

256

RRP:

$24.99
An indispensable guide to "identity" in politics, and a terrific read!

Margaret Atwood
Deals intensely and critically with urgent questions facing a globalized world

The Times
An absorbing and thoughtful discussion of identity

Financial Times
Penetrating and provocative

Sarfraz Manzoor
With brilliant clarity, Gary Younge carefully guides us through a political minefield

Andrea Levy
Penetrating and provocative

Sarfraz Manzoor
An indispensable guide to "identity" in politics, and a terrific read!

Margaret Atwood
Deals intensely and critically with urgent questions facing a globalized world

The Times
An absorbing and thoughtful discussion of identity

Financial Times
With brilliant clarity, Gary Younge carefully guides us through a political minefield

Andrea Levy