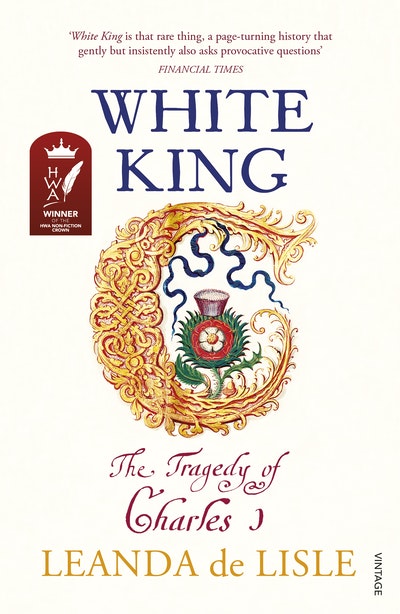 Published:

22 January 2019

ISBN:

9780099555278

Imprint:

Vintage

Format:

Paperback

Pages:

432

RRP:

$22.99
White King
Charles I, Traitor, Murderer, Martyr
---
---
---
The first accessible biography in 50 years of one of the most dramatic and bloody reigns in history
The subject of a BBC TV series on Charles I
The prize-winning biography of Charles I
* Winner of the HWA Crown for Best Work of Historical Non-Fiction 2018 *
* Times Book of the Year *
* Shortlisted for the Catholic Herald Biography Award 2019 *
Less than forty years after the golden age of Elizabeth I, England was at war with itself. At the head of this disintegrating kingdom was Charles I, who would change the face of the monarchy for ever.
His reign is one of the most dramatic in history, yet Charles the man remains elusive. To his enemies he was the 'white tyrant of prophecy: to his supporters a murdered innocent. Today many myths still remain.
It is an epic story of glamour and strong women, of populist politicians and religious terror, of mass movements and a revolutionary new media: one that speaks to our own divided and dangerous times.
'This is the most gripping piece of revisionist history I have read for a long time' - The Spectator
Published:

22 January 2019

ISBN:

9780099555278

Imprint:

Vintage

Format:

Paperback

Pages:

432

RRP:

$22.99
Leanda de Lisle has approached one of the great icons of history with understanding and compassion. She takes her readers through the twists and turns of the English Civil war so that they understand the enormity of the regicide and the foolishness and courage of the king

Philippa Gregory
Charles I has long eluded even the most scholarly of biographers; his personal contradictions, attractive qualities and ludicrous blunders require a writer of rare talent to let us appreciate the long-hidden character of the king... very well-researched and beautifully written

Andrew Roberts
Charles I has always received bad press. veteran British historian de Lisle delivers a more generous portrait. De Lisle's parliamentarians are an irascible group, resembling not so much freedom fighters as the tea party; on the other hand, the author's Charles often seems the voice of reason. Recent elections in Britain and the United States have produced surprisingly dysfunctional governments. De Lisle's fine, revisionist view of Charles may arouse nostalgia for a time when national leaders, elected or not, looked out for the nonzealous majority

Kirkus Reviews
A splendidly colourful read ... an enthralling and resonant story of populist politicians, and religious war, and the reshaping of nations

Bookseller
Excellent -- clear, fair, sympathetic and detailed

Alan Massie, Wall Street Journal
Formidable... with remarkable clarity she unpicks the tangle of religious, political and economic conflicts that led to the Civil War... De Lisle draws on little-known and in some cases previously unrecorded letters to explore the important part that women played in Charles's story... This is not a story of a weakling or a villain: it's the tragedy of the right man in the wrong place in history

Andrew Taylor, The Times
A riveting study that casts [Charles] as a blinkered idealist, and draws on previously unpublished royal letters that restore the humanity of his despised queen, Henrietta Maria

Daily Telegraph
As Leanda de Lisle demonstrates with great skill, there was nothing inevitable about the Civil War - still less about the king's beheading

Noel Malcolm, Sunday Telegraph
De Lisle effortlessly carries the reader along with her as she recreates the tragedy of Charles I and the Civil War. Her book is beautifully constructed, telling the story chronologically with a nice eye for detail, illuminating each period and major character by vivid tableau, but with plenty of analysis... This is the most gripping piece of revisionist history I have read for a long time

Desmond Seward, Spectator
Engaging and well-written

Tracy Borman, Sunday Times
A revelation... White King is that rare thing, a page-turning history that gently but insistently also asks provocative questions about a period on which our opinions have been all too fixed. Charles does not emerge with his reputation restored, but he emerges whole

Mathew Lyons, Financial Times
Engaging, well-researched and beautifully written... Emphatically not another book about the civil wars, this instead offers a nuanced and detailed examination of one of our most complex monarchs. It is probably the definitive modern work about Charles I

Alexander Larman, Observer
Britain's Stuart monarchs have long been overlooked in favour of their more flashy Tudor counterparts, but in White King Leanda de Lisle offers a case for Charles I being one of history's most compelling rulers... [a] revelatory account of Charles's unstable and ultimately tragic reign

Radio Times
De Lisle, who has long been an original voice in popular Tudor studies, is generous to Charles, but too sharp a reader of evidence to ignore his flaws... Pellucid, compelling and enriched by fresh evidence... Sympathetic but scrupulous to the last

Jessie Childs, Sunday Telegraph
Humane and scholarly... De Lisle's deeply and originally researched book brings Charles alive not in kingly isolation but as a father and a husband. Both biography and subject deserve our fullest attention

Dan Jones, Mail on Sunday
Elegantly written... the book proceeds at a cracking pace as the king's tragedy unfolds... Leanda de Lisle's splendid book is a timely reminder of the fascination of this turbulent period

Linda Porter, History Today
Fascinating

Andrew Marr, Evening Standard
Leanda de Lisle's very readable new biography of the king reveals the twisting path through love, politics and war that led him to his ultimate desintation

Nick Rennison, Daily Mail
Impeccably researched and thought provoking... It revives one of this country's greatest stories: a blinkered king, a warrior queen, a war that turned brother against brother and scandals caused by money, sex, espionage and power

Gareth Russell, Daily Express
Uses newly revealed letters and manuscripts to inform a new portrait of Charles I

Choice Magazine
An impeccably researched and thought-provoking biography which reads as well as a fine novel... It also revives one of this country's greatest stories: a blinkered king, a warrior queen, a war that turned brother against brother and scandals caused by money, sex, espionage and power, woven together in the life of this extraordinary but flawed king

Gareth Russell, Daily Express
A grand tragedy related with searing pathos

Good Housekeeping
This book's fascination is as a joint portrait of the royal couple, the most human of historical actors in England's greatest political drama.

Rebecca Fraser, The Tablet
A highly intelligent, fair and sympathetic biography.

Allan Massie, The Catholic Herald
[ An] absorbing biography of Charles I

The Telegraph
As the axe falls, do we see into the White King's heart? Do we understand him better? I think we do. Leanda de Lisle's gripping and well-told story is of a king swept along by events, mastered by them

Adrian Tinniswood, Literary Review
This is a striking insight into both developing contemporary thought and religious controversies

Terry Philpot, The Tablet, **Books of the Year**
White King is a lively attempt to make him [Charles I] flesh and blood

Robbie Millen, The Times, **Books of the Year**