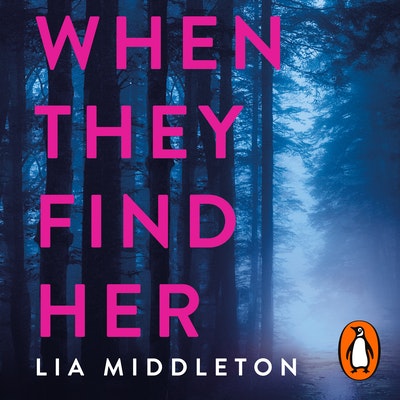 Published:

25 March 2021

ISBN:

9781405948197

Imprint:

Penguin Audio

Format:

Audio Download

RRP:

$26.00
When They Find Her
The gripping new thriller that will take your breath away
---
---
---
A haunting, emotional and nerve-shredding debut about a desperate mother, a tragic accident, and a terrible lie which spirals out of control.
Naomi always wanted to be a mother.
But a year ago, she made a dreadful mistake, and lost custody of her only child.
Now, her daughter has come to stay, and Naomi knows it's her one chance to re-build her family. But the night ends in a terrible accident. And Naomi tells a lie she can never take back:
She reports her daughter missing.
Within hours, her home is invaded. Journalists crowd the driveway. Police search the woods at the foot of the garden. Her ex-husband paces the hall.
And Naomi can't look away. Because the only thing worse than the lie she's told is the truth:
Naomi has no memory of what really happened that night...
Published:

25 March 2021

ISBN:

9781405948197

Imprint:

Penguin Audio

Format:

Audio Download

RRP:

$26.00
Praise for When They Find Her
A twisty tale of parental love and a lie with terrible consequences. Dark, intense and so compelling that I read it in a single sitting

Allie Reynolds, author of <i>Shiver</i>
A brave and suspenseful debut that had me turning pages deep into the early hours. Truly superb

Katie Lowe, author of <i>The Furies</i>
Utterly gripping . . . I could not put it down

Fíona Scarlett, author of <i>Boys Don't Cry</i>
Uncomfortable and compelling - a story which is truly the stuff of nightmares. Couldn't put it down

Catherine Cooper, <i>Sunday Times</i> bestselling author of <i>The Chalet</i>
Superb debut thriller - assured, elegant and utterly gripping. EXCELLENT

Will Dean, author of <i>The Last Thing to Burn</i>
Brilliantly written ... I felt every single emotion and was immediately swept up into the story. I'll be recommending it to everyone I know

Sarah Pearse, author of <i>The Sanatorium</i>
A tense and claustrophobic rollercoaster

Nina Manning, author of <i>The Daughter in Law</i>
It's been a long time since I've stayed up late to finish a book. When They Find Her is not only utterly gripping but also a sensitive and moving portrayal of parental love. Middleton's astute writing made me feel as though I was there was Naomi in her every moment of tension

Neema Shah, author of <i>Kololo Hill</i>
Nail-biting ... some truly fabulous unexpected turns make this an altogether gripping and provocative read

Rebecca Kelly, author of <i>Monstrous Souls</i>
A brilliant concept that pulled me straight into the story and kept me hooked to the end

Nikki Smith, author of <i>All in Her Head</i>
An unnerving and gripping thriller in which a split-second choice plunges the protagonist Naomi into a web of terror and lies. Deftly written and chillingly plausible ... a bold, compelling and clever debut

Philippa East, author of <i>Little White Lies</i>
Claustrophobic, intense, unsettling and drags you into the story ... Unbelievably exciting

Roxie Cooper, author of <i>The Day We Met</i>
An unforgettable debut with a truly chilling opening chapter that hooks you in and doesn't let go. Clever, compelling, pacy and powerful

Diane Jeffrey, author of <i>The Silent Friend</i>
Had me hooked from the first page ... a gripping and twisty story of grief, fear and the fierce bond of motherhood

Claire Allan, author of <i>Her Name Was Rose</i>
When They Find Her opens with an unthinkable wallop to the heart, and takes off racing from there through a perfectly crafted, tightly written, deeply emotional story that taps into the most uncomfortable fears of motherhood and marriage. A stand-out psychological thriller with heart.

Ashley Audrain, <i>Sunday Times</i> bestselling author of <The Push</i>
'Nightmarish, dark and twisty, I galloped to end. A domestic psychological drama with polish'

Sophie Draper, author of <i>Cuckoo</i>
The barrister background of this writer makes the police and court procedural parts of this story particularly powerful . . . Middleton has a lawyer's keen eye for telling detail but the real strength of the story comes from the convincing depiction of a mother's love . . . a promising debut from a new voice

Daily Mail
A really gripping read that will make you stay up late to finish it

Heat
Full of suspense

Yours Magazine