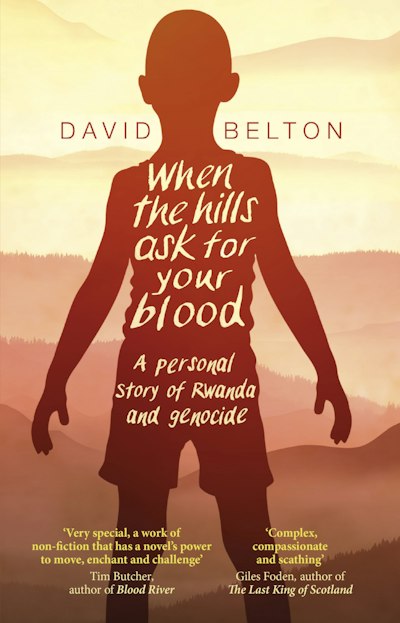 Published:

16 January 2014

ISBN:

9781446423783

Imprint:

Transworld Digital

Format:

EBook

Pages:

352
When The Hills Ask For Your Blood: A Personal Story of Genocide and Rwanda
---
---
---
A moving, personal account of the Rwandan genocide by the co-writer of SHOOTING DOGS, and an introduction to Vjeko Curic, a modern-day Schindler who saved an estimated 5,000 lives.
'Tremendous. A moving and haunting tribute to the human spirit' WILLIAM BOYD
Into the heart of a genocide that left a million people dead
6 April 1994: In the skies above Rwanda the president's plane is shot down in flames.
Near Kigali, Jean-Pierre holds his family close, fearing for their lives as the violence escalates.
In the chapel of a hillside village, missionary priest Vjeko Curic prepares to save thousands of lives
The mass slaughter that follows - friends against friends, neighbours against neighbours - is one of the bloodiest chapters in history

Twenty years on, BBC Newsnight producer David Belton, one of the first journalists into Rwanda, tells of the horrors he experienced at first-hand. Now following the threads of Jean-Pierre and Vjeko Curic's stories, he revisits a country still marked with blood, in search of those who survived and the legacy of those who did not. This is David Belton's quest for the limits of bravery and forgiveness.
Published:

16 January 2014

ISBN:

9781446423783

Imprint:

Transworld Digital

Format:

EBook

Pages:

352
Praise for When The Hills Ask For Your Blood: A Personal Story of Genocide and Rwanda
David Belton has written something very special, a work of non-fiction that has a novel's power to move, enchant and challenge. This elegantly-written book is much more than a history, a work of lyrical beauty that will stand as a memorial not just for those who died in the genocide but to those of us who struggle to make a difference.

Tim Butcher, author of BLOOD RIVER
Belton excavates the truth and layers the political, social and military dimensions of the conflict onto three peoples' stories, to produce a book that is both illuminating and profoundly moving.

Aminatta Forna, Independent
Brings the story right up to date, confronting the dilemmas and tensions that lie not far below the surface ...

Observer
Complex, compassionate and scathing. Much of the writing . has a literary power that lifts it above normal journalistic or non-fiction practice: Jean-Pierre's confinement in his mud-walled hole has shades of Beckett, and both Odette and Curic seem like Brechtian heroes.

Giles Foden
Extraordinary. Lays bare the unspeakable with calm and human clarity. Remarkable.

Emma Thompson
Through the lives of several individuals, David Belton movingly evokes the terror and tragedy of the Rwandan genocide. As one of the all-too-rare journalists who don't merely cover such a story and move on, he also shows how its after effects have reverberated over the years since then. This is a fine and deeply affecting book.

Adam Hochschild
Genocide on the scale of Rwanda is such an enormous crime it can seem too daunting to comprehend. David Belton is a masterful guide through that darkness, revealing how a society turns on itself in a deeply moving account of terror, endurance, complicity and what it means to survive.

Chris McGreal
Weaving his story skilfully around the narratives of three main characters - a priest, a mother, a husband - David Belton tells the intimate story of the Rwandan genocide. The human experience that lies behind the statistics is both searing and heart-lifting, Belton draws it out with both empathy and grace.

Michela Wrong, author of IN THE FOOTSTEPS OF MR KURTZ. LIVING ON THE BRINK OF DISASTER IN MOBUTU'S CONGO.
Searing, compelling and refreshingly devoid of the hyperbole of war-reporting . . . This is an important reminder of the culpability of so many - including the West for averting its gaze. It also serves as a potent warning of the fragility of humanity.

Alex Russell, Financial Times
Tremendous. A moving and haunting tribute to the human spirit

WILLIAM BOYD