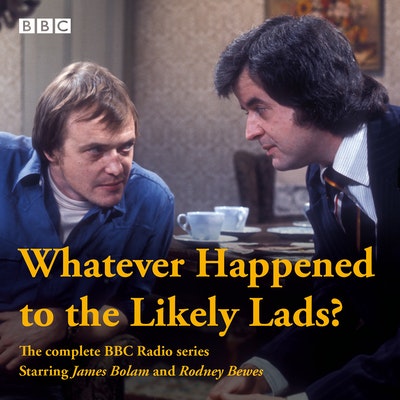 Published:

15 December 2017

ISBN:

9781785298899

Imprint:

BBC CD

Format:

Audio CD

Length:

5 hr 50 min

Narrator:

Rodney Bewes, James Bolam

RRP:

$49.99
Whatever Happened to the Likely Lads?
Complete BBC Radio Series
---
---
---
Available for the first time for the trade in a complete collection. The BBC Radio version of the classic sitcom, starring Rodney Bewes and James Bolam
Thirteen classic BBC radio episodes, starring James Bolam and Rodney Bewes
One of the most popular TV comedies of the Seventies, Whatever Happened to the Likely Lads? won a best sitcom BAFTA and attracted an audience of millions before being adapted for radio.
In these 13 episodes, we catch up with Newcastle lads Bob and Terry as they meet by chance after years apart. Now engaged to Thelma, Bob is having pre-wedding nerves; while Terry, demobbed from the Army, is having trouble adjusting to life in civvy street. As they rekindle their friendship, Bob tries to find Terry a date, throws him a surprise party and takes him to the hairdressers to get a new look. In addition, Terry gets some shock news, and helps Bob get ready for his and Thelma's big day…
Originally lost from the BBC archive, the audio for many of these episodes was recovered by producer Stan Was, the BBC's Archive Treasure Hunt, and a listener to BBC7.
The episodes included are Strangers on a Train, Home is the Hero, Cold Feet, Moving On, I'll Never Forget Whatshername, Birthday Boy, No Hiding Place, Guess Who's Coming to Dinner?, Storm in a Tea Chest, The Old Magic, Count Down, Boys' Night In and End of an Era.Duration: 6 hours 30 mins
Published:

15 December 2017

ISBN:

9781785298899

Imprint:

BBC CD

Format:

Audio CD

Length:

5 hr 50 min

Narrator:

Rodney Bewes, James Bolam

RRP:

$49.99