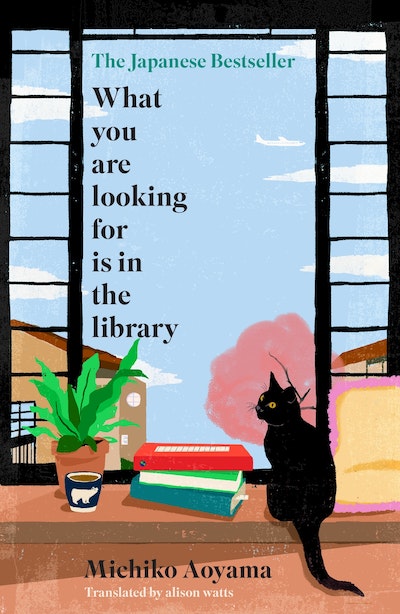 Published:

8 August 2023

ISBN:

9780857529121

Imprint:

Doubleday

Format:

Hardback

Pages:

256

RRP:

$32.99
What You Are Looking for is in the Library
The uplifting Japanese fiction bestseller
---
---
---
Inspirational and heartwarming, this bestselling nominee of the Japan Booksellers' Prize is a celebration of community libraries and the life-changing power of book recommendation.
***THE FAVOURITE CHRISTMAS GIFT FOR ALL BOOK-LOVERS***
A Time Magazine Top 100 Best Book of the year
'I ADORED this uplifting, hopeful novel ' Daily Mail
'It made me laugh and cry and feel comforted' 5***** Reader review
'A tribute to the transformative power of books and libraries' Irish Times
Already loved by thousands of readers, an inspirational tale of the love, comfort and growth you can find in the pages of a good book.
_________________
What are you looking for?
So asks Tokyo's most enigmatic librarian, Sayuri Komachi.
But she is no ordinary librarian.
Sensing exactly what someone is searching for in life, she provides just the book recommendation to help them find it.
We meet five visitors to the library, each at a different crossroads:
- The restless retail assistant eager to pick up new skills
- The mother faced with a demotion at work after maternity leave
- The conscientious accountant who yearns to open an antique store
- The gifted young manga artist in search of motivation
- The recently retired salaryman on a quest for newfound purpose
Can she help them find what they are looking for?
Which book will you recommend?
_________________
THE TIMES BESTSELLER
A Time Magazine Top 100 Must-read 2023
'An undeniable page-turner' New York Times
For fans of The Midnight Library and Before the Coffee Gets Cold, this feel-good Japanese book shows how the perfect book recommendation can change a life.
SHORTLISTED FOR THE JAPAN BOOKSELLERS' AWARD
'I definitely want to visit this library. I feel kinder after this book' 5***** Reader review
'A quirky slice of feel-good fiction that you could recommend to anyone' Mail on Sunday
'Wonderful. It made me look for connection in my life' 5***** Reader review
Published:

8 August 2023

ISBN:

9780857529121

Imprint:

Doubleday

Format:

Hardback

Pages:

256

RRP:

$32.99
Praise for What You Are Looking for is in the Library
I ADORED this uplifting, hopeful novel ... A joy from start to finish, this book makes you feel anything is possible

Wendy Holden, Daily Mail
I ADORED this uplifting, hopeful novel ... A joy from start to finish, this book makes you feel anything is possible

Wendy Holden, Daily Mail
I ADORED this uplifting, hopeful novel ... A joy from start to finish, this book makes you feel anything is possible

Wendy Holden, Daily Mail
I ADORED this uplifting, hopeful novel ... A joy from start to finish, this book makes you feel anything is possible

Wendy Holden, Daily Mail
I ADORED this uplifting, hopeful novel ... A joy from start to finish, this book makes you feel anything is possible

Wendy Holden, Daily Mail
I ADORED this uplifting, hopeful novel ... A joy from start to finish, this book makes you feel anything is possible

Wendy Holden, Daily Mail
I ADORED this uplifting, hopeful novel ... A joy from start to finish, this book makes you feel anything is possible

Wendy Holden, Daily Mail
I ADORED this uplifting, hopeful novel ... A joy from start to finish, this book makes you feel anything is possible

Wendy Holden, Daily Mail
I ADORED this uplifting, hopeful novel ... A joy from start to finish, this book makes you feel anything is possible

Wendy Holden, Daily Mail
I ADORED this uplifting, hopeful novel ... A joy from start to finish, this book makes you feel anything is possible

Wendy Holden, Daily Mail
There's a wistful, warm-hearted appeal to Aoyama's paean to the power of books ... [it's] a quirky slice of feel-good fiction that you could recommend to anyone

Mail on Sunday
There's a wistful, warm-hearted appeal to Aoyama's paean to the power of books ... [it's] a quirky slice of feel-good fiction that you could recommend to anyone

Mail on Sunday
There's a wistful, warm-hearted appeal to Aoyama's paean to the power of books ... [it's] a quirky slice of feel-good fiction that you could recommend to anyone

Mail on Sunday
There's a wistful, warm-hearted appeal to Aoyama's paean to the power of books ... [it's] a quirky slice of feel-good fiction that you could recommend to anyone

Mail on Sunday
There's a wistful, warm-hearted appeal to Aoyama's paean to the power of books ... [it's] a quirky slice of feel-good fiction that you could recommend to anyone

Mail on Sunday
There's a wistful, warm-hearted appeal to Aoyama's paean to the power of books ... [it's] a quirky slice of feel-good fiction that you could recommend to anyone

Mail on Sunday
There's a wistful, warm-hearted appeal to Aoyama's paean to the power of books ... [it's] a quirky slice of feel-good fiction that you could recommend to anyone

Mail on Sunday
There's a wistful, warm-hearted appeal to Aoyama's paean to the power of books ... [it's] a quirky slice of feel-good fiction that you could recommend to anyone

Mail on Sunday
There's a wistful, warm-hearted appeal to Aoyama's paean to the power of books ... [it's] a quirky slice of feel-good fiction that you could recommend to anyone

Mail on Sunday
There's a wistful, warm-hearted appeal to Aoyama's paean to the power of books ... [it's] a quirky slice of feel-good fiction that you could recommend to anyone

Mail on Sunday
An endearing novel and a tribute to the transformative power of books and libraries

Irish Times
An endearing novel and a tribute to the transformative power of books and libraries

Irish Times
An endearing novel and a tribute to the transformative power of books and libraries

Irish Times
An endearing novel and a tribute to the transformative power of books and libraries

Irish Times
An endearing novel and a tribute to the transformative power of books and libraries

Irish Times
An endearing novel and a tribute to the transformative power of books and libraries

Irish Times
An endearing novel and a tribute to the transformative power of books and libraries

Irish Times
An endearing novel and a tribute to the transformative power of books and libraries

Irish Times
An endearing novel and a tribute to the transformative power of books and libraries

Irish Times
An endearing novel and a tribute to the transformative power of books and libraries

Irish Times
Captivating!

Sunday Post
Captivating!

Sunday Post
Captivating!

Sunday Post
Captivating!

Sunday Post
Captivating!

Sunday Post
Captivating!

Sunday Post
Captivating!

Sunday Post
Captivating!

Sunday Post
Captivating!

Sunday Post
Captivating!

Sunday Post
The novel is an undeniable page-turner, its mechanism energized by a simple question, posed again and again by the uncanny librarian, Mrs. Komachi. The question brings Michiko Aoyama's characters often to the brink of tears; and not only her characters, but this reader, too. It is the great question of the library, and of the bookstore, and maybe of life: What are you looking for?

New York Times
The novel is an undeniable page-turner, its mechanism energized by a simple question, posed again and again by the uncanny librarian, Mrs. Komachi. The question brings Michiko Aoyama's characters often to the brink of tears; and not only her characters, but this reader, too. It is the great question of the library, and of the bookstore, and maybe of life: What are you looking for?

New York Times
The novel is an undeniable page-turner, its mechanism energized by a simple question, posed again and again by the uncanny librarian, Mrs. Komachi. The question brings Michiko Aoyama's characters often to the brink of tears; and not only her characters, but this reader, too. It is the great question of the library, and of the bookstore, and maybe of life: What are you looking for?

New York Times
The novel is an undeniable page-turner, its mechanism energized by a simple question, posed again and again by the uncanny librarian, Mrs. Komachi. The question brings Michiko Aoyama's characters often to the brink of tears; and not only her characters, but this reader, too. It is the great question of the library, and of the bookstore, and maybe of life: What are you looking for?

New York Times
The novel is an undeniable page-turner, its mechanism energized by a simple question, posed again and again by the uncanny librarian, Mrs. Komachi. The question brings Michiko Aoyama's characters often to the brink of tears; and not only her characters, but this reader, too. It is the great question of the library, and of the bookstore, and maybe of life: What are you looking for?

New York Times
The novel is an undeniable page-turner, its mechanism energized by a simple question, posed again and again by the uncanny librarian, Mrs. Komachi. The question brings Michiko Aoyama's characters often to the brink of tears; and not only her characters, but this reader, too. It is the great question of the library, and of the bookstore, and maybe of life: What are you looking for?

New York Times
The novel is an undeniable page-turner, its mechanism energized by a simple question, posed again and again by the uncanny librarian, Mrs. Komachi. The question brings Michiko Aoyama's characters often to the brink of tears; and not only her characters, but this reader, too. It is the great question of the library, and of the bookstore, and maybe of life: What are you looking for?

New York Times
The novel is an undeniable page-turner, its mechanism energized by a simple question, posed again and again by the uncanny librarian, Mrs. Komachi. The question brings Michiko Aoyama's characters often to the brink of tears; and not only her characters, but this reader, too. It is the great question of the library, and of the bookstore, and maybe of life: What are you looking for?

New York Times
The novel is an undeniable page-turner, its mechanism energized by a simple question, posed again and again by the uncanny librarian, Mrs. Komachi. The question brings Michiko Aoyama's characters often to the brink of tears; and not only her characters, but this reader, too. It is the great question of the library, and of the bookstore, and maybe of life: What are you looking for?

New York Times
The novel is an undeniable page-turner, its mechanism energized by a simple question, posed again and again by the uncanny librarian, Mrs. Komachi. The question brings Michiko Aoyama's characters often to the brink of tears; and not only her characters, but this reader, too. It is the great question of the library, and of the bookstore, and maybe of life: What are you looking for?

New York Times
If what you are searching for is a believable take on contemporary life in Tokyo, seasoned with a dash of whimsy, you'll find your perfect match in this heartwarming novel

Japan Times
If what you are searching for is a believable take on contemporary life in Tokyo, seasoned with a dash of whimsy, you'll find your perfect match in this heartwarming novel

Japan Times
If what you are searching for is a believable take on contemporary life in Tokyo, seasoned with a dash of whimsy, you'll find your perfect match in this heartwarming novel

Japan Times
If what you are searching for is a believable take on contemporary life in Tokyo, seasoned with a dash of whimsy, you'll find your perfect match in this heartwarming novel

Japan Times
There's a special kind of magic in recommending books to other people and Michiko Aoyama captures that perfectly here. Full of charm; a genuine comfort read

CULTURE FLY
There's a special kind of magic in recommending books to other people and Michiko Aoyama captures that perfectly here. Full of charm; a genuine comfort read

CULTURE FLY
It's been a rotten year, so spark joy with this!

DAILY MAIL
It's been a rotten year, so spark joy with this!

DAILY MAIL
Article