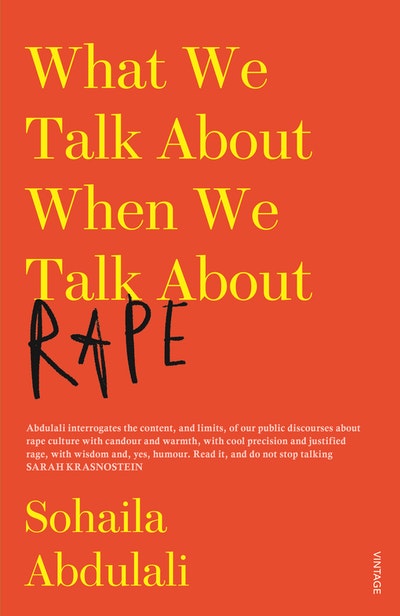 Published:

29 October 2018

ISBN:

9780143793403

Imprint:

Vintage Australia

Format:

Paperback

Pages:

240

RRP:

$22.99
What We Talk About When We Talk About Rape
---
---
---
Neither a memoir nor an academic study but a deeply personal and meticulously researched rallying cry and required reading for us all.
Except for the foundational belief that rape is a crime, with a criminal and a victim, I will not take anything else for granted.
Sohaila Abdulali was gang-raped as a teenager in Mumbai. Indignant at the silence on the issue in India, she wrote an article for a woman's magazine challenging the way in which rape and rape victims were perceived. Thirty years later, in the wake of the 2012 fatal gang rape in Delhi, that story went viral.
Drawing on her own experience, her work with hundreds of survivors as the head of a rape crisis centre in Boston, her research in India and elsewhere, and three decades of grappling with the issue personally and professionally, Sohaila Abdulali wants to change the conversation around rape culture, question our assumptions, and look at how we want to raise the next generation.
Sohaila asks: Is rape always a life-defining event? Does rape always symbolise something? Is rape worse than death? Is rape related to desire? Who gets raped? Is rape inevitable? Is one rape worse than the other? Who rapes? What is consent? How do you recover a sense of safety and joy? How do you raise sons? Who gets to judge?
Drawing on the fact that she is both victim and survivor, Sohaila doesn't pretend to have all the answers, but she passionately believes that we must talk about rape and we must talk about how we talk about rape.
Published:

29 October 2018

ISBN:

9780143793403

Imprint:

Vintage Australia

Format:

Paperback

Pages:

240

RRP:

$22.99
Praise for What We Talk About When We Talk About Rape
Know this: the shock is not that Abdulali speaks frankly about rape. The shock is not that she interrogates the content, and limits, of our public discourses about rape culture with candour and warmth, with cool precision and justified rage, with wisdom and, yes, humour. The shock is that there are not more books like this. This is a powerful indictment of the way our socialised silences breed only injustice, fear and disconnection. Abdulali speaks into those voids and misperceptions, using the full register of her humanity in the hope for change. Read it, and do not stop talking.

Sarah Krasnostein
Abdulali brings precision, clarity, and style to her exploration of a topic often treated as more confusing than it is. A former coordinator of a rape crisis center, she uses her own brutal rape as a touchstone and springboard for this series of extended reflections on the discourse surrounding rape, with stories from Australia, Egypt, India, Italy, South Africa, and the U.S. Though Abdulali doesn't claim to have answers, the book's assertions are clear: victims deserve belief, support, and a fair hearing; rapists, not their targets, are responsible for rape; and survivors can go on to live full and joyful lives. Her clear-eyed assessments, grace, and literary touches will make this book valuable reading for sociologists, therapists, feminists, and anyone who believes women should be able to move through the world free from fear.

starred review, Publishers Weekly
The right to our own bodies is the first step in any democracy, and by that measure, women in general -- especially those of us also de-valued by race, caste or class -- are still subject to an intimate dictatorship. Read the personal stories in What We Talk About When We Talk About Rape, and see how far we have come -- and have yet to go.

Gloria Steinem
Rape- A difficult topic that is uncomfortable to read about and discuss. This is why Sohaila Abdulali's book is so important. In the wake of the MeToo movement, this book comes at a perfect time to frame the conversations that all of us need to be having with our children, our families, our colleagues and as a society at large. Abdulali writes her book as a survivor of rape, as a scholar and practitioner in the field and as a mother and person. It is through all of these filters that we read about rape and the impact that it is having on each and every one of us in some capacity. Countless stories of sadness, pain and grief are equally coupled with stories of hope and freedom, of men and women who have moved through their trauma and have gone on to live lives of meaning. Abdulali has brilliantly captured what rape looks like in many different countries, and educates us on what we can do to support those around us. How we can begin to have the difficult conversations that cannot be ignored any longer. The author begins her book by saying "Rape drains the light" and through this text "I want to let some light back in". Through her carefully crafted work, she has done just that.

Lydia, Great Escape Books
Both hard to read and an amazing, vital read, WWTAWWTAR, is the exact book we all need right now - to do better, we must know more. Empathy is a key character in this book. Sohaila is a brilliant and beautiful writer, and a star and thought leader for our generation.

Alyssa Mastromonaco, NYT Best Selling Author and co-host, #HYSTERIA podcast
The book is an essential contribution to the current conversation about rape, rape culture, and the personal toll of sexual violence in the world today. Abdulali captures the complexity of this disturbing topic with clarity, compassion, and insight. Her prose is, at turns, comforting and enraging, confrontational and engaging, timely and timeless, humane and horrific. Yet, throughout, she focuses on our capacity and responsibility to contribute to a safer, healthier, and more fulfilling world for all. Abdulali teaches us that surviving sexual violence is essentially a creative act, and in her brave book she shares her, and many other, inspiring stories of surviving, thriving, and regaining wholeness.

Richard O. Prum, Professor of Ecology and Evolutionary Biology, Yale University, author of The Evolution of Beauty
What We Talk About When We Talk about Rape places the American #metoo movement in a global context. Drawing on her experiences as a rape survivor and as scholar and advocate, Sohaila Abdulali takes us from the U.S, to India, South Africa, Mexico, Kuwait, and other countries, providing examples that illustrate both the intense particularity and infuriating similarities of sexual violence around the globe. Courageous, angry, compassionate, informative, hopeful, and wise, this book approaches this hard topic from a variety of angles. She addresses shame and the silencing of survivors, retaliation, victim blaming, the complexities of consent, recovery, and other issues.

Elizabeth Armstrong, professor of sociology, University of Michigan
Such a lot of insight in this book. I wish I had written it. An international take on the contemporary movement towards learning to talk about rape. The more we talk, the more we learn. The more we learn, the more we can change. Read this book and be part of the change.

Una, author of Becoming, Unbecoming
This is a vital, eye-opening exploration of a crime which affects too many of us, in often unspoken but always life-changing ways. Sohaila Abdulali's book is an honest, wry, engaging and very human testament to the survivor's voice as a necessary tool for change. It is filled will truths that will resonate with millions of us—and educate millions more.

Winni M. Li, author of Dark Chapter
She writes in a conversational style and injects a levity that, rather than betraying the seriousness of her subject, makes it more possible to handle the necessary yet horrifying details of rape of all kinds. An important book working towards an important goal: meaningful and thoughtful discussion of a taboo subject.

Kathy Sexton, Booklist
Abdulali writes with grace, compassion and clear-eyed courage not just of her own experience but that of other women too. Whether it is taking responsibility for one's actions, flawed notions of honour and respectability, dealing with the aftermath.

R. Krithika, The Hindu
Abdulali replaces sociological tools with testimonies. As a result, this becomes a book of pain and triumph, of solidarity and comfort, of hope and prayer.

Arshia Sattar, India Today
Drawing on her own experience as a survivor, as well as on research and her work as the head of a rape crisis center in Boston, Sohaila Abdulali's forthcoming book approaches the complex topic of rape culture with care and insight. Abdulali does the important work of placing the current #MeToo movement within a global context, and tells "the larger story of how societies may begin to heal."

Marisa Crawford, The Rumpus
Sohaila Abdulali provides readers with a well-researched exploration of the many discursive threads surrounding rape and sexual assault. It is, quite simply, a vital piece of literature for the post #MeToo world and beyond.

Jodie Sloan, AU Review