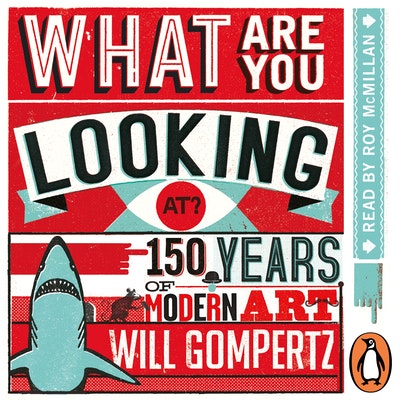 Published:

11 September 2014

ISBN:

9780670922475

Imprint:

Penguin Audio

Format:

Audio Download

RRP:

$24.99
What Are You Looking At?
150 Years of Modern Art in the Blink of an Eye
---
---
---
For the sceptics, the art lovers, and the 5 million of us who visit the Tate every year - the funniest, liveliest and most accessible history of Modern Art, by the BBC Arts Editor
Penguin presents the unabridged, downloadable audiobook edition of What Are You Looking At? by Will Gompertz, read by Roy McMilllan.
What is modern art? Why do we either love it or loathe it? And why is it worth so much damn money? Join Will Gompertz on a dazzling tour that will change the way you look at modern art forever. From Monet's water lilies to Van Gogh's sunflowers, from Warhol's soup cans to Hirst's pickled shark, hear the stories behind the masterpieces, meet the artists as they really were, and discover the real point of modern art.
You will learn: not all conceptual art is bollocks; Picasso is king (but Cézanne is better); Pollock is no drip; Dali painted with his moustache; a urinal changed the course of art, why your 5-year-old really couldn't do it. Refreshing, irreverent and always straightforward, What Are You Looking At? asks all the basic questions that you were too afraid to ask. Your next gallery trip is going to be a little less intimidating and a lot more interesting.
Published:

11 September 2014

ISBN:

9780670922475

Imprint:

Penguin Audio

Format:

Audio Download

RRP:

$24.99