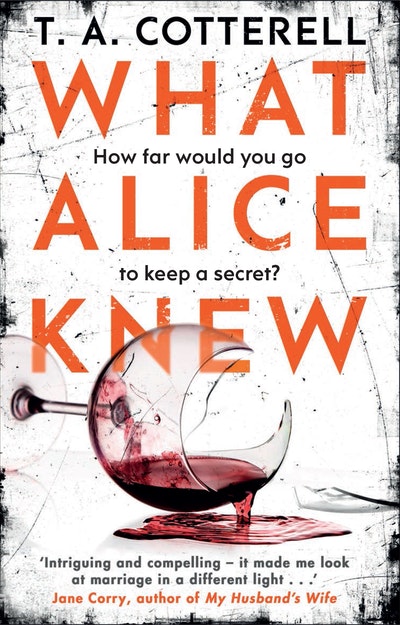 Published:

1 December 2016

ISBN:

9781473542488

Imprint:

Transworld Digital

Format:

EBook

Pages:

384
What Alice Knew
---
---
---
An addictive debut for fans of tense, thought-provoking novels such as Liane Moriarty's The Husband's Secret and Clare Macintosh's I Let You Go
'Intriguing ... an impressive debut' Shari Lapena, author of The Couple Next Door'It made me look at marriage in a different light' Jane Corry, author of My Husband's Wife'T. A. Cotterell masterfully conjures up the suffocating atmosphere that envelopes the couple as they navigate the mental trauma of maintaining a complex web of lies ... An intriguing, well-constructed and dramatic debut'TLS
How far would you go to keep a secret?
Alice has a perfect life - a great job, happy kids, a wonderful husband. Until he goes missing one night; she receives a suspicious phone call; things don't quite add up.
Alice needs to know what's going on. But when she uncovers the truth she faces a brutal choice. And how can she be sure it is the truth?
Sometimes it's better not to know.An FT ' Reader Pick' Books for Summer Reading.
Published:

1 December 2016

ISBN:

9781473542488

Imprint:

Transworld Digital

Format:

EBook

Pages:

384
Praise for What Alice Knew
An intriguing and layered psychological thriller, What Alice Knew will hold you fast till its startling conclusion—and then you'll want to talk about it to anyone who will listen. An impressive debut.

Shari Lapena, author of 'The Couple Next Door'
Intriguing and compelling – it made me look at marriage in a different light …

Jane Corry, Author of 'My Husband's Wife'
The suspense [is] beautifully sustained ... the writing is finely crafted.

Joanne Harris
A tale of crime and morals ... an intriguing crime mystery that blends elements of psychological suspense and marital drama ... If you read this thinking you know where the story is going to go, just you wait. What Alice Knew is a tale of what it means to be a woman, a wife, a mother, a daughter, a sister and an artist. But more than anything, it's a story of humanity, in all it's ugliness and beauty, and the things people are willing to do for the ones they love.

Culturefly
T. A. Cotterell masterfully conjures up the suffocating atmosphere that envelopes the couple as they navigate the mental trauma of maintaining a complex web of lies ... An intriguing, well-constructed and dramatic debut.

Justin Warshaw, Times Literary Supplement
If you love crime thrillers that look at relationships (see The Widow by Fiona Barton or My Husband's Son by Deborah O'Connor), this is definitely one for you. The novel subverts the usual 'whodunnit' angle of mystery novels and instead looks at what happens after you know who 'did it', and what you would do. Would you reveal their secret, or protect them at any cost?

Hello!
A compulsive read-it-in-one gulp thriller that makes you wonder: what would I do?

Good Housekeeping
A twisted thriller

Woman & Home
A richly layered story

My Weekly
A must read

Saturday Express
A richly layered story

My Weekly
A complex and multifaceted psychological thriller filled with intrigue and suspense, What Alice Knew unstitches the threads that hold a marriage together, as a wife is faced with a cruel choice. It's the ideal book for fans of Jane Corry and Liane Moriarty.

Culturefly
An utterly gripping brilliant plot and beautiful prose

Gillian McAllister, author of 'Everything but the Truth'
A beautifully-written debut. Keeps you turning the pages right up to the shock ending that will doubtless come as a complete surprise - one that will stay with you long after you've finished reading...

Louise Voss
I read the last page, closed the book and sat open-mouthed in disbelief ... a suspense-filled, tense, intriguing insight, it had me gripped! I am already hankering for his next one and feel that I will enjoy a long love affair with a new master of psychological genius!

Tracy Shephard
All I can say is "wow" ... exceptional in its ability to engage, thrill, intrigue and entertain. It's an accomplished, accessible, well-paced novel that rivals all its contemporary popular 'grip lit' titles with relatable characters and a compelling writing style. It's absorbing, arresting and addictive. If you enjoyed "The Widow" by Fiona Barton, "In Her Wake" by Amanda Jennings, "Lying in Wait" by Liz Nugent or "My Husband's Son" by Deborah O'Connor, then you will definitely enjoy this.

@katherinesunde3
A remarkable psychological thriller that keeps you guessing until the astounding end!

@SnowMel1
A gripping read ... different, dark and completely absorbing.

@BibliophileBC
I loved 'What Alice Knew ... [and] ADORED each and every description of Bristol.

@emilyglen6226
A nail biting, gripping page turner that will have you questioning everything you've ever known. Brilliant!'

@kaishajayneh
Fast paced and awe inspiring... [with] a thunderous ending'

@Zoe__Diane
The lines between right and wring, moral and immoral were blurred and I never knew what the characters would do next ... Clever and shocking, a fantastic psychological thriller.

@albainbookland
A compelling read ... an excellent novel and the plotting is top-notch.

@tiny_ickle_jo
Very different from every other psychological thriller I have read ... the perfect book for a book club

Irena_BookDust
Full of tension, questions, secrets and lies... a spectacular finish with fireworks and an unbelievable turn

@Agi_mybookshelf
A gripping and meaty book ... a must read for anyone who loves a domestic psychological thriller.

@LynseyMummaDuck
A terrific book - compelling and exquisitely told by an author with exceptional talent

Bestselling author, Susan Lewis
A great read with an astonishing twist

People's Friend
Goes straight on the shelf marked 'unputdownable'... scenes of great beauty and moments of great drama ... a splendid debut.

Robert Miller, Redburn Review
A great thing to read

Inside Soap
A fast-paced mystery thriller ... Thanks to Cotterell's convincing characters, you'll find yourself questioning right and wrong, and how far a woman should go to protect her family.

Cosmopolitan
All I can say is WOW! If you are a fan of the psychological thriller genre, then this needs to go on your 'must get' list... Excellent.

@bookkaz