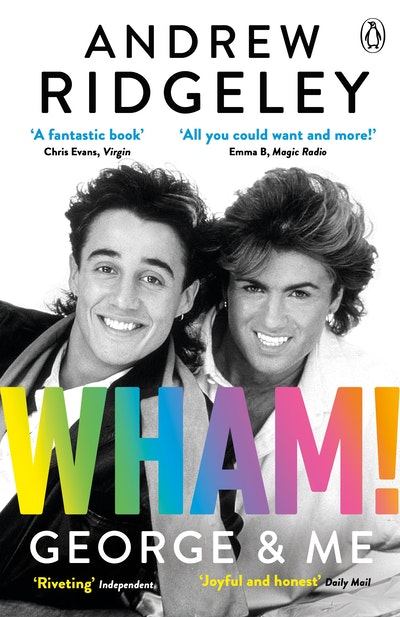 Published:

15 September 2020

ISBN:

9780241385821

Imprint:

Michael Joseph

Format:

Paperback

Pages:

368

RRP:

$22.99
Wham! George & Me
The Sunday Times Bestseller 2020
---
---
---
The long-awaited and lovingly told story of Andrew, George and their time together as WHAM!
THE SUNDAY TIMES BESTSELLER
For the first time, Andrew Ridgeley - one half of one of the most famous bands in the world - tells the inside story of Wham!, his life-long friendship with George Michael and the formation of a band that changed the shape of the music scene in the early eighties.
In 1975 Andrew took a shy new boy at school under his wing. They instantly hit it off and their boyhood escapades at Bushey Meads School built a bond that was never broken. The duo found themselves riding an astonishing rollercoaster of success, taking them all over the world. They made and broke iconic records, they were treated like gods, but they stayed true to their friendship and ultimately to themselves. It was a party that seemed as if it would never end. And then it did, in front of tens of thousands of tearful fans at Wembley Stadium in 1986.
Andrew's memoir covers in wonderful detail those years, up until that last iconic concert: the scrapes, the laughs, the relationships, the good and the bad. It's a unique and one-and-only time to remember that era, that band and those boys.
Published:

15 September 2020

ISBN:

9780241385821

Imprint:

Michael Joseph

Format:

Paperback

Pages:

368

RRP:

$22.99
Praise for Wham! George & Me
This book is all you could want and more!

Magic Book Club
It's a joyous celebration of the Wham! years. For anyone who was a teenager in the early 1980s, it will take you on a nostalgia trip, with dozens of comically captioned photos of the band during the white espadrille years. It's an honest but affectionate account of a remarkable duo who remained true to their origins and their friendship throughout it all

Daily Express
The Wham! star charts his treasured friendship with George Michael, from their meeting at school in 1975 to George's untimely death in 2016. The duo left a legacy of pop classics from the exuberant Wake Me Up Before You Go-Go to the evergreen Last Christmas, and Ridgeley's enthusiasm for life in a chart-topping band is as infectious as their music

Daily Mirror
I couldn't put it down. Such a fantastic book

Chris Evans, Virgin Radio
In this moving memoir, which is also a vivid nostalgia trip for anyone who was a teenager in the 70s and 80s, he tells the story of his friendship and musical collaboration with George Michael. Engaging

Sunday Express
A great story

Saturday Live, Radio 4
A lovely book. A love letter to George

Graham Norton, BBC1
Packed full of nostalgia, heart and insight, Wham! George & Me is a lovingly written ode to friendship and a celebration of one of the greatest pop acts of all time. A superb tribute

Classic Pop Magazine
A touching and vivid nostalgia trip - with great photos

Best
Even before the first page of this charming, heartfelt memoir, Ridgeley's eloquent dedication to his "dearest friend" George Michael will have you in tears. This is more than a gleeful shuttlecocks-in-shorts account of young guns having some fun: there's a real poignancy to Ridgeley's description of Wham!'s glory days, the knowledge of what will be lost - a band, a best friend - chilling in the Club Tropicana sunshine.

The Sunday Times
A touching account of male friendship

The Times
Top 50 gift picks for the book lovers in your life

The Herald
A fond look back at the Wham! star's life in the group that helped define Eighties pop

Choice Magazine
Celebrity Memoirs of the Year

Guardian
Will no doubt appeal to the fanbase . . . Humorous and touching

Times Literary Supplement
Joyful nostalgia

Daily Express
A remarkably generous memoir....in more than one sense, the biography of a friend

Spectator
As a hard-nosed ex-detective, it was a source of much hilarity that I am such a Wham! fan but my copy of this is a prized possession

Peter Bleksley
Video
Wham, George and Me by Andrew Ridgeley
The long-awaited and lovingly told story of Andrew, George and their time together as WHAM! Wham! were the band that never underestimated the power of pop, nor the healing powers it possessed. In 1981, what started out as a boyhood friendship, catapulted two suburban adolescents to worldwide pop domination, becoming icons of their era. While Andrew Ridgeley may have appeared to have stood in George Michael's shadow, he always stood at the heart of the band. Until now, Andrew has kept private the special memories of life as a pop sensation. In this tender retelling of life as one half of the iconic duo, Andrew reveals the truth behind the triumphs, heartbreaks and of course, the fierce friendship with George that endured it all. Learn More: https://www.penguin.com.au/books/wham-george-and-me-9780241385814
Article
WHAM!: four facts
From Wham!, George & Me, Andrew Ridgely reveals four lesser-known facts about the 1980s pop sensation.