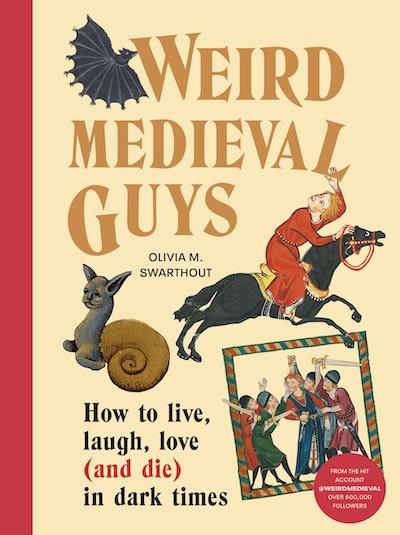 Published:

2 November 2023

ISBN:

9781529908312

Imprint:

Vintage Digital

Format:

EBook

Pages:

208
Weird Medieval Guys
How to Live, Laugh, Love (and Die) in Dark Times
---
---
---
Explore the medieval world through its art with this hilarious guide to the medieval world that will have you laughing out loud.
Live, laugh love and die in the Middle Ages with Weird Medieval Guys!
Explore what your medieval life would have been through a choose-your-own-adventure full of quizzes, how-to guides, diagrams and flow charts that takes you from your birth to your gruesome end, revealing your patron saint, the fate of your love life and the trials and tribulations you faced along the way.
Then, discover everything you need to know to survive the natural world, from stripping naked to survive a wolf attack, decoding the signficance of birds visiting your sickbed and brewing love potions all while learning about warring rabbits, deadly dragons and saintly hounds - all illustrated with the very best ancient drawings of beasts, birds, fishes and serpents from all four corners of God's creation, drawn by people who definitely saw these creatures with their very own eyes and lived to tell the tale.
Chock full of hilarious, mad and bad advice for surviving and thriving on the mortal plane, this complete guide to life in the dark ages is guaranteed to make you laugh.
Published:

2 November 2023

ISBN:

9781529908312

Imprint:

Vintage Digital

Format:

EBook

Pages:

208
Praise for Weird Medieval Guys
A gently fascinating insight into the marginalia of a lost era.

Phil Harrison, The Guardian
A gently fascinating insight into the marginalia of a lost era.

Phil Harrison, The Guardian
A gently fascinating insight into the marginalia of a lost era.

Phil Harrison, The Guardian
A gently fascinating insight into the marginalia of a lost era.

Phil Harrison, The Guardian
Olivia Swarthout prowls the web for little-seen snippets of medieval art and life to share with the world. We love this book that is a result of her work - full of illuminating advice that is sure to brighten up the darkest of times.

Blackwells
Olivia Swarthout prowls the web for little-seen snippets of medieval art and life to share with the world. We love this book that is a result of her work - full of illuminating advice that is sure to brighten up the darkest of times.

Blackwells
Olivia Swarthout prowls the web for little-seen snippets of medieval art and life to share with the world. We love this book that is a result of her work - full of illuminating advice that is sure to brighten up the darkest of times.

Blackwells
Olivia Swarthout prowls the web for little-seen snippets of medieval art and life to share with the world. We love this book that is a result of her work - full of illuminating advice that is sure to brighten up the darkest of times.

Blackwells
[an] account of the most bizarre illustrations from the Middle Ages

The Art Newspaper
[An] account of the most bizarre illustrations from the Middle Ages

The Art Newspaper
[An] account of the most bizarre illustrations from the Middle Ages

The Art Newspaper
[An] account of the most bizarre illustrations from the Middle Ages

The Art Newspaper
Brilliantly funny… Olivia celebrates the wonderful weirdness of the past… [in this] gleeful book

Simple Things, *Christmas Gift Guide 2023*
Brilliantly funny… Olivia celebrates the wonderful weirdness of the past… [in this] gleeful book

Simple Things, *Christmas Gift Guide 2023*
Brilliantly funny… Olivia celebrates the wonderful weirdness of the past… [in this] gleeful book

Simple Things, *Christmas Gift Guide 2023*