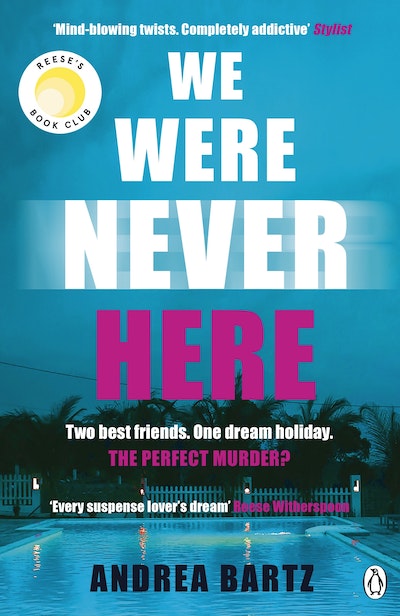 Published:

2 August 2022

ISBN:

9781405951944

Imprint:

Michael Joseph

Format:

Paperback

Pages:

400

RRP:

$22.99
We Were Never Here
The addictively twisty Reese Witherspoon Book Club pick soon to be a major Netflix film
---
---
---
A Reese Witherspoon Bookclub Pick and set to be a major summer paperback. Your best friend killed a man. Now she needs your help. But can you really trust her motives?
On holiday in Chile with her best friend Kristen, Emily is having the time of her life. Until, one night, she finds their hotel suite covered in blood. Kristen claims a backpacker attacked her. She shouted, but no one heard. She struggled, but he was too strong.
She had no option but to kill him. And with no evidence of the assault, Emily must help her hide the body.
Emily tries to move on. But before long, the walls start to close in on their cover-up - and Emily asks herself: can she really trust her closest friend?
Published:

2 August 2022

ISBN:

9781405951944

Imprint:

Michael Joseph

Format:

Paperback

Pages:

400

RRP:

$22.99
Praise for We Were Never Here
A nail-biting, immersive whirl of a read. Brimming with mysterious twists, turns, and a frenemyship of the most chilling proportions, We Were Never Here is every woman's worst nightmare...and every thriller-lover's dream

Zakiya Dalila Harris, author of <i>The Other Black Girl</i>
My God, [Bartz] is SO GOOD at building that tense oh-no-what-have-I-done queasy energy! Zippy, nervy and so thoughtful and current on women's safety

Harriet Walker, author of <i>The New Girl</i> and <i>The Wedding Night</i>
Incredibly tense and atmospheric, We Were Never Here explores the nuances of memory, the secrets that bind a friendship-and those that threaten to tear them apart. Andrea Bartz delivers a sharp, unsettling thriller about power, obsession, and the inescapable grip of the past

Megan Miranda, <i>New York Times</i> bestselling author of <i>All the Missing Girls</i>
[A] riveting psychological thriller... Suspense fans will look forward to seeing more from this talented author

Publishers Weekly
Exhilarating ... Bartz's writing will keep readers on their toes, questioning everything and looking for hidden meanings...A slow-burn thriller that gradually suffocates both the protagonist and the reader-in a good way

Kirkus
Intelligent, methodical ... Emily and Kristen [would] be right at home in a Hitchcock psychological thriller. A terrific novel, blending the Hitchockian elements with a touch of Patricia Highsmith

Booklist (Starred Review)
Andrea Bartz has proven herself a master of the timely literary thriller

BuzzFeed
A book that skillfully examines toxic friendship at its most extreme

New York Times Book Review
Whether you're planning far-flung summer travels or kicking it closer to home, you're going to need a great beach read-and that's where We Were Never Here comes in. [A] twisty thriller

PopSugar.com
An eerie psychological thriller ... with alluring locales, Hitchcokcian tension, and possibly the best pair of female leads since Thelma and Louise

BookPage
Bartz takes the idea of a 'frenemy' to new heights in her third thriller, yet another expert vivisection of female modes of communication and competition

Los Angeles Times
This thriller has a premise that will pique any mystery-loving traveler's interest: two best friends embark on their annual reunion trip, only to have it go murderously awry. Bartz's evocative descriptions of destinations as varied as Chile and Cambodia pulled me in immediately, but it was the way she ratcheted up the tension by dropping clues about the duo's murky past that kept me rapt until the end

Travel + Leisure
This smartly written psychological thriller will leave you all tingly

Reader's Digest
Bartz, once again, creates a thrilling tale about a friend group in flux

OprahDaily.com
The ultimate story of toxic female friendships, a theme Andi Bartz pulls off exquisitely her previous novels. This one is pulse-pounding with secrets, lies, and friends who trust too much

CrimeReads.com
Sustains its thriller atmosphere with a well-drawn dynamic between co-dependent friends who alternate from deep trust to vicious suspicion

Milwaukee Magazine
We Were Never Here is an observant, suspenseful, and deeply scary novel, a psychological thriller that looks at the tight bonds of friendship and asks where they strangle, where they break

Steph Cha, author of <i>Your House Will Pay</i>
We Were Never Here is somehow both cinematic in scope and also claustrophobic and unnerving. It's a novel that explores the dangers that lurk in beautiful places, the manipulation of memories, and the friendship ties that don't just bind us, but can strangle us

Tara Laskowski, award-winning author of <i>One Night Gone</i> and <i>The Mother Next Door</i>
I absolutely loved We Were Never Here ... chock-full of twists and turns that surprise and titillate. I was so enthralled, I carried the book around the house, reading as I walked to the kitchen to make some tea and even while folding the laundry. It's been years since I last read-walked!

Daniela Petrova, author of <i>Her Daughter's Mother</i>
[Bartz] has an incredible talent for writing complicated characters, complex relationships, unnerving situations, and palpable tension-and making them all work together

HelloGiggles.com
Tense and original . . . Genuinely mind-blowing twists. Completely addictive

Stylist
Tantalisingly suspenseful, frequently surprising, thoroughly compelling. We Were Never Here is a terrific, thought-provoking thriller

BP Walter, bestselling author of <i>The Dinner Guest</i>
Article