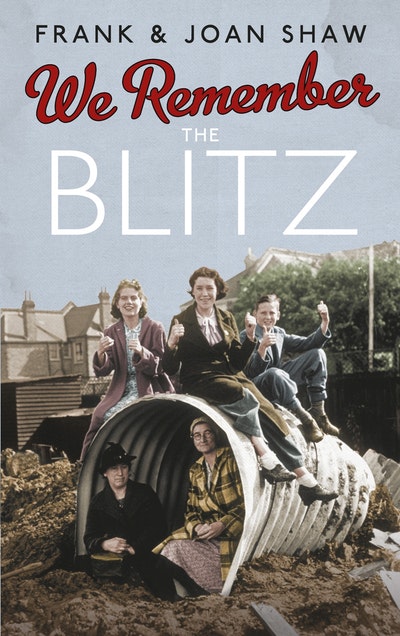 Published:

11 October 2012

ISBN:

9781448175031

Imprint:

Ebury Digital

Format:

EBook

Pages:

384
We Remember the Blitz
---
---
---
Memories of the Blitz from throughout Britain, a tribute to our cheerful resilience during World War 2
'I went to the public baths and after I undressed I could hear someone whistling. I looked round to see if I could see anybody about, but I couldn't, so I got into the bath and lay back to relax. As soon as I did, of course, I looked up and saw a man putting in the glass windows that had been blown out the night before.' Joan Adams, Lichfield
On the night of 7 September 1940, bombs rained down on the defenceless and unprepared population of London for nine long hours. In November, raids spread to the rest of the country - starting in Coventry and taking in everywhere from Portsmouth, Cardiff, Belfast and Hull.
During the nine months of the Blitz, thousands of people were killed and injured, and thousands of buildings and homes destroyed. But, with stoicism and humour, life went on.
We Remember the Blitz is packed with vivid recollections from this important time in British history. Waking up in a damp shelter to the sound of bombing. Coming out of a cinema to discover that fires made night as bright as day. And, worst of all, the shock of seeing individuals and whole families killed in an instant. We hear from many who were there to pick up the pieces: ARP wardens, firemen - even the bakers, who would return to work under tarpaulin to ensure their neighbours had their daily loaf.
Filled with moving but often funny memories, We Remember the Blitz is a celebration of the British spirit, and clearly shows that the battle for Britain was won by 'the many'.
Published:

11 October 2012

ISBN:

9781448175031

Imprint:

Ebury Digital

Format:

EBook

Pages:

384
Praise for We Remember the Blitz
Of all the books I have read this year, these are the most moving and memorable; more "people" stories than war stories, in countless voices and moods, of a richness and strength which makes fiction seem meagre

Shaun Usher, Daily Mail
In this book of first-hand accounts from the 1940-1941 Blitz, the human expereince of life on the home front is brought into focus. From ARP wardens to bakers, each recollection is written as though it were a letter to a friend. A riveting read

Daily Express