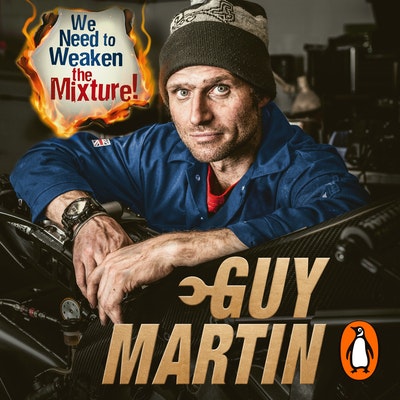 Published:

18 October 2018

ISBN:

9781473553897

Imprint:

Ebury Digital

Format:

Audio Download

Length:

7 hr 58 min

Narrator:

Dean Williamson

RRP:

$19.99
We Need to Weaken the Mixture
---
---
---
With seven TV specials this year, Guy will be visiting the outer limits of human capacity many times over on prime-time Channel 4 but, as his new book reveals, that's only half the story for the Grimsby mechanic with no off switch.
Random House presents the audiobook edition of We Need to Weaken the Mixture by Guy Martin, read by Dean Williamson.
'I can't stop biting off more than I can chew. Maybe I'm wearing everything out, but I believe the body is a fantastic thing and it will repair itself and I'll go again. If it's running too rich, I don't stop what I'm doing, just weaken the mixture and carry on.'
Since we last heard from him, Guy Martin has restored a 1983 Williams F1 car then raced Jenson Button in it; helped to build a WWI tank; ridden with Putin's favourite biker gang the Night Wolves; competed on the classic endurance circuit; stood on top of one of Chernobyl's nuclear reactors and taken part in his last ever Isle of Man TT.
Then there's the stuff he really can't wait to get out of bed for: 12-hour shifts for a local haulage firm and taytie farming in his new John Deere tractor.
Besides all this, he's saved his local pub from closure and become a dad.
But let him tell you his own stories, in his own words:
'You're getting it from the horse's mouth. No filter. I hope you enjoy it.'
Published:

18 October 2018

ISBN:

9781473553897

Imprint:

Ebury Digital

Format:

Audio Download

Length:

7 hr 58 min

Narrator:

Dean Williamson

RRP:

$19.99