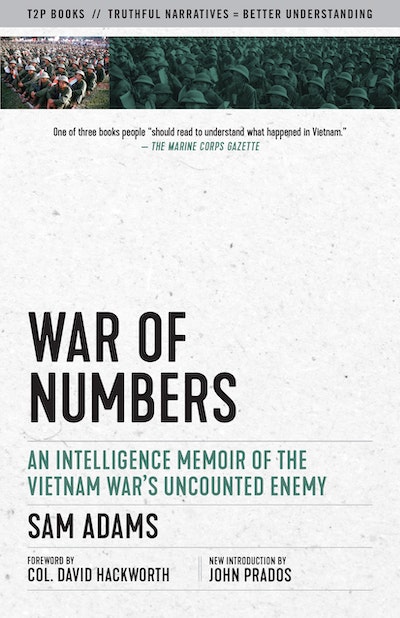 Published:

14 April 2020

ISBN:

9781586422516

Imprint:

Steerforth Press

Format:

Paperback

Pages:

288

RRP:

$34.99
War of Numbers
An Intelligence Memoir of the Vietnam War's Uncounted Enemy
---
---
Sam Adams loved intelligence work, and that enthusiasm shines throughout this memoir of his years with the Central Intelligence Agency.
His career was dominated by an epic struggle over Vietnam -- over military attempts to hide the true size of the enemy forces there, and over the integrity of the intelligence process. Adams's insistence on telling the truth caused an ungodly ruckus in both Washington and Saigon at the time, and years later, after the CIA had threatened to fire him (on thirteen occasions!) and he had quit the agency in disgust, Adams brought his story back up to the surface more loudly than ever in a CBS television documentary which eventually resulted in a notorious trial on libel charges brought by General William Westmoreland.
After leaving the CIA, Adams sat down to write an account of his life at the agency. There is nothing else quite like the story he tells.
Published:

14 April 2020

ISBN:

9781586422516

Imprint:

Steerforth Press

Format:

Paperback

Pages:

288

RRP:

$34.99
Praise for War of Numbers
"More than a rehash of yesteryear's bureaucratic battles, and more even than delicious inside gossip, Adams paints a fascinating and personalized picture of the backroom, political wartime CIA." - Library Journal "A stunning account by a man of impeccable integrity, of the corruption of U.S. military intelligence in Vietnam." - Mike Wallace "If someone were to ask me what three books they should read to understand what happened in Vietnam, I would say: Street Without Joy, by Bernard Fall; Honorable Men, by William Colby; and War of Numbers by Sam Adams. . . . There are probaboly 5,000 books on Vietnam. War of Numbers will become a classic." -- Lt. Col. H. Thomas Hayden, The Marine Corps Gazette "As spellbinding as a mystery story -- which of course it is." -- The Boston Globe One of "the most important books of the Vietnam War -- Adams has had the last word, in permanent defiance of those who would re-write the war to doublethink specifications." -- The Chicago Tribune