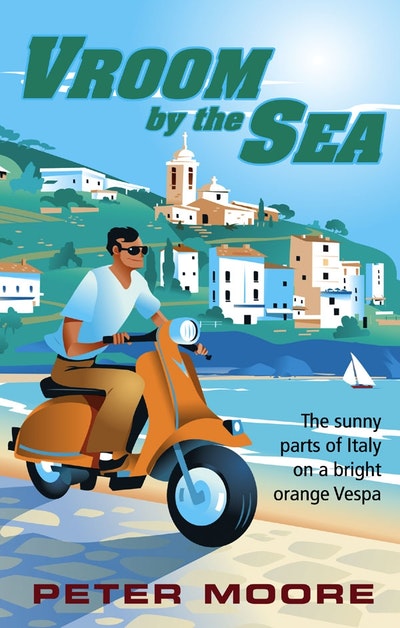 Published:

1 November 2007

ISBN:

9781863254663

Imprint:

Bantam Australia

Format:

Paperback

Pages:

400

RRP:

$25.00
Vroom By The Sea
---
---
Peter Moore is back to what he does best. Indulging his heart's desire, alone, and on the road!
Women wanted him. Men wanted to be him. And one hot summer he roamed the Italian seaside breaking hearts throughout Sardinia, Sicily and along the Amalfi coast.
Racy, loud and an incorrigible show-off, he was the epitome of Italian machismo. He showed Peter, his less flamboyant companion, another side of Italy tourists rarely see.
His name was Marcello and like Sophia from VROOM WITH A VIEW he was a Vespa.
A Vespa the same shade of orange as Donatella Versace.
Two years after riding from Milan to Rome in search of la dolce vita, Peter Moore's life has changed dramatically. He has married Sally and she is pregnant with their first child.
With fatherhood only five months away Peter reacted the way some men facing nappies and travel systems do, he panicked. But man, Peter sure found an understanding wife. Sally gave him the opportunity to go off, just once more, to be irresponsible.
For Peter this was a wild, final, two-stroke powered fling - with permission - through some of the most beautiful coastal scenery in the world on a Vespa with white go-fast stripes that brought a smile to peoples' faces everywhere it went.
From the wild, untouched corners of Sardinia and Sicily to the faded fifties glamour of the Amalfi coast, it is a journey that reveals Italy's obsession with the sea - and getting a great tan.
Like VROOM WITH A VIEW this is another laugh-out-loud whilst grinding your teeth with jealousy travel memoir and they can sell its go-fast stripes off.
Published:

1 November 2007

ISBN:

9781863254663

Imprint:

Bantam Australia

Format:

Paperback

Pages:

400

RRP:

$25.00