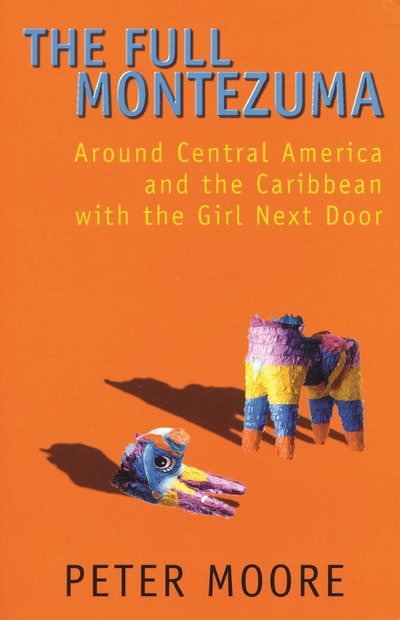 Published:

6 October 2000

ISBN:

9781863252584

Imprint:

Bantam Australia

Format:

Paperback

Pages:

400

RRP:

$25.00
The Full Montezuma
---
---
Hold onto your sombreros, amigos! THE FULL MONTEZUMA is the latest hilarious adventure from Peter Moore, author of the bestselling NO SHITTING IN THE TOILET and THE WRONG WAY HOME - and it's his best yet.
In 1998 Peter Moore met his next door neighbour. And fell in love. Six weeks later he suggested they take a romantic trip through Central America - as you do! THE FULL MONTEZUMA is the hilarious story of their trip - and it's a battle of the sexes on the road!
Over the next six months Peter and the Girl Next Door battled hurricanes, mosquitoes, uncooperative border officials and over-sexed Mexican commuters. They visited ancient Mayan sites and took in a spot of cricket in the Caribbean. It's a story that has everything: jungle ruins, washed-out briedges, shamanistic rituals involving Coca Cola and a cricket test in Jamaica. Sex. Politics. And religion. All the Big Topics, with a bit of sport thrown in for good measure.
And along the way they found out more about each other than they ever wanted to know. THE FULL MONTEZUMA is Peter Moore at his riotous best. It shines an unrelenting spotlight on a fledgling relationship and in doing so highlights the innate differences in travelling for men and women and the foibles of travelling with a partner.
With his love of the bizarre, his cast of crazy characters and his wicked sense of humour, Peter takes us on a journey into the unknown - travelling with the new love of his life, the GND (Girl Next Door that is).
Praise for The Wrong Way Home:
''a perceptive, subversive and hilarious book.' Sydney Morning Herald
'Moore writes in a racy, witty style that has no pretensions or self-censorship…' TNT Magazine

Published:

6 October 2000

ISBN:

9781863252584

Imprint:

Bantam Australia

Format:

Paperback

Pages:

400

RRP:

$25.00