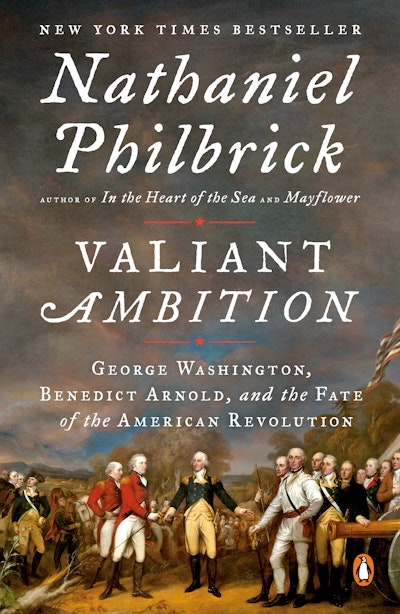 Published:

18 May 2017

ISBN:

9780143110194

Imprint:

Penguin

Format:

Trade Paperback

Pages:

448

RRP:

$29.99
Valiant Ambition
George Washington, Benedict Arnold, and the Fate of the American Revolution
---
---
From the New York Times bestselling historian comes a surprising account of the messy middle years of the Revolution and the tragic relationship of George Washington and Benedict Arnold.
In June 1776, as Nathaniel Philbrick's enthralling new book opens, the vulnerable Continental army under an unsure George Washington (who had never commanded a large force in battle) evacuates New York after a devastating defeat by the largest naval fleet in the history of the world. In September, near the Canadian border, his favorite general, Benedict Arnold, accomplishes a miracle victory on Lake Champlain. Four years later, as the book ends, Washington has vanquished his demons but Arnold is on trial for treason, and America is forced to realize that the real threat to their liberties might not come from without but from within.
As always, Philbrick is fabulous in his set pieces—the Battle of Brooklyn and the routing of Washington's troops, the victory at Saratoga that ironically almost ruined the Continental army, the nightmare of Valley Forge. But his real focus is on loyalty and personal integrity, evoking a Shakespearean tragedy that unfolds in the key relationship of Washington and Arnold, who is an impulsive (and, to Philbrick, sympathetic) hero whose devastating injuries at Saratoga erode his soul, and whose misfortunes at the hands of distant politicians fatally destroy his faith in the legitimacy of the rebellion. He also captures the tortured dynamics of Britain's military command, whose generals came to see the struggle as a dreary quagmire out of which few were likely to emerge with honor.
The Revolution, as Philbrick describes it, has become a near civil war, with bloody confrontations more about settling old grudges against hated neighbors than liberty and freedom. The Founding Fathers here are no band of idealistic brothers but driven by the same self-righteous opportunism that plagues Congress today. As a country wary of tyrants suddenly must figure out how it should be led, Washington emerges as a kind of Job in epaulettes whose unmatched ability to rise above the petty politics of his time enabled him to win the war that really mattered. Valiant Ambition is a complex, controversial, and dramatic portrait of a people in crisis and the war that gave birth to a nation.
Published:

18 May 2017

ISBN:

9780143110194

Imprint:

Penguin

Format:

Trade Paperback

Pages:

448

RRP:

$29.99