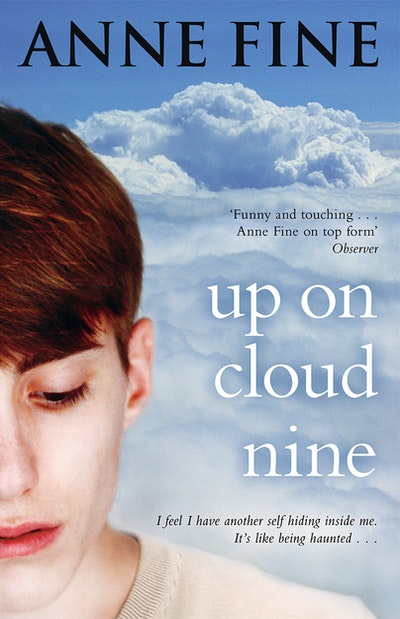 Published:

1 October 2010

ISBN:

9781409014980

Imprint:

Penguin eBooks

Format:

EBook

Pages:

208
Up On Cloud Nine
---
---
---
A gripping - and darkly humorous - tale from a multi-award-winning author
How stupid do you have to be to fall out of a top floor window?
Or was Stolly trying something else - up on cloud nine, even then?
Stolly has always been so alive, so inspiring, taking risks, hiding nothing, notorious for being the school's most imaginative liar (or fantatist, as he calls it). But now he's lying in a hospital bed and Ian, his best friend who's as close as a brother, is watching, waiting and remembering . . .
A characteristically funny, moving, life-affirming novel about a most remarkable character and the truly inspirational effect he has on everyone he meets.
Published:

1 October 2010

ISBN:

9781409014980

Imprint:

Penguin eBooks

Format:

EBook

Pages:

208
Praise for Up On Cloud Nine
Bound to command attention... Stolly, the eccentric hazard-prone hero... is magnificiently evoked for us through a series of recollections and beside musings of his best friend Ian

Times Educational Supplement
Subtle and entertaining... will make children of both sexes accept unusualness and difference, both in themselves and in others. This book will move them, and it will make them laugh

The Sunday Times
...while Up on Cloud Nine is witty and compelling, the message it carries to adult readers does not make for comfortable reading. Here is a picture of modern childhood tragic at its centre, however frequently comic on the outside...[Nonetheless] Fine is not one to leave her young readers stripped of hope...her stories for children...always end on a note of reconciliation...[a] brave and sometimes brilliant book. And as always with Anne Fine, the jokes are excellent.

Independent
'Anne Fine's Up on Cloud Nine is possibly one of the best books you will ever read. Character-led, beautifully crafted, uplifting and life-affirming, Fine's masterpiece tells the story of a deep friendship between two boys...Anne Fine is certainly on form in this extraordinary, unforgettable novel...she really hits the spot with a sublime, involving novel...contains all the hallmarks of a classic work of fiction.'

Amazon.co.uk
'This latest novel from the Children's Laureate may be inspired by the phenomenon of teenage suicide, but there is nothing grim or mawkish about it: a wonderfully funny and perceptive glimpse of the inner lives of boys'

Guardian
"..is an original and deeply memorable book... How Stolly learned to appreciate his inspirational nature makes for a wonderful and stimulating novel. This is a powerful read that lingers long after the last page is read. Don't miss it."

Bookseller
'A cracking new book for older children..... Like all her best work, this book is perfectly pitched to hook in even the most reluctant reader. The tone is fresh, funny and direct while strongly underpinned with genuine emotion'

Daily Mail
... funny,touching novel which shows Anne Fine on top form. Stolly is one of the most endearing and original characters to have appeared in children's literature for a long time... satisfyingly uplifting

Observer