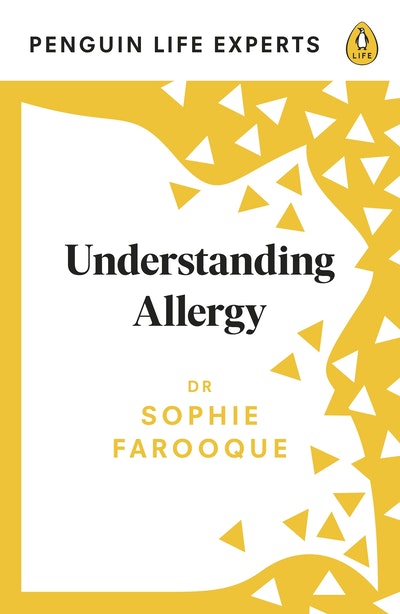 Published:

14 April 2022

ISBN:

9780241527887

Imprint:

Penguin Life

Format:

Paperback

Pages:

240

RRP:

$24.99
Understanding Allergy
---
---
---
The expert go-to guide to understanding allergies
Allergies are one of the major causes of illness in developed countries and more and more of us are seeking treatment for them every year.
Allergies now affect about one in every three of the UK population and one in two of us think we suffer from them. We are more allergic than ever before, so why is the term 'allergy' still so misunderstood?
Understanding Allergy will be the practical go-to guide for equipping allergy sufferers and their families with the knowledge needed to help them navigate this minefield. With expert tips from a London-based allergy consultant, this book will be a whistle-stop tour from diagnosis, to treatment and lifestyle changes that will help you understand when, where and how to seek help.
Published:

14 April 2022

ISBN:

9780241527887

Imprint:

Penguin Life

Format:

Paperback

Pages:

240

RRP:

$24.99
Praise for Understanding Allergy
'Sophie Farooque has achieved something really special here - a fascinating, insightful guide that is extremely clear, highly engaging yet maintains the highest standards of scientific accuracy. Would highly recommend for anybody with an interest in the area'

Professor Adam Fox
'In this fascinating book, Dr Sophie Farooque separates fact from fiction about the important topic of allergy. Rare, life threatening conditions, common troublesome allergies and common misdiagnoses of allergy are all clearly explained. For the many people affected, here is a source of sound information and practical advice'

Professor Roy Taylor, author of Your Simple Guide to Reversing Type 2 Diabetes
'Now more than ever, we need clear communication from unbiased evidence-based resources to help inform our medical decision making. Misconceptions surrounding allergic conditions are rampant and negatively impact quality of life. This wonderful book, written by a true expert in the field of allergy and immunology, is a must read for every medical student, healthcare professional, parent, and patient. Dr. Farooque sets the record straight with her thoughtful explanations and comprehensive guide'

David Stukus, M.D
'In a world hungry for accurate sources of medical information, Dr Sophie Farooque has written the definitive guide to allergy for the lay person and beyond. Dr Farooque's conversational style makes for a wonderfully readable book which is factually accurate, detailing all the information one will ever need to know about the amazing world of allergic diseases. The book delivers what the title promises'

Professor Jon Bennett, NHS Consultant Respiratory Physician and former Chair, British Thoracic Society
'Being a parent of a child with food allergies can be scary and overwhelming. Yet the best way to manage allergies and prevent serious reactions is with knowledge. Understanding Allergy by Dr. Sophie Farooque is the definitive guide for parents, caregivers, and those with allergies. It's helped my family better understand now to navigate allergies and given confidence to myself and my child. Essential reading for anyone wishing to learn how to navigate life with allergies'

Niki Jabbour, parent and award-winning author