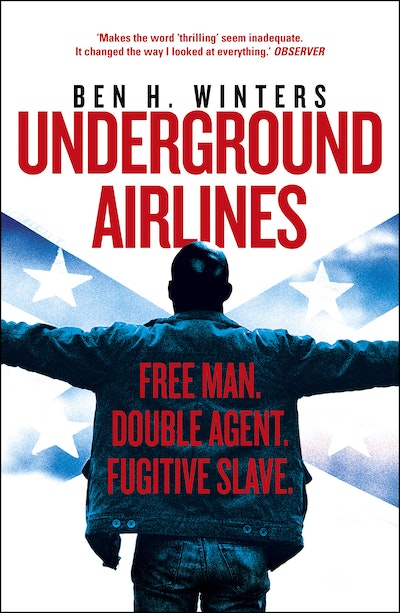 Published:

14 July 2016

ISBN:

9781473519329

Imprint:

Cornerstone Digital

Format:

EBook

Pages:

336
Underground Airlines
---
---
---
Robert Harris' Fatherland meets 12 Years A Slave, UNDERGROUND AIRLINES is a high concept novel with lots of suspense, and a deeply human, flawed protagonist.
'The most timely of alternate history novels. Ben Winters has created a spellbinding world that forces the reader to look around-and to look within. This is a thriller not to be missed and one that will not be easily forgotten.' Hugh Howey
It is the present-day, and the world is as we know it. Except for one thing: slavery still exists.
Victor has escaped his life as a slave, but his freedom came at a high price. Striking a bargain with the government, he has to live his life working as a bounty hunter. And he is the best they've ever trained.
A mystery to himself, Victor tries to suppress his memories of his own childhood and convinces himself that he is just a good man doing bad work, unwilling to give up the freedom he is desperate to preserve. But in tracking his latest target, he can sense that that something isn't quite right.
For this fugitive is a runaway holding something extraordinary. Something that could change the state of the country forever.
And in his pursuit, Victor discovers secrets at the core of his country's arrangement with the system that imprisoned him, secrets that will be preserved at any cost.
'It is a rare thing when a writer has a fresh new provocative idea - and then executes it beautifully. This is what Ben H. Winters has done in his novel Underground Airlines. Imagine an America in which slavery still exists. Now imagine a dramatic telling of the story.' James Patterson
Published:

14 July 2016

ISBN:

9781473519329

Imprint:

Cornerstone Digital

Format:

EBook

Pages:

336
Praise for Underground Airlines
A rich noir in a terrifingly convincing alternate America. It's both beautiful and brutal. The Handmaid's Tale for Black Lives Matter.

Lauren Beukes
A top-flight thriller that's as emotionally searing and tragically plausible as anything in contemporary fiction.

Lev Grossman, author of The Magicians
Winters has written a book that will make you see the world in a new light.

Washington Post
This one kept me up all night and changed the way I saw the world once I was finished.

Time Magazine
Ben H. Winters new novel (Underground Airlines) makes the word 'thrilling' seem inadequate. Not only could I not stop reading it, it changed the way I looked at everything around me once I was finished.

Observer
Winters creates a powerful and timely ethical framework for his fast moving new thriller.

BBC Culture
What distinguishes Underground Airlines as literature is the acuity and penetration of Winter's moral vision – a perception that goes far beyond and specific historical injustices … Winters allows Victor to exquisitely express our own moral unease.

Financial Times
Underground Airlines is an almost painfully timely novel. In the wake of disengenous Brexit campaigns, #BlackLivesMatter and Donald Trump 's wall-building plans, an alternate history story that tackles the thorny issue of race relations feels all too relevant. Don't be put off by the politics – it's also a compelling thriller with a complex hero.

SciFi Now
A carefully considered, micro-detailed examination of a modern America ... Victor is a compelling, multi-layered character.

SFX Magazine
Underground Airlines is bold, brilliant, and beautiful -- everything you could want from a novel, Ben Winters delivers ten-fold. He's a writer to watch, one of exceptional vision and imagination whose characters draw the reader in to the point that an alternate history seems not only plausible, but the only one that counts until the final page.

Michael Koryta, New York Times bestselling author of Those Who Wish Me Dead
Underground Airlines is bold, brilliant, and beautiful -- everything you could want from a novel, Ben Winters delivers ten-fold. He's a writer to watch, one of exceptional vision and imagination whose characters draw the reader in to the point that an alternate history seems not only plausible, but the only one that counts until the final page.

Michael Koryta, New York Times bestselling author of Those Who Wish Me Dead
Smart, quick and tricky, Ben Winters knows how to pull off a high-concept thriller. Fans of The Man in the High Castle will love Underground Airlines.

Stewart O' Nan
Underground Airlines is like nothing I have ever read before. I know it will be a pivot point in my reading life. Thought you'd wrestled sufficiently with the stain of Slavery? Have a seat. You'll only need the edge. By spinning a pounding thriller in a past that did not happen, Winters has somehow wrapped his hands around the catastrophe that did. This is how it might have been, I kept thinking, if history had gone that way. But the moral shock at the heart of the book: Winters's rabbit hole is not strange enough, the gulf between that and this is not wide enough. Underground Airlines does what all great speculative fiction wants to do – show the reader that Everything is possible. That's the good news and bad. The novel's many-named narrator descends from Ralph Ellison's Invisible Man – his voice is mesmeric, it comes from any corner, it can boil with savagery, sing with grace or do pretty much anything in between. Oh, and he descends from Jason Bourne as well; he has mad field skills. So does Winters. You're set down in motion on a tilted mirror and then it's turn after gripping turn – my every next hour depended on which way he went.

David Shafer, National Bestselling author of Whiskey Tango Foxtrot
Brilliantly written, terrifyingly conceived, Underground Airlines had me from the first page to the last. Many writers might have been content to set a few characters loose in the middle of the kind of powerful premise — slavery in four states never ended —put to work here, but Winters gives us gripping plot, clear-eyed social commentary and chilling implications. This may be alternate history, but what it has to say about actual, enduring race and racism cuts awfully close to the 21st century American bone.

Laird Hunt, author of Neverhome
In this alternative history, President Abraham Lincoln is assassinated en route to his inauguration. His death leads legislators to come together with one last proposal to keep the Union intact. It works, and today the status of slavery is decided state by state. In the Hard Four states, "peebs" (Persons Bound to Labor) are legally enchained, working 12 hours on and eight off. If a peeb escapes, the federal government is enjoined to find and return him to his owners. Victor works undercover for the U.S. Marshals, tracking down other black men. Now he's hunting a peeb named Jackdaw. Something's wrong, though, and he can't figure out what. Fast paced and filled with menace, the story has an ambience that makes it special. In Victor's supposedly "free" world, everywhere there are traps for people of color—free doesn't mean equal and definitely doesn't mean safe. What's startling is that Victor's experiences could well happen in the contemporary world. VERDICT Explosive, well plotted, and impossible to put down, this alt-hist by the Edgar Award–winning author of the "Last Policeman" trilogy will attract readers of all genres.

Library Journal
Ralph Ellison's The Invisible Man meets Blade Runner in this outstanding alternate history thriller.

Publishers Weekly
The world of Underground Airlines is realised in incredible details, fascinating to read even when it's truly uncomfortable … It's frightening how plausible and believable Ben H. Winters' alternate reality America really is.

Alternative Magazine Online
A terrific premise … the haunting scenes of slavery in the Hard Four will stay with you.

Herald Scotland
Underground Airlines is a powerful work … a brave, controversial thriller.

Crime Fiction Lover
A great premise … but slavery scenes will haunt you.

WEstern Daily Press
An almost painfully timely novel.

Sci-Fi Now
Winters does an amazing job of painting a world that never was but, in his hands, is frighteningly plausible … Winters has crafted a thrilling, tightly plotted and nourish thriller.

Independent
If you're looking for a brilliant, smart, chilling page turner for what's left of the summer, I can recommend Ben H. Winters.

Daily Mirror
Winters does an amazing job of painting a world that next we was, but in his hands, are frighteningly plausible … Winters could not have written a more timely novel.

Belfast Telegraph
Groundbreaking.

Pride Magazine
A really intriguing premise.

Anna's Reading List
On the surface, Underground Airlines is a well-crafted thriller, suspenseful and with fascinating characters. But not far below the surface is a philosophical debate about how one small change of events in history can put the world on a different path.

Mystery People
'Intriguing'

SFX