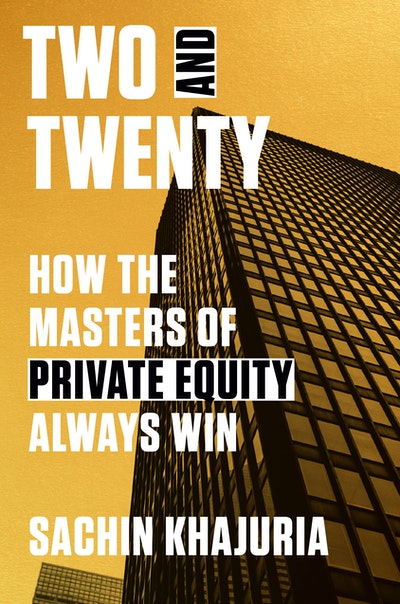 Published:

28 June 2022

ISBN:

9780593239599

Imprint:

Crown

Format:

Hardback

Pages:

272

RRP:

$49.99
Two and Twenty
How the Masters of Private Equity Always Win
---
---
The first true insider's account of private equity, revealing how the world's most aggressive and successful financial animals spot opportunities and win deals, and the mindset it takes to thrive in this high-stakes, rapidly evolving and often misunderstood field
Private equity was once an investment niche, with the industry managing just $500 billion. No more. Today that number exceeds $7 trillion for all forms of private capital, with leading firms directing more money than some countries' entire GDPs. The industry has overtaken investment banking—and well-known names like Goldman Sachs, JP Morgan, Morgan Stanley, and Citi—as the premier destination for ambitious financial talent, as well as the investment dollars of some of the world's largest pension funds, sovereign wealth funds, and endowments. At private equity's pinnacle are the firms' partners, happy to earn "two and twenty"—that is, a flat yearly fee of 2 percent of a fund's capital, on top of 20 percent of the investment spoils.
The private equity industry has succeeded in near-stealth—until now. In Two and Twenty, Sachin Khajuria, a former partner at the elite private equity firm Apollo, takes an unapologetic yet critical look in the mirror, giving readers an unprecedented view inside an opaque and rapidly expanding engine of the global economy. From how to "think like a principal, not an advisor" to "respond, don't react," Khajuria brings the habits of the industry's leading practitioners to life through a series of vivid and unvarnished deal sketches, illuminating how their traits, culture and temperament lead to consistent market-beating returns.
Two and Twenty is an unflinching examination of the mindset that drives the most influential and least understood center of financial power and a call to action for people to start paying closer attention to a key industry underpinning global retirement systems—a field that has become a punching bag for some and the source of envy for countless others.
Published:

28 June 2022

ISBN:

9780593239599

Imprint:

Crown

Format:

Hardback

Pages:

272

RRP:

$49.99