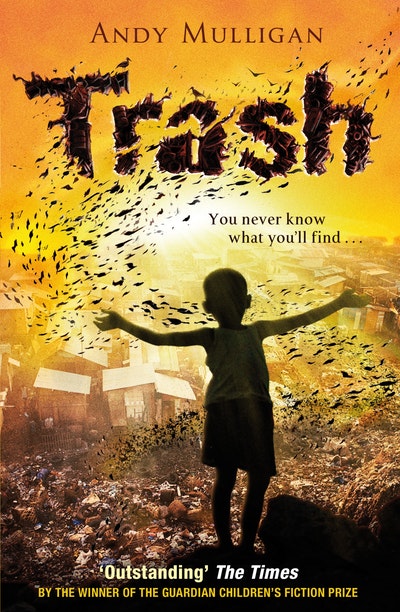 Published:

1 August 2014

ISBN:

9781909531130

Imprint:

Definitions

Format:

Paperback

Pages:

224

RRP:

$17.99
Trash
---
---
---
'A Slumdog, feel-good treasure find' Daily Mail
'A SLUMDOG, FEEL-GOOD TREASURE FIND' Daily Mail
Now adapted into a Bafta-nominated film directed by Steven Daldry and written by Richard Curtis.
Raphael lives on a dumpsite, eking out a living sifting through rubbish. One unlucky-lucky day, he makes an extraordinary and deadly discovery. Now he and his two friends, Gardo and Rat, are wanted by the corrupt forces that run the city and will stop at nothing to get back what they've lost.
From the slums to the mansions of the elite, it's going to take all of their quick-thinking and fast-talking to stay ahead. And to stay alive.
Published:

1 August 2014

ISBN:

9781909531130

Imprint:

Definitions

Format:

Paperback

Pages:

224

RRP:

$17.99
One of my favourite novels of 2010, now in paperback with a new cover look. Reminiscent of Slumdog Millionaire, three dumpsite boys take on the world in this gripping and intensely moving story . . . Harrowing, exhilarating, humbling and quite brilliant

Fiona Noble, The Bookseller
Outstanding, hotly anticipated thriller . . . an exceptionally satisfying plot

Amanda Craig, The Times
Wonderful - an exciting story with engaging characters told in a clever way with spare but lyrical prose . . . Trash comes highly recommended by me, and I don't have time to say any more about it because I'm off to read it again. And after that, I might read it again. And then again. You read it too

The Bookbag
A superbly original tale

Natasha Harding, The Sun
This is a highly entertaining and very satisfying book which should be recommended to all. It needs to be read.

Marilyn Brocklehurst, The Bookseller
Harrowing, exhilarating, humbling and quite brilliant

The Bookseller
One of the most exciting and original novels of the year . . . It's a tight, thrilling story, told from various characters' perspectives and has a Slumdog, feel-good pulse beating through it. A genuine treasure find

Sally Morris, Daily Mail
Trash is a thriller with moral weight and a complex structure . . . Without ever moralising, Mulligan raises issues of corruption, poverty, waste and excess in an exciting, but also grimly sad tale

Suzi Feay, Financial Times
Great stuff: taut, plausible and thought-provoking

Toby Clements, Daily Telegraph
Headlong and heart-stopping, this is an adventure you just can't put down

Julia Eccleshare, Love Reading 4 Kids
There is danger, and action, and periods of lying low - the tension is well developed and the climax gloriously appropriate. This was a very exciting read, and I certainly recommend it

Diana Barnes, Write Away!
A cracker of a thriller . . . a zippy and classic briefcase-full-of-money thrill ride

Kirkus Review USA
An exciting thriller about justice and courage pitted against ruthless corruption that takes readers into perilous places and prepares them for Oliver Twist

Amanda Craig, The Times
A brilliant book I cannot recommend highly enough

Charlie Higson, Mail on Sunday
Exciting and fast moving as the story is, it also tugs at your heartstrings and reminds the reader that there are many young people for whom this way of life is reality. Unmissable!

Pat Tate, Carousel
This is a powerful and gripping story that takes us into some painful places, but makes us believe that transformation is possible - that the vulnerable and weak can sometimes triumph against a whole system. I would very highly recommend it

Armadillo Magazine
Often funny, more often very moving

John Boyne, The Gloss
While readers will delight in the excitement and adventure of this story, they will also learn about the poverty and difficulties faced by many children throughout the world and about the consequences of corruption in government

Marianne Saccardi, Greenwich Citizen
The chase leads them throughout the city, exposing the great disparity between the "haves" and the "have nots," and the huge injustice this represents. They face moral dilemmas throughout and, ultimately, make good decisions. Their intelligence and characters make the condition in which they live seem even more unfair

Kristin Anderson, School Library Journal
An exciting read full of suspense. This will appeal to boys and to girls, and could act as a stimulus to classroom discussion of poverty, child workers, recycling in third world countries and the misuse of economic and political power

School Librarian
One of my favourite novels of 2010, now in paperback with a new cover look. Reminiscent of Slumdog Millionaire, three dumpsite boys take on the world in this gripping and intensely moving story . . . Harrowing, exhilarating, humbling and quite brilliant

The Bookseller
Outstanding, hotly anticipated thriller . . . an exceptionally satisfying plot

The Times
A superbly original tale

The Sun