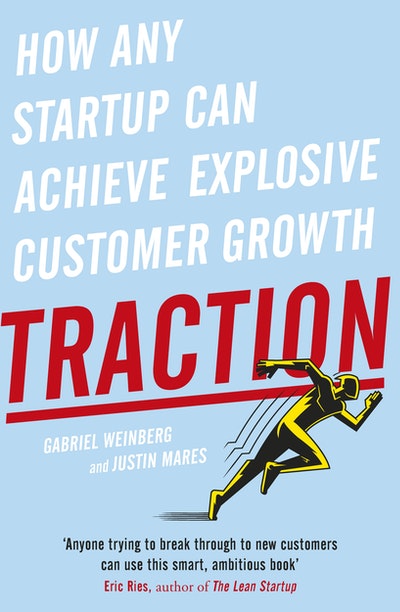 Published:

7 April 2022

ISBN:

9780241996935

Imprint:

Penguin Audio

Format:

Audio Download

RRP:

$26.00
Traction
How Any Startup Can Achieve Explosive Customer Growth
---
---
---
Two successful entrepreneurs offer a comprehensive overview of the various ways startups can achieve strong, sustainable growth, and a guide to choosing the ones that will make the difference
Why do so many startups fail? According to entrepreneurs Gabriel Weinberg and Justin Mares, most failed startups make the fatal mistake of putting all their effort into perfecting their product at the cost of reaching out to potential users.
Instead, they should be putting half their resources into getting traction. Traction is the essential guide for any startup looking to stay ahead of the curve and start building a user base early in the game. The book offers no one-size-fits-all solution: every startup is unique, so no single method is guaranteed to generate traction. Instead, the authors identify nineteen different traction channels, from viral marketing to trade shows. They offer insights on how to exploit each one to its fullest potential, and provide a framework to test various channels and identify the best one for any startup.
Published:

7 April 2022

ISBN:

9780241996935

Imprint:

Penguin Audio

Format:

Audio Download

RRP:

$26.00
Anyone-founders, managers, and executives-trying to break through to new customers can use this smart, ambitious book

Eric Ries, author of The Lean Startup
The question every founder asks after shipping is always: how do I get traction? This book actually answers it

Alexis Ohanian, cofounder of reddit
The entrepreneurs who walk out of our offices with term sheets walk into them with Traction. It's a pragmatic guide to solving the entrepreneur's number one challenge

Fred Wilson, partner at USV
Traction is a critical guide for entrepreneurs looking to grow and scale their businesses

Patrick Vlaskovits, bestselling author of The Lean Entrepreneur
This is a must-have, essential book if you want to be good at growth

Aaron Ginn, Growth at StumbleUpon
Traction is an absolute must. The Bullseye Framework Gabe and Justin layout is probably the greatest tool in my catalog over the past year. Whether you are a seasoned entrepreneur or just getting started, Traction offers a framework that creates efficiency, clarity, and focus. Traction is equal to and should be read alongside The Lean Startup

Adam Kearney, Founder & CEO, Saunter
Traction belongs on every startup founder's bookshelf. I'm buying copies for the CEOs of my current angel investments

Kevin Dewalt, Angel Investor
A common question I get is: 'How do I know if my business is getting traction, or how do I get traction for my business, or how do I get users?' Traction answers all of these questions and more

James Altucher, author of Choose Yourself.