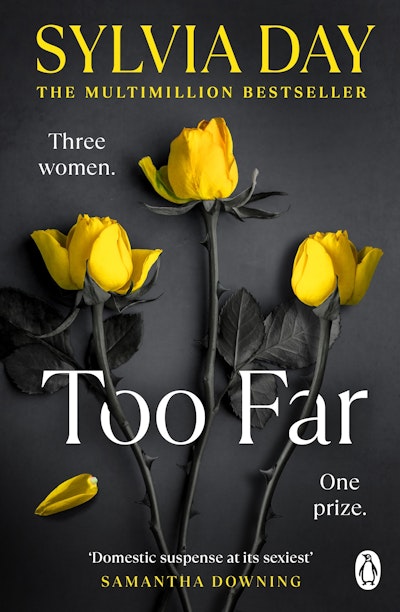 Published:

26 October 2023

ISBN:

9781405918404

Imprint:

Penguin eBooks

Format:

EBook

Pages:

384
Too Far
The scorching new novel from the bestselling author of So Close (Blacklist)
---
---
---
The second novel in the new Blacklist series from the number one bestselling author Sylvia Day
Lily Black was presumed dead for years. Now she's returned to the unquestioning arms of her loving husband, Kane. Where she's been is a mystery, but the deadly danger she's brought with her is manifest to all.
Aliyah, Kane's mother, has worked hard to position herself in power. No one escapes her bitter ambition, not her children and certainly not a woman who may not be who she claims.
Amy, Kane's sister-in-law, has been a pawn throughout the dangerous games the family plays. She's beginning to grasp the rules, though, and won't stop until all the pieces on the board have toppled.
Published:

26 October 2023

ISBN:

9781405918404

Imprint:

Penguin eBooks

Format:

EBook

Pages:

384
Praise for Sylvia Day

:
Praise for Sylvia Day

:
Praise for Sylvia Day

:
Praise for Sylvia Day

:
Praise for Sylvia Day

:
Praise for Sylvia Day

:
Praise for Sylvia Day

:
Praise for Sylvia Day

:
Praise for Sylvia Day

:
A dangerous and sultry novel about lies, secrets, and the line between love and obsession. The perfect first entry of a two-book series, So Close drew me in and kept me reading, desperate to know what happened next. Domestic suspense at its sexiest

Samantha Downing, bestselling author of <i>My Lovely Wife</i>
A dangerous and sultry novel about lies, secrets, and the line between love and obsession. The perfect first entry of a two-book series, So Close drew me in and kept me reading, desperate to know what happened next. Domestic suspense at its sexiest

Samantha Downing, bestselling author of <i>My Lovely Wife</i>
A dangerous and sultry novel about lies, secrets, and the line between love and obsession. The perfect first entry of a two-book series, So Close drew me in and kept me reading, desperate to know what happened next. Domestic suspense at its sexiest

Samantha Downing, bestselling author of <i>My Lovely Wife</i>
A dangerous and sultry novel about lies, secrets, and the line between love and obsession. The perfect first entry of a two-book series, So Close drew me in and kept me reading, desperate to know what happened next. Domestic suspense at its sexiest

Samantha Downing, bestselling author of <i>My Lovely Wife</i>
A dangerous and sultry novel about lies, secrets, and the line between love and obsession. The perfect first entry of a two-book series, So Close drew me in and kept me reading, desperate to know what happened next. Domestic suspense at its sexiest

Samantha Downing, bestselling author of <i>My Lovely Wife</i>
A dangerous and sultry novel about lies, secrets, and the line between love and obsession. The perfect first entry of a two-book series, So Close drew me in and kept me reading, desperate to know what happened next. Domestic suspense at its sexiest

Samantha Downing, bestselling author of <i>My Lovely Wife</i>
A dangerous and sultry novel about lies, secrets, and the line between love and obsession. The perfect first entry of a two-book series, So Close drew me in and kept me reading, desperate to know what happened next. Domestic suspense at its sexiest

Samantha Downing, bestselling author of <i>My Lovely Wife</i>
A dangerous and sultry novel about lies, secrets, and the line between love and obsession. The perfect first entry of a two-book series, So Close drew me in and kept me reading, desperate to know what happened next. Domestic suspense at its sexiest

Samantha Downing, bestselling author of <i>My Lovely Wife</i>
A dangerous and sultry novel about lies, secrets, and the line between love and obsession. The perfect first entry of a two-book series, So Close drew me in and kept me reading, desperate to know what happened next. Domestic suspense at its sexiest

Samantha Downing, bestselling author of <i>My Lovely Wife</i>
Move over Danielle Steel and Jackie Collins, this is the dawn of a new Day

Amuse
Move over Danielle Steel and Jackie Collins, this is the dawn of a new Day

Amuse
Move over Danielle Steel and Jackie Collins, this is the dawn of a new Day

Amuse
Move over Danielle Steel and Jackie Collins, this is the dawn of a new Day

Amuse
Move over Danielle Steel and Jackie Collins, this is the dawn of a new Day

Amuse
Move over Danielle Steel and Jackie Collins, this is the dawn of a new Day

Amuse
Move over Danielle Steel and Jackie Collins, this is the dawn of a new Day

Amuse
Move over Danielle Steel and Jackie Collins, this is the dawn of a new Day

Amuse
Move over Danielle Steel and Jackie Collins, this is the dawn of a new Day

Amuse
A master storyteller

RT Book Reviews
A master storyteller

RT Book Reviews
A master storyteller

RT Book Reviews
A master storyteller

RT Book Reviews
A master storyteller

RT Book Reviews
A master storyteller

RT Book Reviews
A master storyteller

RT Book Reviews
A master storyteller

RT Book Reviews
A master storyteller

RT Book Reviews
Steamy sex scenes and intriguing plot twists will have readers clamouring for more

Library Journal
Steamy sex scenes and intriguing plot twists will have readers clamouring for more

Library Journal
Steamy sex scenes and intriguing plot twists will have readers clamouring for more

Library Journal
Steamy sex scenes and intriguing plot twists will have readers clamouring for more

Library Journal
Steamy sex scenes and intriguing plot twists will have readers clamouring for more

Library Journal
Steamy sex scenes and intriguing plot twists will have readers clamouring for more

Library Journal
Steamy sex scenes and intriguing plot twists will have readers clamouring for more

Library Journal
Steamy sex scenes and intriguing plot twists will have readers clamouring for more

Library Journal
Steamy sex scenes and intriguing plot twists will have readers clamouring for more

Library Journal
Lots of sex and gripping story lines

Sun
Lots of sex and gripping story lines

Sun
Lots of sex and gripping story lines

Sun
Lots of sex and gripping story lines

Sun
Lots of sex and gripping story lines

Sun
Lots of sex and gripping story lines

Sun
Lots of sex and gripping story lines

Sun
Lots of sex and gripping story lines

Sun
Lots of sex and gripping story lines

Sun
Full of emotional angst, scorching love scenes, and a compelling storyline

Dear Author
Full of emotional angst, scorching love scenes, and a compelling storyline

Dear Author
Full of emotional angst, scorching love scenes, and a compelling storyline

Dear Author
Full of emotional angst, scorching love scenes, and a compelling storyline

Dear Author
Full of emotional angst, scorching love scenes, and a compelling storyline

Dear Author
Full of emotional angst, scorching love scenes, and a compelling storyline

Dear Author
Full of emotional angst, scorching love scenes, and a compelling storyline

Dear Author
Full of emotional angst, scorching love scenes, and a compelling storyline

Dear Author
Full of emotional angst, scorching love scenes, and a compelling storyline

Dear Author
They are powerful, sexy and unputdownable

Victoria Loves Books
They are powerful, sexy and unputdownable

Victoria Loves Books
They are powerful, sexy and unputdownable

Victoria Loves Books
They are powerful, sexy and unputdownable

Victoria Loves Books
They are powerful, sexy and unputdownable

Victoria Loves Books
They are powerful, sexy and unputdownable

Victoria Loves Books
They are powerful, sexy and unputdownable

Victoria Loves Books
They are powerful, sexy and unputdownable

Victoria Loves Books
They are powerful, sexy and unputdownable

Victoria Loves Books
Boldly passionate, scorchingly sexy

Booklist
Boldly passionate, scorchingly sexy

Booklist
Boldly passionate, scorchingly sexy

Booklist
Boldly passionate, scorchingly sexy

Booklist
Boldly passionate, scorchingly sexy

Booklist
Boldly passionate, scorchingly sexy

Booklist
Boldly passionate, scorchingly sexy

Booklist
Boldly passionate, scorchingly sexy

Booklist
Boldly passionate, scorchingly sexy

Booklist
Sophisticated, engaging, clever and sweet

Irish Independent
Sophisticated, engaging, clever and sweet

Irish Independent
Sophisticated, engaging, clever and sweet

Irish Independent
Sophisticated, engaging, clever and sweet

Irish Independent
Sophisticated, engaging, clever and sweet

Irish Independent
Sophisticated, engaging, clever and sweet

Irish Independent
Sophisticated, engaging, clever and sweet

Irish Independent
Sophisticated, engaging, clever and sweet

Irish Independent
Sophisticated, engaging, clever and sweet

Irish Independent
Indulgent fantasy at its most enjoyable

Shelf Awareness
Indulgent fantasy at its most enjoyable

Shelf Awareness
Indulgent fantasy at its most enjoyable

Shelf Awareness
Indulgent fantasy at its most enjoyable

Shelf Awareness
Indulgent fantasy at its most enjoyable

Shelf Awareness
Indulgent fantasy at its most enjoyable

Shelf Awareness
Indulgent fantasy at its most enjoyable

Shelf Awareness
Indulgent fantasy at its most enjoyable

Shelf Awareness
Indulgent fantasy at its most enjoyable

Shelf Awareness
A hundred degrees hotter than anything you've read before

Reveal
Lots of sex and gripping story lines

The Sun
They are powerful, sexy and unputdownable

Victoria Loves Books