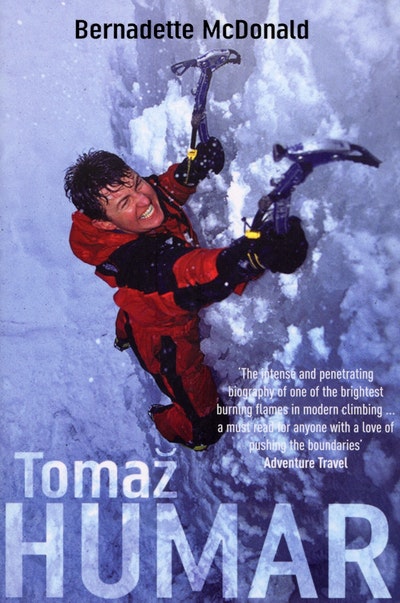 Published:

1 July 2010

ISBN:

9781407004709

Imprint:

Cornerstone Digital

Format:

EBook

Pages:

272
Tomaz Humar
---
---
---
The heart-breaking, triumphant and inspirational story of Tomaz Humar, who fled Civil War in Yugoslavia and became one of the world's greatest - and most controversial - mountaineers.
In August, 2005, Tomaz Humar was trapped on a narrow ledge at 5900 metres on the formidable Rupal Face of Nanga Parbat. He had been attempting a new route, directly up the middle of the highest mountain face in the world - solo. After six days he was out of food, almost out of fuel and frequently buried by avalanches. Three helicopters were poised for a brief break in the weather to pluck him off the mountain. Because of the audacity of the climb, the fame of the climber, the high risk associated with the rescue, and the hourly reports posted on his base-camp website, the world was watching. Would this be the most spectacular rescue in climbing history? Or a tragic - and very public - death in the mountains?
Years before, as communism was collapsing and the Balkans slid into chaos, Humar was unceremoniously conscripted into a dirty war that he despised, where he observed brutal and inhumane atrocities that disgusted him. Finally he did the unthinkable: he left and finally arrived home in what had become a new country - Slovenia.
He returned to climbing, and within very few years, he was among the best in the world. Reinhold Messner, among others, called him the most remarkable mountain climber of his generation. His routes are seldom repeated; most consider them to be suicidal; yet he often climbs them solo. As this book was being written, he achieved the first-ever solo ascent of the east summit of Annapurna.
Tomaz Humar has cooperated with Bernadette McDonald, the distinguished former director of the Banff Festival and author of several books on mountaineering, to tell his utterly remarkable story.
Published:

1 July 2010

ISBN:

9781407004709

Imprint:

Cornerstone Digital

Format:

EBook

Pages:

272
The intense and penetrating biography of one of the brightest burning flames in modern climbing... McDonald empathises with Humar's passion, being a climber herself, and the resulting book is a must read for anyone with a love of pushing the boundaries.

Adventure Travel
A brilliant book ... This extraordinarily absorbing insight into Humar's originality ultimately compels the reader to participate personally in his decisions. Besides breath-taking descriptions of what happens on the mountains, this book most importantly helps us understand the main character as Bernadette McDonald sets him free from the swirls of mist.

Kurt Diemberger
The book is cleverly constructed, using the tale of the extraordinary and prolonged rescue effort on the Rupal Face of Nanga Parbat as a coat-hanger for Tomaz's life and extraordinary climbs ... well-written and perceptive

Chris Bonington