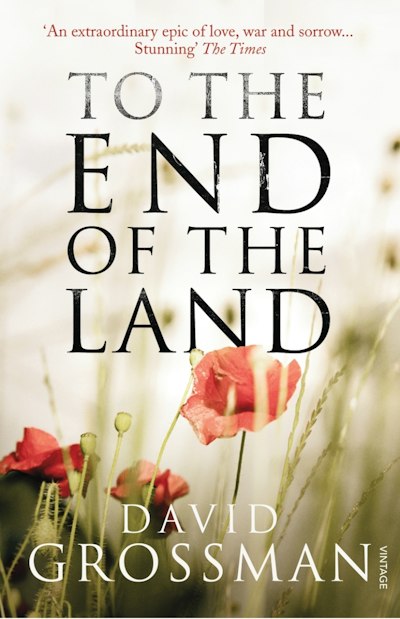 Published:

3 October 2011

ISBN:

9781446414132

Imprint:

Vintage Digital

Format:

EBook

Pages:

592
To The End of the Land
---
---
---
From one of the world's most acclaimed writers comes a novel of extraordinary power about family life - the greatest human drama - and the cost of war.
Ora, a middle-aged Israeli mother, is about to celebrate her son Ofer's release from army service when he returns to the front for a major offensive. Instead of waiting at home for the 'notifiers' who could arrive at any moment to tell her of her son's fate, she sets off for a hike in Galilee, leaving no forwarding address. If a mother is not there to receive the news, a son cannot die, can he?
Recently estranged from her husband, Ora drags along an unlikely companion: their former best friend and her former lover Avram, the man who in fact turns out to be her son's biological father. As they sleep out in the hills, ford rivers and cross valleys, Ora recounts, step by step and word by word, the story of her son's birth, life and possible death, in one mother's magical, passionate and heartbreaking attempt to keep her son safe from harm.
Published:

3 October 2011

ISBN:

9781446414132

Imprint:

Vintage Digital

Format:

EBook

Pages:

592
Praise for To The End of the Land
David Grossman writes with a vulnerability that is free of fear, poetic and powerful, sensual and angry, passionate and gently. He writes not only for his survival but for ours as well.

Die Zeit
The formative novel of Hebrew literature in the 21st century. No less. Perhaps a lot more

Ariana Melamed, YNET
This is a book of overwhelming power and intensity, David Grossman's masterpiece. Flaubert created his Emma, Tolstoy made his Anna, and now we have Grossman's Ora -- as fully alive, as fully embodied, as any character in recent fiction. I devoured this long novel in a feverish trance. Wrenching, beautiful, unforgettable.

Paul Auster
There are some writers in whose words one recognizes the texture of life. David Grossman is such a writer. He is a master of the emotionally accurate and significant. His characters don't so much lie on the page as rise before the reader's eyes, in three dimensions, their skin covered in prose that both stabs with insight and shines with compassion.

Yann Martel
This is a great novel, a rare example of a book that lives up to its billing, its emotional depth and humanity balanced by formidable formal control and pacing of the chronological sequence, the text rendered into an English that mostly finds the cadence and associative range of the original Hebrew... To The End Of The Land is, quite literally, unforgettable

Brian Morton, Sunday Herald
Grossman's use of language - emotive, poignant, sometimes bewitching - draws the reader in and Ora becomes a truly sympathetic character. An eloquent and captivating read, and quite possibly a landmark novel in Israeli fiction.

Danielle Goldstein, Timeout
Extraordinary, impassioned... To the End of the Land is without question one of the most powerful and moving novels I have ever read

Jacqueline Rose, Guardian
Honeyed and portentous, rhythmic and often breathless, the prose sweeps the reader into a pool of shimmering reflection

Toby Lichtig, TLS
Grossman's account of Ora and Avram's lengthening flight from their painful lives is a tour de force.

Jonathan Mirsky, Spectator
David Grossman explores how words illuminate the darkest landscapes and how lives can be shaped and preserved through stories

Stephanie Cross, Daily Mail
wonderful, and desperately sad

interview with Claire Allfree, Metro
Sorrow and magnificence go hand in hand in Israeli writer David Grossman's intimate view of lives held hostage to the threat of violence and danger...potent, moving and emotionally raw. To the End of the Land is unforgettable

Marie Claire
The book is full of incidents of magical thinking of the kind that anyone who has ever tried in vain to protect someone they love will recognise. This is a powerful epic of love, loss and loyalty

Psychologies Magazine
...terrific...this is a powerful and memorable novel, which movingly evokes the strains of war and peace in one household...British people are often accused of failing to see things from the Israeli point of view. To the End of the Land sears this perspective onto the memory.

Theo Tait, Sunday Times
...extraordinary epic of love, war and sorrow...Stunning-brilliantly written and beautifully constructed.

Kate Saunders, The Times
...a deeply serious, utterly honest work about the state of Israel.

Justin Cartwright, Financial Times
It is tricky to set out the scale of Grossman's achievement without resorting to reviewers' clichés. He has aimed as high as it is possible to do in a novel which deals with the great questions of love, intimacy, war, memory and fear of personal and national annihilation-and has overwhelmingly achieved everything.

Linda Grant, Independent
...a powerful and memorable novel, which movingly evokes the strains of war and peace...British people are often accused of failing to see things from the Israeli point of view. To the End of the Land sears this perspective onto the memory.

Theo Tait, Sunday Times Culture Magazine
Stunning-brilliantly written and beautifully constructed.

Kate Saunders, The Times
Is a heartbreaking, riveting portrait of modern Israel. A family story, a rich character study, a story of war. Unmissable.

Erica Wagner, The Times, Christmas round up
A work of art

Rachel Cooke, New Statesman, Christmas round up
First-rate writing about the craziness of modern-war.

Simon Schama, Daily Telegraph, Christmas round up
Breathtaking skill...an extraordinary emotional charge.

Colm Toibin, Guardian, Christmas round up
David Grossman laid bare the flayed soul of Israel

Boyd Tonkin, Independent, Christmas round up
Articulates the pain and complexity of being born in Israel so powerfully that it will unquestionably be studied by future generations.

Nick Barley, Herald, Christmas round up
Magnificent

Katherine Duncan-Jones, Times Literary Supplement, Christmas round up
Often impressive, sometimes touching

Neal Ascherson, London Review of Books
He is the finest living novelist I have read. His work is visceral and clear-headed. Though I loved Franzen's Freedom, Grossman's novel is better

Stella Tillyard, Observer
To define David Grossman's masterly new novel as the ultimate anti-war oeuvre would not do it justice...To the End of the Land is richer and more complex than a chronicle of war. It is an intimate portrayal of a woman and mother, Ora, who has been compared to Flaubert's Emma or Tolstoy's Anna...With characters with whom the reader can empathise, a powerful if disturbing theme and an element of suspense and the unknown, Grossman's novel, while not easy to read, is well worth the effort

Emma Klein, Tablet
Further proof the Very Long Novel is in rude health with David Grossman's fine book about the seemingly endless conflict between Israel and Palestine

Metro
Movingly evokes the strains of war and peace in one Israeli household

Theo Tait, Sunday Times
Grossman's soaring, wrenching journey through Israel ... grapples with the largest of themes: memory and identity, community and nationhood. Yet through its picaresque plot, it always remains a mother's story and a family romance... Grossman aims high, digs deep, and returns from inner and outer voyages with darkly glittering jewels of insight

Independent
An intimate and national epic

Colin Waters, Herald
A stunning, powerful novel

Telegraph
To the End of the Land is a novel of relationships: personal, moral and political: all reviewed against a muted landscape of pain, threat and hostility... Grossman list his youngest son Uri in the final hours of the second Lebanon war and his personal connection to the trauma of conflict adds weight to this substantial work

James Urquhart, Financial Times
Very rarely, a few times in a lifetime, you open a book and when you close it again nothing can ever be the same. To the End of the Land is a book of this magnitude. David Grossman may be the most gifted writer I've ever read. To read it is to have yourself taken apart, undone, touched at the place of your own essence; it is to be turned back, as if after a long absence, into a human being

Nicole Krauss