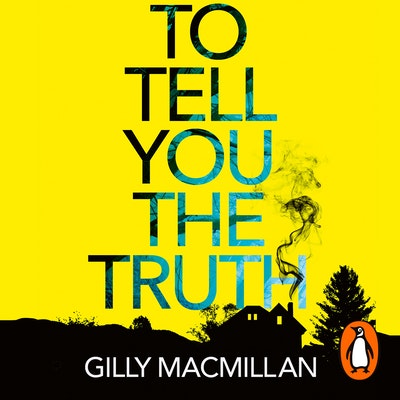 Published:

25 June 2020

ISBN:

9781473576063

Imprint:

Cornerstone Digital

Format:

Audio Download

RRP:

$24.99
To Tell You the Truth
A twisty thriller that's impossible to put down
---
---
---
A new psychological thriller by Sunday Times bestselling author Gilly MacMillan for readers who loved THE COUPLE NEXT DOOR and THE CHILD.
Brought to you by Penguin.
The Sunday Times bestselling author of The Nanny returns with a compulsive thriller that is a potent blend of atmosphere, tarnished memories, and twisty secrets.
___________________
Lucy Harper has a talent for invention.
She is an exceptionally successful writer whose obsessive readers hound her for every book. But the pressure is extreme. And it's not just the pressure of finishing her next novel. Years ago when she was a child, Lucy's little brother went missing and he has never been found. Many people think Lucy was responsible for his disappearance. Lucy herself can't bear to think about it.
Writing a thriller a year is demanding and Lucy depends on her husband Dan to take care of everything in her life. But Lucy finds herself in a real police drama when Dan goes missing. The evidence points to her. And it isn't the first time someone's vanished in Lucy's orbit.
Did she kill her husband? Would she remember if she did?
Is she even capable of telling the truth?
___________________
PRAISE FOR GILLY MACMILLAN:
'Pulses with tension until its shocking conclusion' SHARI LAPENA
'White-knuckled suspense' TESS GERRITSEN
'From the first page I wanted to know all the dark secrets this family were hiding. It's a seriously addictive read and I never knew who to trust' AMY LLOYD, author of THE INNOCENT WIFE and ONE MORE LIE
'A brilliant blend of missing person drama with some seriously spooky Gothic overtones.' GLAMOUR MAGAZINE
'Secrets, lies, jealousy and betrayal. Elegantly structured and infused with a creeping sense of dread' SARAH VAUGHAN
'The plot sucked me in and the insidious build had me turning the pages rapidly' JANE SHEMILT
'The Nanny will make you doubt everyone - including yourself. Some families are built on a bedrock of lies. This one is no exception. Clever and deliciously addictive' JANE CORRY
'I was blown away by The Nanny. Original, twisty, unpredictable and taut with its buried secrets, the old creepy house and complex relationships. I never knew who to trust and the ending shocked me. This deserves to be huge!' CLAIRE DOUGLAS
'A tense, assured and atmospheric thriller which will keep you guessing from page one right through to the shocking denouement. Brilliantly absorbing' MEL McGRATH
©Gilly Macmillan 2020 (P) Penguin Audio 2020
Published:

25 June 2020

ISBN:

9781473576063

Imprint:

Cornerstone Digital

Format:

Audio Download

RRP:

$24.99
Praise for To Tell You the Truth
With its buried secrets, shifting allegiances, and creeping sense of dread, The Nanny pulses with tension until its shocking conclusion. I absolutely loved it!

Shari Lapena
The plot sucked me in and the insidious build had me turning the pages rapidly

Jane Shemilt
I was blown away by The Nanny. Original, twisty, unpredictable and taut with its buried secrets, the old creepy house and complex relationships. I never knew who to trust and the ending shocked me. This deserves to be huge!

Claire Douglas
From the first page I wanted to know all the dark secrets this family were hiding. It's a seriously addictive read and I never knew who to trust

Amy Lloyd
THE NANNY kept me in white-knuckled suspense until the very last page. Gilly Macmillan's breakout thriller is a dark and twisted version of Downton Abbey gone very, very wrong.

Tess Gerritsen
Gilly Macmillan is a master of creating tension so exquisitely unbearable I had to force myself not to skip ahead. Brilliant, gripping, and terrifying.

Liv Constantine
Exploding with secrets, The Nanny by master storyteller Gilly Macmillan has everything you dream for in a thriller: expertly drawn and complex characters, a terrifying premise and the best villain I've encountered on the page in a long time. Told through multiple perspectives, Macmillan skillfully reveals long dormant family secrets in this atmospheric stunner. Be sure to catch up on your sleep before picking up The Nanny, you won't be able to rest until the final, spine-tingling conclusion.

Heather Gudenkauf
A brilliant blend of missing person drama with some seriously spooky Gothic overtones.

Glamour magazine
The Nanny will make you doubt everyone – including yourself. Some families are built on a bedrock of lies. This one is no exception. Clever and deliciously addictive.

Jane Corry
A tense, assured and atmospheric thriller which will keep you guessing from page one right through to the shocking denouement. Brilliantly absorbing.

Mel McGrath