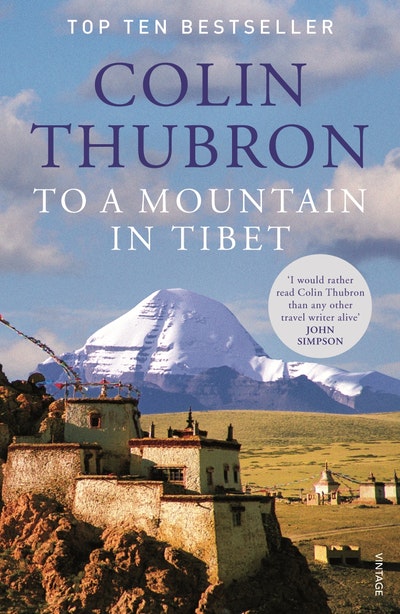 Published:

1 September 2011

ISBN:

9781446467183

Imprint:

Vintage Digital

Format:

EBook

Pages:

240
To a Mountain in Tibet
---
---
---
Longlisted for the Dolman Travel Book of the Year - this is the doyen of travel writing at his elegiac and luminous best.
**TOP TEN BESTSELLER**
'I would rather read Colin Thubron than any other travel writer alive' John Simpson
Mount Kailas is the most sacred of the world's mountains - holy to one fifth of humanity. Isolated beyond the central Himalayas, its summit has never been scaled, but for centuries the mountain has been ritually circled by Hindu and Buddhist pilgrims.
Colin Thubron joins these pilgrims, after an arduous trek from Nepal, through the high passes of Tibet, to the magical lakes beneath the slopes of Kailas itself. He talks to secluded villagers and to monks in their decaying monasteries; he tells the stories of exiles and of eccentric explorers from the West.
Yet he is also walking on a pilgrimage of his own. Having recently witnessed the death of the last of his family, his trek around the great mountain awakes an inner landscape of love and grief, restoring precious fragments of his own past.
Published:

1 September 2011

ISBN:

9781446467183

Imprint:

Vintage Digital

Format:

EBook

Pages:

240
Praise for To a Mountain in Tibet
[An] elegiac account of high-altitude piety...he's still one of the best in the business

Helen Davies, Sunday Times, Books of the Year
[Thubron] doesn't just walk into the higher reaches of the Himalyas but explores his own reaches of eternity as well as the more outer regions of Buddhism and Hinduism

The Irish Times
[Thubron] skilfully balances his poetic descriptions of the land and its subtle, shifting colours with human stuff - observations of his fellow travellers, encounters and personal anecdotes, snippets of history and rather interesting accounts of Tantric Buddhism, with its swirling pantheon of blue-faced demons, bodhisattvas, gods and goddesses... Thubron has recently buried his last living relative and his grieving gives depth and weight to his meditations on Tibetan Buddhism

Angus Clarke, The Times
A master class in travel writing that's also infused with the author's "shadowy melancholy" of ageing and grief...Thubron showcases here all the skills that have earned him the champion's belt as Britain's best living travel writer

Sunday Times
A new Travel Thubron is always to be savoured, but there was something valedictory and elegiac about this

Gavin Francis, Scotland on Sunday, Books of the Year
Abook which beautifully describes one man's experience of loss and familial love

Joanna Kavenna, Guardian
Amid the desolation there is a beauty that comes not only from the things that Thubron chooses to describe but from the way in which he describes them

Tablet
An absolutely terrific book. Thubron has perfect pitch. He uses the minimum of words to maximum effect. His descriptions are fresh and acute and he can convey atmosphere and emotion on the head of a pin. The journey to Mount Kailash is enthralling and he keeps the reader right beside him every inch of the way

Michael Palin, Observer, Books of the Year
An utterly absorbing read... An elegiac meditation on life, death, family and mortality. Beautiful

Wanderlust
As he makes the arduous ritual circle of Kailas, the rocks and gullies come alive with their sacred meanings and give us an understanding of faiths held with a passion unfamiliar in the West. His profound, elegant and fascinating little book is much weightier than it appears.

Christopher Hudson, Daily Mail
Colin Thurbron's ode to a mystical mountain in Tibet... Not to be missed

Daily Telegraph
Daring and brilliant. Thubron has crafted a book which beautifully describes one man's experience of loss, familial love, and even the state of mortal indeterminacy itself - how we all keep our memories, consoled and bewildered by turns, the sun on our faces, and the birds carrying above

Joanna Kanvenna, Observer
Deploying a poetic blend of travel and memoir, Thubron uses Buddhism to inform reflections on the cycles of life and the meaning of suffering... it is an elegy for everything that makes us human

Sara Wheeler, Guardian
Exquisitely written, To a Mountain in Tibet is not just a travelogue; it amounts to a heart-felt hosanna to the travails of walking... Colin Thubron takes us back to the days of exploration when the going was rough. To a Mountain in Tibet, a matchless work of literary travel, confirms Thubron as a wise and discriminate prospector in the affairs of man

Ian Thompson, Irish Times
Given that Thubron has shown himself over a lifetime's work to be our finest, is seems fitting that what is as much memoir as travel book should have as its setting the greatest spiritual pilgrimage the East has to offer

Daily Telegraph
haunting and profound

Sunday Express Magazine
He describes both landscapes and humans in sharp poetic detail and provides a deceptively simple account of both the inner and outer journey.

The Week
His book is interspersed with poignant passages about his late parents and sister, who died in an avalanche when he was 23. Thubron also reveals some cultural surprises.

Simon Shaw, Daily Mail
His measures prose matches the region's stark beauty. Refreshing

Financial Times
I am haunted by its spare simplicity and beauty

Simon Winchester, Daily Telegraph, summer reading
In an elegiac mood and powerful prose. Thubron considers the significance of his journey, the poetry and politics of the region, and the bleak landscapes that reflect solitude

Saga
It could have been written for radio in how vividly it makes you see pictures, hear sounds, notice the worn trainers on the man who joined them for part of the trek, catch the tap of the sherpa's staff. It sounds like a conversation with the listener's imagination

Daily Telegraph, Book of the Week
It's a pleasure to follow Colin Thubron's hesitant pilgrimage ... the last of the great post-war British travel writers

Waterstone's Books Quarterly
Making a lyrical hymn out of travel writing, Thubron's evocative pilgrimage is typically poised yet, triggered by the death of his mother, also unusually personal

Sunday Telegraph
Punchy, evocative... It is a dangerous journey up to 18,000ft, where Thubron, who is mourning his mother, is hit by altitude sickness

Tom Chesshyre, The Times
Punchy, evocative... It is a dangerous journey up to 18,000ft, where Thubron, who is mourning his mother, is hit by altitude sickness

Tom Chesshyre, The Times
Reflections of the wheel of life are sensitively handled and the writing is as beautiful as ever

Anthony Sattin, Sunday Times
The keenest-eyed, least self-absorbed, of literary travellers, Colin Thubron writes with a pin-point elegance and economy that directs your gaze to a place and its people, rather than to the author's foibles... His tales of seekers, refugees and mystics richly sketch the background of Tibetan history and Buddhist belief. Above all, his lean and supple prose draws meaning and moment from every encounter. "To the pilgrims, there are no mute stones" - and not to their ultra-observant companion

Boyd Tonkin, Independent
The most profound and revealing thing [Thubron] has ever written

Spectator
The subject matter - gloomy, perhaps, in other hands - shines in Thubron's beautiful prose

The Lady
The writing glitters. Thubron has always been a travel-writing stylist, in the lyrical mould of Patrick Leigh Fermor, but with the quartz-like eye of Freya Stark

Tom Adair, Scotsman
This is a bold and brave journey, an elegiac book by a master of prose at the height of his powers

Justin Marozzi, Evening Standard
This is a superb book from a writer who over his lifetime has shown himself to be our finest modern chronicler of Asia

Telegraph
This is not only a book about Tibet; it is a book about Colin Thubron and much the richer for that

Country Life
This latest travelogue confirms Colin Thubron as one of the greatest contemporary travel writers

Time Out
This pure artist of the voyage looks back backwards and within, to his late mother and his childhood, as well as up to the Himalayan peaks and peoples that he sumptuously evokes

Boyd Tonkin, Independent, Books of the Year
Thubron is an impressive prose stylist..he writes with great elegiac precision

Times Literary Supplement
Thubron's books celebrate the terrible, pitiful, beautiful, human condition ... To a Mountain in Tibet offers no redemption and no conclusion. Instead, it is an elegy for everything that makes us human

Sara Wheeler, Guardian
Thubron's descriptive writing is as dazzling as the scenery. His scholarship on the area's religious and political history is enthralling

Tom Robbins, Financial Times
Thubron's writing is as spectacular as his surroundings so he therefore makes you feel as though you are treading the path with him

Charlotte Vowden, Daily Express
What Thubron provides in his inimitable way is an account of both fellow pilgrimsand himself

Geographical
With a landscape that easily provokes superlatives or just stupefied wonder, and a culture steeped in esoteric beliefs, Tibet needs a writer of Thubron's caliber to do it justice

Lonely Planet
Wonderfully poetic tale

Compass