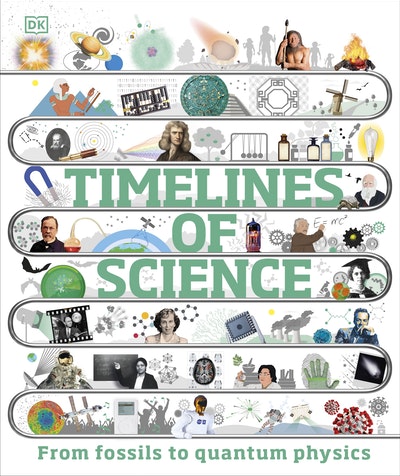 Published:

18 October 2022

ISBN:

9780241515358

Imprint:

Dorling Kindersley

Format:

Hardback

Pages:

320

RRP:

$42.99
Timelines of Science
From Fossils to Quantum Physics
---
---
Spectacular visual timelines tell the story of science from fossils to quantum physics
More than 150 spectacular illustrated timelines show how science changed the world one discovery at a time.
Timelines of Science takes you on an astonishing voyage through time to witness every great breakthrough in the history of science. Each topic is beautifully realized as an illustrated, two-page timeline showcasing the discoveries, disasters, and eureka moments that gave rise to every modern science from astronomy to zoology. Find out why the fruitless search for a potion of eternal life led to the birth to modern chemistry. See how the invention of magnifying lenses opened new windows into the cosmos and microcosmos. And learn how happy accidents led to the lucky discovery of antibiotics, X-rays, electricity, pulsars, and even the big bang.
Timelines of Science is not just about science - it's also a book about human endeavour. The stories of discovery are told through the lives of extraordinary men and women who often dared to challenge conventional wisdom in their trailblazing pursuit of scientific truth. The timelines show how each scientist "stood on the shoulders of giants", building on the work of previous luminaries, while - in some cases - bitterly trying to overturn their rivals' or predecessors' theories.
Filled with dazzling illustrations, spectacular photography, and easy-to-follow storytelling that cuts through technical jargon, Timelines of Science is guaranteed to capture the imagination of children of all ages and abilities.
Published:

18 October 2022

ISBN:

9780241515358

Imprint:

Dorling Kindersley

Format:

Hardback

Pages:

320

RRP:

$42.99