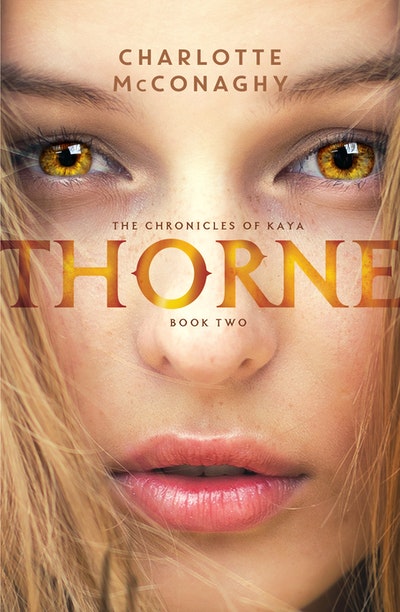 Published:

1 February 2016

ISBN:

9781925324396

Imprint:

Bantam Australia

Format:

Trade Paperback

Pages:

400

RRP:

$32.99
Thorne
---
---
---
Continuing the epic romantic fantasy series that began with Avery, Thorne is a story of courage, sacrifice and forbidden love.
'Prepare to have your heart and soul and imagination invaded.' Isobelle Carmody
'Sweeps the reader into an unforgettable world.' Sophie Masson
Lovers in Kaya have always died together, bonded in death as in life. But rumours of a cure are rife. A team of young Kayans will be sent on a quest to find the answer - for the very nature of love is at stake.
The beautiful but reckless Finn has never shied away from danger, and ending the bond means more to her than anyone knows. This adventure sounds thrilling, but Finn has always been willing to risk too much, and for the first time she has something – or someone – to lose.
Crown Prince Thorne, in the neighbouring land of Pirenti, has grown up rejecting the legacy of his father's blood, keeping caged the beast that lies dormant within. But the moment he sets eyes on the wild girl from the Kayan cliffs, his usual caution is thrown to the wind.
As the world crumbles around them, can Finn and Thorne cast off the shadows to find a love stronger than either imagined? Or is their true challenge to embrace the darkness within?
Praise for The Chronicles of Kaya:
'I can't recommend this book highly enough. Charlotte McConaghy has created a vibrant magical world full of emotions, fleshed out characters, kick-ass action and a bittersweet love story.' Goodreads
'No matter what I say, or how much I try to explain, some of you will just never understand that this isn't just a book. It is an all-encompassing feeling that has stormed into my life and I'm not sure if I'll ever be the same.' Morgana's Book Extravaganza
'That was the craziest ride I've been on for a while – I'm exhausted. Someone fetch me my Valium and a tumbler of gin! Not only is it full of bad-assery, but it's also heartbreakingly sad and full of eloquent expressions of love, suffering and the human condition.' The Urban Book Thief
Published:

1 February 2016

ISBN:

9781925324396

Imprint:

Bantam Australia

Format:

Trade Paperback

Pages:

400

RRP:

$32.99