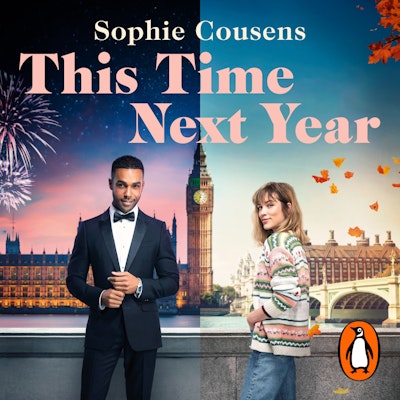 Published:

1 August 2020

ISBN:

9781473587663

Imprint:

Cornerstone Digital

Format:

Audio Download

RRP:

$24.99
This Time Next Year
An uplifting and heartwarming rom-com
---
---
---
An epic love story about two people born in the same place at the same time, who take thirty years to find each other. Perfect for fans of Love, Actually and One Day in December
Brought to you by Penguin.
____________________
The instant New York Times bestseller adored by readers around the world! Curl up with the refreshingly romantic and unputdownable rom-com which has everyone falling head over heels...
Get ready to fall for this year's most extraordinary love story
Quinn and Minnie are born on New Year's Eve, in the same hospital, one minute apart.
Their lives may begin together, but their worlds couldn't be more different.
Thirty years later they find themselves together again in the same place, at the same time.
What if fate is trying to bring them together?
Maybe it's time to take a chance on love...
____________________
'Heart-warming and unashamedly romantic' RUTH JONES
'Sparkling and uplifting' MHAIRI MCFARLANE
'Every page of this book is perfect' CRESSIDA MCLAUGHLIN
'Swooningly romantic...I didn't want to put it down' KIRSTY GREENWOOD
'I absolutely loved This Time Next Year...so funny and sad and brilliant on love, friendship and family. Plus it contains the finest comedic airport security scene since spinal tap' TOM ELLEN
'A beautiful debut full of heart, soul and serendipity with characters you can't help but fall in love with.' ALEX BROWN
'This Time Next Year will make you laugh, cry and keep reading long into the night - it's the escapist read everyone needs right now.' HOLLY MARTIN
'A funny, pull-at-your-heartstrings read, this is the perfect companion for curling up with hot chocolate and a blanket. Unashamedly romantic and packed full of holiday sparkle, it's a hug in book form.' JOSIE SILVER
'Uplifting and relatable' WOMAN & HOME
'Bursting with colour, I was rooting for the pair the whole way through.' PRIMA
'This Time Next Year has a heroine you'll want to be friends with and a hero you'll want to spend more time with. A note-perfect romcom.' RED
'Funny, perceptive, and completely binge-worthy!' SUN ON SUNDAY
____________________
Readers are falling in love with This Time Next Year:
'I loved every moment ... It's so clever and intricate and I adored it.'
'This is a book that I will definitely be re-reading... I fell in love with the characters.'
'This Time Next Year is utterly refreshing. Filled with love (a little lust) and laughter.'
'I completely loved this book! Blissfully indulgent on the romance ... I loved the writing'
'I was smitten with this story from the first chapter.'
'The book you're looking for!!'
'I enjoyed this beautiful and romantic story. The plot was well crafted and the characters were people I could relate to and empathise with. Definitely recommended.'
'The characters were great and I was sad to finish the book as I would no longer be spending time in their company. The story is lovely and also believable, I will be recommending this book to all my friends.'
'You'll start the book because it sounds cute, you'll keep reading it because the plot keeps unfolding and not once does it stand still or stagnate and you'll re-read it because you love all the people encapsulated within the pages so much.'
'This book is delightful. It's a big hug; a hot chocolate; your favourite onesie, all rolled into one.'
'I would really recommend this to anyone that really does believe in fate, enjoys proposals from a knight on a unicorn and knows that love will always win.'
'I absolutely loved it, truly one of the best books I have read.'
© Sophie Cousens 2020 (P) Penguin Audio 2020
Published:

1 August 2020

ISBN:

9781473587663

Imprint:

Cornerstone Digital

Format:

Audio Download

RRP:

$24.99
Praise for This Time Next Year
This was a truly wonderful read and once I started I couldn't put it down[...] The writing was absolutely perfect and I will definitely by looking out for more by this author[...] This is definitely a contender for my Book of the Year list, and I would wholeheartedly recommend this!

Stardust Book Reviews
It was so refreshing to read a book that contained enough humour to make me laugh out loud more times than I have in a while. I thought that the storyline was pure fun, pure indulgence and pure escapism [...] I have a very strong feeling that Sophie Cousens' novel is going to soar and, if an author can create a unique and hilarious love story that just keeps on giving, I absolutely cannot wait to see how Cousens' puts her own individual spin on other novels in the future.

BlogLovin
We adored this funny and heart-warming romance!

Take A Break
Grab the tissues and snuggle up for a real feel-good rom-com

IW Radio
This instant mood-lifteris a refreshing take on the boy-meets-girl tale

Woman's Weekly
This Time Next Year has a heroine you'll want to be friends with, a hero worth getting up early on a Sunday morning for and is a note-perfect romcom

Red
Romcom lovers - this is right up your romantic street [...] Bursting with colour, I was rooting for the pair the whole way through

Prima
A perfect love story

Bella
An absorbing tale about fate, love and making your own luck

Eastern Daily Press
A beautiful read, perfect for fans of One Day by David Nicholls and The Versions Of Us by Laura Barnett, with likeable and believable characters

TalkTalk
Filled with laughter and likeable characters, and a whole lot of love.

MyWeekly
This is a beautiful and brilliant novel. A romance novel with no hint of cliche. It has plenty to say and characters who are impossible to not fall in love with. Set in a 2020 where Covid 19 did not happen, this was the future we all deserved. I loved this book so much. It is so clever and pitch perfect. Sophie Cousens is one to watch

Frost
If you're looking for the perfect read to dive into this winter season, look no further than This Time Next Year

What The Redhead Said
2020's most perfect pick-me-up. Refreshingly romantic and certain to hold a special place in your heart, This Time Next Year is essential reading for fans of Jojo Moyes, Josie Silver and Lucy Diamond.

Writers Online
This debut novel from Sophie Cousens is climbing its way up the Amazon sales charts and for good reason - it's just the tonic for beating the lockdown blues

Sheerluxe
'****...a delightful and engaging read'

Whats On
'This is a beautiful read' Yorkshire Post

Yorkshire Post
Very much like One Day In December, it had a cosy festive feelto it at times, it had so many likeable characters and I just adored Minnie and Quinn, I felt the chemistry between them and rooted for them right from the very first moment they met. I'd love to see this as a film one day.

Food and Other Loves