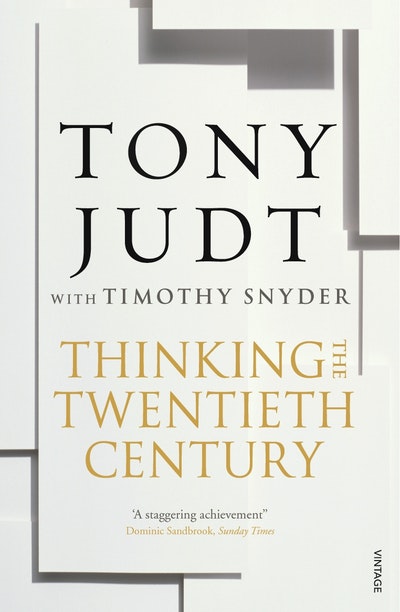 Published:

7 February 2013

ISBN:

9781448182596

Imprint:

Vintage Digital

Format:

EBook

Pages:

432
Thinking the Twentieth Century
---
---
---
The final masterpiece by one of the leading historians and thinkers of his generation, the late Tony Judt.
Thinking the Twentieth Century unites the conflicted intellectual history of an epoch into a soaring narrative.

Two explorers set out on a journey from which only one of them will return. Their unknown land is that often fearsome continent we call the 20th Century. Their route is through their own minds and memories. Both travellers are professional historians still tormented by their own unanswered questions. They needed to talk to one another, and the time was short.
This is a book about the past, but it is also an argument for the kind of future we should strive for. Thinking the Twentieth Century is about the life of the mind - and the mindful life.
Published:

7 February 2013

ISBN:

9781448182596

Imprint:

Vintage Digital

Format:

EBook

Pages:

432
Praise for Thinking the Twentieth Century
Breathtakingly broad overview of Europe's past and present... This book is an absolute treasure - and an education in itself

Boyd Tonkin, Independent
Stimulating, provocative, and consistently absorbing, this is an intellectual history that manages to be both accessible and challenging... Thinking the Twentieth Century is a treasure trove of fascinating concepts and arguments

Stephen Joyce, Nudge
Thinking the Twentieth Century is a substantial achievement

Tony Barber, Financial Times
A fascinating dialogue. What shines through is as much their deep wisdom as their tough-minded intellectual integrity

Steve Barfield, The Lady
A treasure trove of ideas and insights...An extraordinarily learned, lively and wide-ranging discussion of 20th century European intellectual history...genuinely exciting

Andrew Neather, Evening Standard
Brilliant to the bitter end...Tony Judt was combative and razor-sharp even as he was dying...A moving, enlightening and provocative read...It is impossible not to marvel at the dying man's extraordinary mental recall and moral integrity ... This book, bristling with learning, is a staggering achievement

Dominic Sandbrook, Sunday Times
Brilliantly eloquent

Neil Ascherson, Guardian
How, you keep asking yourself, could one man remember all this narrative detail, these abstruse references, these verbatim quotations?.Valiant book.Read it and weep that there shall be no more

Christopher Bray, Observer
Informative, personal and stimulating. Eloquently written and thoughtful, the book also provides a persuasive argument for the kind of future we should strive for

Good Book Guide
Reading as one very long yet sophisticated conversation between friends, the final result is something quite astounding and will cement Judt as one of the most formidable intellects in history

The Big Issue North
There is much brilliance here to enjoy ... The best kind of book

David Aaronovitch, The Times
Timothy Snyder's initiative has prompted a sparkling dialogue which, through following the stages of Tony Judt's life and emergence as an exceptional historian, offers important reflections on major currents of political thinking in the 20th century

Ian Kershaw