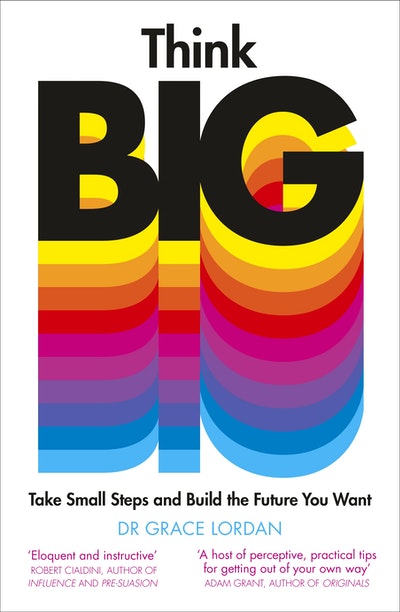 Published:

1 June 2021

ISBN:

9780241420164

Imprint:

Penguin Life

Format:

Trade Paperback

Pages:

336

RRP:

$32.99
Think Big
Take Small Steps and Build the Future You Want
---
---
---
How to get the future career you want by dreaming big, planning ahead and acting now
What are you doing today to make your dream future come true?
We all have big ambitions for the future but those dreams only become reality if we do something towards them regularly. To achieve audacious goals, we need to take action and make small changes every day. We need to think big and act small.
Whether you fantasise about changing industry, landing that big promotion, writing a screenplay or setting up your own company, Think Big creates a clear pathway to the future you want. Using cutting-edge research from behavioural science, Professor Grace Lordan offers immediate actionable solutions and tips that will help you get a tiny bit closer to your dream career, every day. Like how to:
· Overcome a fear of failure and throw yourself at opportunity
· Craft the optimum environment for work and give yourself ample time for tasks
· Rewrite self-narratives and tackle imposter syndrome
· Watch out for other people's biases and stop them from holding you back
Think Big provides a practical framework to keep you moving in the right direction. It will help you get out of your own way and propel you on the path to success as you transform from dreamer to doer!
Published:

1 June 2021

ISBN:

9780241420164

Imprint:

Penguin Life

Format:

Trade Paperback

Pages:

336

RRP:

$32.99
Insights from Behavioral Science are being used around the globe for a variety of purposes but never, until now for career building-something Grace Lordan does systematically, eloquently, and instructively in Think Big

Robert Cialdini, Author of Influence and Pre-Suasion
If you know it's time to aim higher in your career, Think Big provides a clear and compelling behavioral science toolkit to help you realize your goals and replace your current reality with something bigger, better and more enjoyable

Dorie Clark, author of Reinventing You and executive education faculty, Duke University Fuqua School of Business
Want to advance your career fast without compromising personal happiness? Think Big can help. It provides a handy, science driven framework to career building that can fit around even the busiest person's daily life

Jonah Berger, Wharton Professor and Bestselling Author of The Catalyst
In a refreshingly down to earth way, Grace shows how the insights from behavioural science can not only help you to build the career you want but also the career that will make you happy. This book will interest and entertain you whatever your stage of career

Professor Paul Dolan, London School of Economics, author of Happiness by Design and Happy Ever After
On your journey to thinking big - about yourself and about the world - Grace Lordan is a wise and winning guide. She's written the ultimate primer on enlisting modest changes to achieve monumental goals

Daniel H. Pink, author of WHEN, DRIVE, and TO SELL IS HUMAN
A practical and compelling treatise on leveraging big insights from behavioural science to enable big upgrades to your career.

Cal Newport, author of A World Without Email
Engaging, practical and insightful. Reading Think Big is like having a savvy performance coach sat inside your head, helping correct your path towards the career you really want

Graham Alcott, author of Productivity Ninja
This is a rare self-help book that's actually informed by evidence. Drawing on her knowledge of behavioural economics and psychology, Grace Lordan shares a host of perceptive, practical tips for getting out of your own way and making progress toward your career goals

Adam Grant, New York Times bestselling author of THINK AGAIN and ORIGINALS, and host of the TED podcast WorkLife
In this must-read book, Grace equips you with the know-how required to take your career to the next level. This book will not only inspire you to think bigger, but to take immediate action in turning those dreams of yours into reality. When you think big and start taking small, consistent steps forward each day, anything becomes possible!

Simon Ong
A practical and accessible guide to using behavioural science in your career

Caroline Criado Perez, author of Invisible Women
Think Big contains a combination rare in a business book: it is both sound in theory and useful in practice. I only wish it had come out ten years ago

Rory Sutherland, Vice Chairman, Ogilvy UK
Dr Grace Lordan has created one of the most important books anyone can read to help their working life. Anchored with behavioural science she shows how all of us can move towards our ambitions while fighting back worries and self doubts

Bruce Daisley, author of The Joy of Work