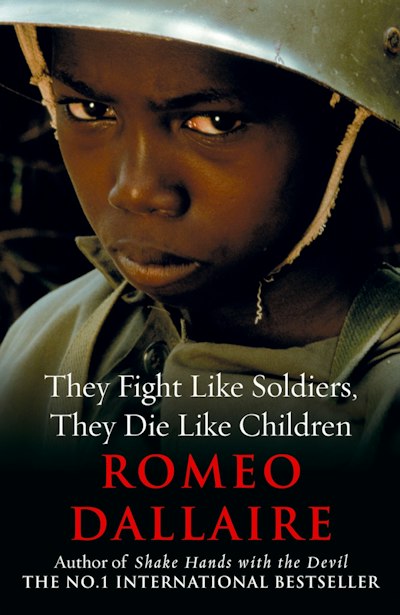 Published:

1 December 2010

ISBN:

9781407088570

Imprint:

Cornerstone Digital

Format:

EBook

Pages:

320
They Fight Like Soldiers, They Die Like Children
---
---
---
The #1 international bestselling author and former General who commanded the UN forces in Rwanda tackles the harrowing subject of child soldiers
In conflicts around the world, there is an increasingly popular weapon system that needs negligible technology, is simple to sustain, has unlimited versatility, and an incredible capacity for both loyalty and barbarism. What are these cheap, renewable, plentiful, sophisticated, and expendable weapons? Children.
This important book is part of a passionate personal mission against the use of child soldiers, by the three-star general who commanded the UN mission in Rwanda.
When Romeo Dallaire was tasked with achieving peace there in 1994, he and his force found themselves caught up in a vortex of civil war and genocide. He left Rwanda a broken man, disillusioned, suicidal, a story he told in the award-winning international sensation Shake Hands with the Devil.
Now, in They Fight Like Soldiers, They Die Like Children, Dallaire provides an emotionally daring and intellectually enlightening introduction to the child soldier phenomenon, as well as concrete solutions for its total eradication.
Dallaire speaks up for those without a voice - children in conflicts around the globe who do not choose to fight, but who through ill-fate and the accident of birth find their way into soldiering. This is a book that addresses one of the most harrowing, urgent and important issues of our time.
Published:

1 December 2010

ISBN:

9781407088570

Imprint:

Cornerstone Digital

Format:

EBook

Pages:

320
Praise for They Fight Like Soldiers, They Die Like Children
Dallaire's sorrow and anger is impressive. The object of this book is to promote and publicise his Child Soldier Initiative. Reading it is tough, but so are the lives of children who are forced to kill

The Times
Do you kill children who kill? Romeo Dallaire's heart-shredding They Fight Like Soldiers, They Die Like Children examines that question in relentless, exhausting detail. The case for more muscular, moral intervention in foreign lands could hardly be better made than it is here

Sunday Times
It's Dallare's highlighting of the enormous potential each and every one of us has in helping eradicate this terrible global practice that resonates most effectively. For that reason alone the author is to be congratulated and this book welcomed

Sunday Herald
Part mea culpa, part manifesto, part appeal for the reader's support, the book is a rallying call for those whose common humanity is affronted by the image of children brainwashed, bullied and exploited into becoming killing machines

Daily Mail