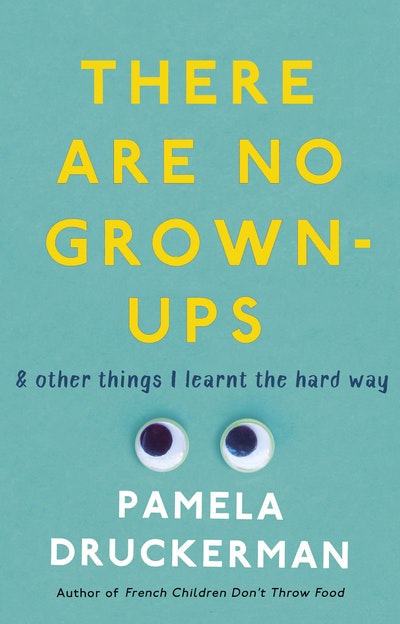 Published:

2 April 2019

ISBN:

9781784160449

Imprint:

Black Swan

Format:

Paperback

Pages:

288

RRP:

$19.99
There Are No Grown-Ups
A midlife coming-of-age story
---
---
---
Does it feel like everyone around you is an adult, except you? There are no grown-ups,because everyone else is winging it too! Pamela Druckerman, author of French Children Don't Throw Food, reveals the things is took her forty years to learn.
*MUCH RAVED ABOUT BY CHRIS EVANS ON HIS BBC RADIO 2 BREAKFAST SHOW*
EVERYONE ELSE IS WINGING IT TOO.
You know you're a grown-up when...
·You become impatient while scrolling down to your year of birth.
· You've lost and gained the same 10lbs so many times you now regard it as an old friend.
· Your parents have stopped trying to change you.
· You don't want to be with the cool people anymore; you want to be with your people.
· You know that 'Soul mate' isn't a pre-existing condition. It's earned over time.
Does it ever feel like everyone - except you - is a bona-fide adult? Do you wonder how real grown-ups get to be so mysteriously capable and wise? When she turns 40, Pamela Druckerman - author of the #1 Sunday Times bestseller French Children Don't Throw Food - wonders whether her mind will ever catch up with her face. Waiters start calling her 'Madame', and she detects a disturbing new message in mens' gazes: I would sleep with her, but only if doing so required no effort whatsoever.
There Are No Grown-Ups is a midlife coming-of-age story, a hilarious quest for wisdom, self-knowledge and the right pair of pants. It's a book for readers of all ages about - finally - becoming yourself
Published:

2 April 2019

ISBN:

9781784160449

Imprint:

Black Swan

Format:

Paperback

Pages:

288

RRP:

$19.99
Praise for There Are No Grown-Ups
I laughed a lot...a brilliantly entertaining mix of personal stories and expert advice about rocking midlife.

Good Housekeeping
One that has touched a nerve with me and fellow mid-life adventurers...such an accurate description of what lies ahead if you are hurtling towards the big four-oh or living through it.

Sunday Times
I love Pamela Druckerman's writing.

India Knight, Sunday Times
Pitch-perfect and brutally frank... She has a reckless candor that can make you laugh and gasp at the same time... [Nora] Ephron is simply irreplaceable, but Druckerman is the heir to her impish, unembarrassable spirit and adorable storytelling.

Allison Pearson, New York Times
It's the kind of book you can leave in the bathroom. Short essays about all sorts of things including how she organised a threesome for her husband's 40th birthday. Druckerman has a keen eye, a wicked sense of humour and is cynical enough to know that we shouldn't take it all too seriously.

Sydney Morning Herald
Another genius work of meticulously observed revelatory, pragmatic and candid autobiography from an extremely funny and intelligent female member of the human race.

Chris Evans
Funny and perceptive...reminds readers that middle age can be 'the best age of all'.

Daily Mail