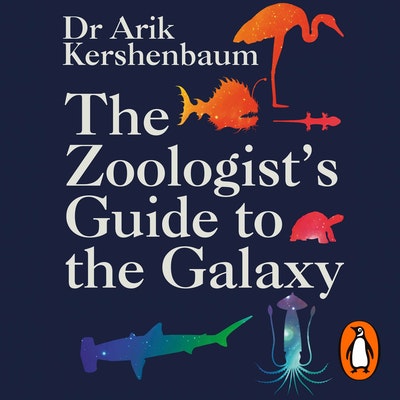 Published:

24 September 2020

ISBN:

9780241468265

Imprint:

Penguin Audio

Format:

Audio Download

RRP:

$27.99
The Zoologist's Guide to the Galaxy
What Animals on Earth Reveal about Aliens - and Ourselves
---
---
---
An out of this world - and scientifically-sound - exploration of how aliens might look, move and communicate
We are unprepared for the greatest discovery of modern science. Scientists are confident that there is alien life across the universe yet we have not moved beyond our perception of 'aliens' as Hollywood stereotypes. The time has come to abandon our fixation on alien monsters and place our expectations on solid scientific footing.
Using his own expert understanding of life on Earth and Darwin's theory of evolution - which applies throughout the universe - Cambridge zoologist Dr Arik Kershenbaum explains what alien life must be like.
Observing fishes whose electrical pulses indicate social status, we can see that conditions on other planets might allow for communication by electricity. As there was evolutionary pressure to wriggle along a sea floor, Earthling animals tend to have left/right symmetry; on planets where creatures evolved mid-air or in soupy tar - to be ready to move in any or multiple directions - they might be lacking any symmetry at all. Dr Kershenbaum uses cutting-edge science to paint an entertaining and compelling picture of extra-terrestrial life.
Moreover, as The Zoologist's Guide to the Galaxy is the story of communication, intelligence, cooperation and technology, on Earth and in space, we see how life really works - and what it means to be human.
Published:

24 September 2020

ISBN:

9780241468265

Imprint:

Penguin Audio

Format:

Audio Download

RRP:

$27.99
Praise for The Zoologist's Guide to the Galaxy
A fun, and thoroughly biological, exploration of possible and impossible alien beings. If you'd love to know what real aliens from other planets might really be like, this is the book for you

Susan Blackmore, author of Seeing Myself
If you don't want to be surprised by extraterrestrial life, look no further than this lively overview of the laws of evolution that have produced life on earth.

Frans de Waal, author of Mama's Last Hug
Evolutionary theory helps us explain patterns in the past, and combined with a rich understanding of natural history and biodiversity, predict what might be discovered in the future. Arik Kershenbaum takes us on a joyous voyage of animal diversity and illustrates the singular importance of natural selection in explaining life - here on Earth - and what will likely be discovered throughout the galaxy. A stimulating read!

Daniel T. Blumstein, Professor of Ecology and Evolutionary Biology, University of California Los Angeles
Surveying the deep-time of evolution on Earth and his own cutting-edge research into animal communication, Kershenbaum provides a fascinating insight into the deepest of questions: what might an alien actually look like

Lewis Dartnell, author of Origins
When we search for aliens, what are we searching for? If life exists on other worlds, it might look very different to life 'as we know it', but Arik Kershenbaum makes a persuasive and entertaining case that we needn't be completely in the dark. There are some rules that all beings with a claim to be alive must observe, and for which life on our planet can serve as a guide. This is an eye-opening and, above all, a hopeful view of what - or who - might be out there in the cosmos

Philip Ball, author of Nature's Patterns
The book crawls with curious facts . . . [Kershenbaum] is fascinating on how aliens might communicate

James McConnachie, The Sunday Times
This is no mere frivolous exercise in arm-waving (or tentacle-waving) and baseless speculation. Instead, what emerges is a fascinating plunge into the deep-time history of life on Earth and animal evolution in all its glorious diversity . . . To comprehend the alien is to know thyself

Lewis Dartnell, The Times
I love The Zoologist's Guide to the Galaxy by Arik Kershenbaum. Although it sets out to be (and is) about alien life, what emerges is a wonderfully insightful sidelong look at Earthly biology

Richard Dawkins, via Twitter
A wonderful mix of science-based speculation and entertaining whimsy

David P. Barash, Wall Street Journal