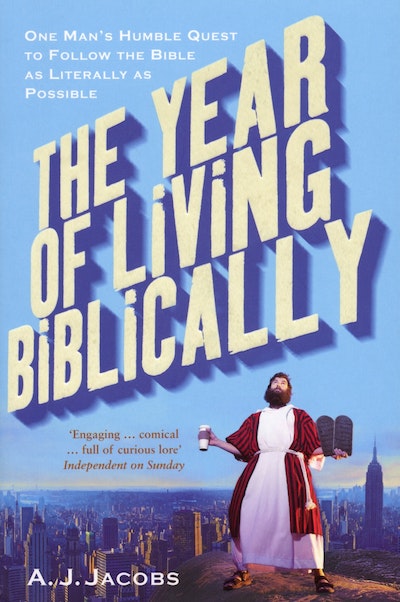 Published:

31 January 2012

ISBN:

9781448135813

Imprint:

Cornerstone Digital

Format:

EBook

Pages:

400
The Year of Living Biblically
---
---
---
In the hysterical follow-up to The Know-It-All, A J Jacobs tells the story of the year in which he attempted to follow every precept in the Bible, even where they contradicted each other...
Avoiding shellfish was easy. The stoning of adulterers proved a little more difficult - and potentially controversial. Was it enough to walk up to an adulterer and gently touch them with a stone? Even that could be grounds for accusations of assault, especially with female adulterers in Manhattan. So what's a good Bible-reading boy to do?
Raised in a secular family but increasingly interested in the relevance of faith in our modern world, A.J. Jacobs decides to dive in head first and attempt to obey the hundreds of less-publicized rules. The resulting spiritual journey is at once funny and profound, reverent and irreverent, personal and universal, and will make you see history's most influential book with new eyes.
Published:

31 January 2012

ISBN:

9781448135813

Imprint:

Cornerstone Digital

Format:

EBook

Pages:

400
Praise for The Year of Living Biblically
A.J. Jacobs has written a - how else to put it? - Good Book. Let me take my review from the original, Psalm 2, verse 4: 'He that sittith in the heavens shall laugh.' And let me suggest that readers, whether they know their bible or not, get to know A.J. Jacobs. But not in a biblical sense, please

PJ Oâ??Rourke
Jacobs has two great strengths as a writer. One is his extreme open-mindedness...the other is his humour, which he uses with precision and some subtelety.

Sunday Telegraph
Engaging . . . comical . . . full of curious lore

Independent on Sunday
Witty and entertaining

Daily Mail
At the end of this entertaining (for the reader) spiritual journey Jacobs may not be a religious man but he is a better person

Sunday Telegraph
Even if Jacobs couldn't write for toffee, his account was almost bound to be gripping and hilarious. Luckily, it's both

Herald
As a man incapable of developing any facial hair aside from a really amazingly cruddy moustache, I would have bought this book for the astonishing big beard chronicle alone. That The Year of Living Biblically grows, beardlike, into a long, hilarious, tangled, and ultimately moving story of spiritual growth is all the more astonishing. But why should I continue to be surprised at what springs from A. J.'s head? He is a brilliantly hilarious writer who truly lives up to that oft-misused adverb/adjective combination and then some. Plus: He is going to Heaven. So how can you not afford to tithe your salary to his cause and buy this book?

John Hodgman