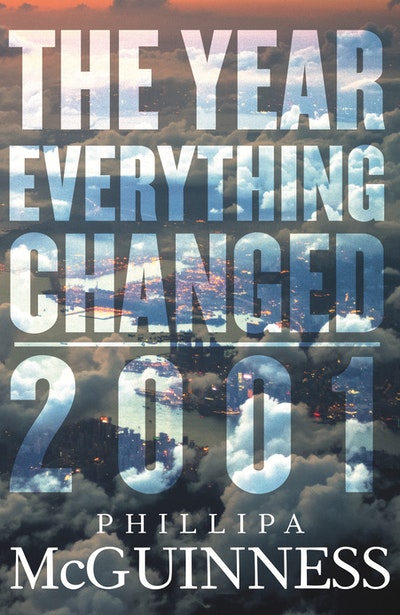 Published:

28 May 2018

ISBN:

9780143782414

Imprint:

Vintage Australia

Format:

Trade Paperback

Pages:

400

RRP:

$34.99
The Year Everything Changed
2001
---
---
---
2001. It's not over yet.
On New Year's Eve 2001, with her husband by her side, Phillipa McGuinness buried her son. They stood with a young priest in Chua Chu Kang Cemetery and watched a small coffin go into the ground. Later that night, shattered, they sat looking out at the hundreds of ships waiting to come into port in Singapore's harbor. Or trying to leave, who could tell? Each of them thinking about the next year, starting within hours. Phillipa wanted time to push on, for 2001 to be over, but she was also scared. What might be next?
2001 was an awful year. It's the only year where you can mention a day and a month using only numbers and everyone knows what you mean. But 9/11 wasn't the only momentous event that year. In Australia a group of orange-jacketed asylum seekers on deck the Norwegian vessel Tampa seemed responsible for Prime Minister John Howard's statement not long after: 'We will decide who comes to this country and the circumstances in which they come.' These words became his mantra during the bruising election that followed in November, both sides of politics affected by their venom and insularity, or their strength and resolve, depending on which way you looked at it.
The year had started with what was supposed to be a celebratory event of sophistication and nuance, reflecting the kind of country we hoped we had become. Yet the Centenary of Federation on 1 January turned out to be a class-A fizzer. The nation seemed to decide that what was really worth commemorating wasn't the peaceful bringing together of colonial states into a Commonwealth but the doomed assault on a Turkish beach that happened fourteen years later in 1915. It is easier to animate young men dying than old men signing a constitution.
2001 marked the halfway point of twenty years of continuous economic growth in Australia. But the year started with shiny tech startups continuing their implosion following the dotcom bubble burst. The deal of the (nascent) century, the merger between Netscape and AOL, seemingly an all-powerful mega corporation, began to slide. Yet perhaps the digital world as we now know it did start in 2001, at least for what is now the most powerful company in the world. For this was the year that Google, in no hurry to launch an IPO, received its PageRank patent, assigned to Larry Page and Stanford University. The rest, as they say, is history. Apple launched the iPod in 2001, not only transforming the soundtrack to our lives but shifting cultural alignments so that distributors became the richest guys in the room, rather than the artists writing, singing and playing the songs.
If 2001 were a movie – oh wait, of course it was – its tagline might be 'The year that changed everything'. And that change is not over.
Published:

28 May 2018

ISBN:

9780143782414

Imprint:

Vintage Australia

Format:

Trade Paperback

Pages:

400

RRP:

$34.99
Praise for The Year Everything Changed
Meaty books about the Australian political landscape seem to have dominated my 2018 reading tastes. 2001: The Year that Changed Everything (Vintage) by Phillipa McGuinness sees one of Australia's foremost publishers of Australian history titles turn her dexterous hand to writing the personal and political history of 12 particularly tumultuous months. The events she outlines in a fresh, at times raucous, voice are close enough to be brutally raw, yet somehow almost nostalgic. McGuinness pulls off the tricky balancing act

Clare Wright, The Sydney Morning Herald
[McGuinness] has a sensitive eye for detail, both large and small, that tells a larger story, giving shape and meaning to events that often seem to defy them. Here is an accomplished maker of meaning. Meaning, for McGuinness, resides in what actions might disclose about the nation, the world, and sometimes what it means to be human. Meaning also comes from the connection between the personal and the public. At its core is the way we live our lives in complicated relationships to public and political events.

Frank Bongiorno, Sydney Review of Books
The book's 12 chapters ransack the memory, experience and expertise of a formidable cast of contributors. To cover (among much else) Donald Bradman in February, the stolen generation in April, high finance and misdemeanours in June, refugees and Tampa in August, Afghanistan in October, elections in November, she has used the vast resource of academics, former journalists and one-time public servants who were on the spot at the time, or who have accredited specialist knowledge. In consequence, each chapter blends vivid reportage with an analytic depth that makes one stop and examine one's own prejudices. Her factual cross-hatching is scrupulous. One is always aware of McGuinness' liberal stance, but she allows her sources to speak for themselves, sometimes in surprising and revelatory ways. The scope of the book is huge, and its pace relentless, but it is always engaging, always building towards a new understanding, never a confirmation of received views.It could be read across generations – to inform, to pique an interest in history, to spark memory and to help one hope. I trust it will be.

Morag Fraser, The Sydney Morning Herald
The Year Everything Changed: 2001 is a wonderful book, in the literal sense, the result of exhaustive research, dispassionate analysis and calm assessment. It is also shot through with idiosyncratic humour, outrage and pathos. The Year Everything Changed: 2001 is a wonderful book, in the literal sense, the result of exhaustive research, dispassionate analysis and calm assessment. It is also shot through with idiosyncratic humour, outrage and pathos. Reading McGuinness feels less like cramming for a history exam and more like spending an evening with a wise, well-read and warm-hearted friend.

Miriam Cosic, The Australian
Could Tampa, the Twin Towers and One.Tel really be as distant, and yet as achingly near, as 2001? McGuinness had given us a history of our time, for our time. Whip-smart, wise-cracking, heart-breaking. Finally, a book about global politics that is as funny as it is earnest, as heart-breaking as it is thought-provoking. McGuinness doesn't take the piss. She gives a fresh, insightful and compelling perspective on our recent history. Most courageously, most disruptively, McGuinness demonstrates that the ground zero of the political is always personal. A winning combination of intelligence, compassion and humour.

Clare Wright, Historian, Author, Broadcaster
It's an important book - it's helped me understand a lot of things I lived through (we all did) more clearly. Beautifully written. Amazing research. Complex thinking clearly expressed.

Sophie Cunningham
Spend a few hours in Pip McGuinness' company and you'll never want to leave. This book is a panoramic, rip-roaring ride— laugh-out-loud funny, insightful and very moving. The Year Everything Changed has wonderful breadth and depth and heart, and helps make sense of this extraordinary century we're in—a century that began with Tampa and terror and Kylie's la la la la la la la la, back when, as she puts it 'social media' meant 'journalists' drinks after work.' With her deep insight and warm intelligence McGuinness makes profound arcs of conjunction clear as epiphanies — the rocky marriage between democracy and capitalism; or what is done in the name of religion— from fundamentalism, to institutional abuse. The Year Everything Changed is a total joy of a book. I would follow her through any year, to hear that clear, calm, funny, passionate and big-hearted voice make sense of where we came from, where we are, and get a better grip on where we could go. A book of hope and love and history that makes you live in our moment more deeply.

Anna Funder
A rich, insightful history that grapples with the question of whether everything really did change after that fateful year [2001]. A smart, highly entertaining read.

Nicole Abadee, Australian Financial Review
It is a great book; knocked over by the depth of Pip's research and such engaging writing.

Paul Daley
A quite fantastic hybrid of personal memoir and trenchant modern history.

Gleebooks Gleaner
McGuinness has considerable skill in making the political and historical personal.

Chris Gordon, events manager, Readings
2001 was a turbulent and surprising year for everyone - hardly what Stanley Kubrick had in mind. The craziest things happened, from the arrival of the iPod and Wikipedia to the collapse of Enron, Ansett, and One-Tel. The history wars hotted up, Mabo became law, children went overboard, and the Stolen Generation left us devastated and divided. We lost Bradman and crowned Kylie and Nicole as icons. Then, of course, there was 9/11. The outside world was closing in on us. It was hectic. Whilst the world celebrated Princess Masako's new child, Phillipa McGuinness faced the overarching trauma of burying a stillborn son. Looking back, she reflects on life's turning points , the clustering of the improbable, and the loss of control and stability in an ever-hastening world. What else can possibly happen? This is a beautifully balanced and surprising book. It is not a catalogue of events, but a montage of images and feelings. It brings together the personal and the political in a snapshot, a polaroid of a place and time when we were all different, the moment between before and after. So many of the fragments took me back to where I was at that time, who I was talking to, how I responded. Writing with considerable intelligence, the author skillfully avoids nostalgia for its own sake and posits the events of 2001 as the seeds of our current attitudes, telling of responses to fate made policy. All of this makes 2001: The Year Everything Changed a highly thoughtful and entertaining read.

Robert, Angus & Robertson Bookworld
Her writing is crisp and absorbing.

Anne Henderson, The Sydney Institute
What [The Year Everything Changed] offers is something different: an understanding of how history is seen and felt, from the vantage point of a candid, historically literate, morally engaged witness to an extraordinary time. In reliving the year with her, we better understand how events, often considered distantly and separately, concatenated in time and reverberated in the minds of contemporaries to generate a palpable sense that "everything" had changed. Since there is no sign that everything will stop changing, we may need such perceptive, humane histories more rather than less in the uncertain years ahead.

Graeme Davison, Inside Story
Rich in detail and beautifully written.

Troy Lennon, The Daily Telegraph
Queensland Literary Awards
Shortlisted • 2018 • The University of Queensland Non-Fiction Book Award