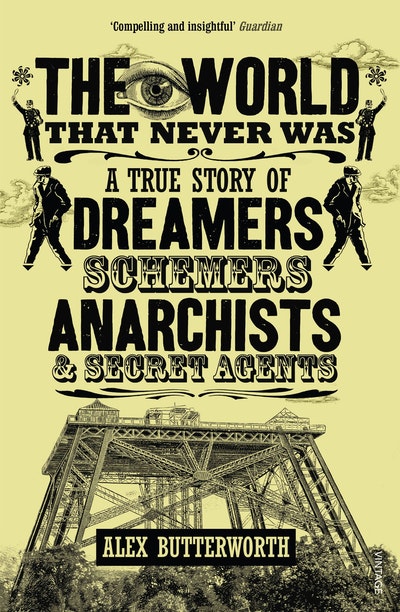 Published:

15 March 2011

ISBN:

9781446468647

Imprint:

Vintage Digital

Format:

EBook

Pages:

560
The World That Never Was
A True Story of Dreamers, Schemers, Anarchists and Secret Agents
---
---
---
A masterly exploration of the strange twists and turns of history, The World That Never Was is a true story of dreamers, schemers, anarchists and secret agents of the late nineteenth century.
The last years of the nineteenth century saw the birth of a new phenomenon: international terrorism. Bombings and assassinations shook the great cities of Europe and America, threatening social order. Fiendish networks of anarchist conspiritors were blamed and the public whipped into a frenzy of anxiety.
The reality was rather different. These dramatic events were only the most visible part of a longer, clandestine struggle waged between the forces of revolution and reaction, in which little was as it seemed. Alex Butterworth interweaves group biography, cultural history and meticulous detective work to create a revelatory account of the age. Both intimate and panoramic, it is a story with uncanny resonances for today.
Published:

15 March 2011

ISBN:

9781446468647

Imprint:

Vintage Digital

Format:

EBook

Pages:

560
Praise for The World That Never Was
Exhilarating... almost any paragraph packs more action than an entire Dan Brown novel

Financial Times
Intriguing, provocative and written with a novelist's eye for detail, this book is an engrossing journey into a murky, subterranean world.

Mike Rapport, BBC History Magazine
Butterworth has created an impressive work which will captivate those unfamiliar with anarchist history and teach even specialists much that they did not know before

Independent
Compelling and insightful... The World That Never Was is a compelling narrative history both of a generation of demonised and battered - but optimistic - revolutionaries...and of the political police forces ranged against them

Stuart Christie, Guardian
This is an amazing book full of incredible people all of whom turn out to be real and unbelievable stories, all of which turn out be true. Against a backdrop of late nineteenth century Europe and America in which staggering industrial progress went hand-in-hand with mass poverty and class struggle, Butterworth brilliantly teases out the paths and plots of the dedicated revolutionaries, deadly dilettantes, spies, informants, agents provocateurs, false counts and femmes fatales who made up the international anarchist movement, and its enemies. A genuine tour de force

David Aaronovitch
In this rich and passionate account of the world's first international terrorist campaign...the disquieting echoes of our own times are impossible to ignore... In a brilliant move, Butterworth also pursues the counterplotters and agents provocateurs behind what he calls the "first international 'war on terror'?"... Underpinned by impressive research and a genuine argument...this is a thrilling and important book - not least for its unmasking of the forces of reaction.

Sunday Times
A narrative taut with intrigue and freighted with contemporary significance

Bryce Christensen, Booklist
One of the most absorbing depictions of the dark underside of radical politics in many years... Butterworth has opted to present the anarchists in a mode that emphasises narrative over analysis. The result is a riveting account, teeming with intrigue and adventure and packed with the most astonishing characters. One cannot help wishing there were more extended analysis, however, for when Butterworth does offer broader observations, they are exceptionally astute.

John Gray, New Statesman
Alex Butterworth, in this wide-ranging account of 19th-century anarchist activity, does justice to both sides of the picture - the glowing ideal, its shady enactment

Lucy Hughes-Hallett, Daily Telegraph
A lengthy and well-nuanced study

Times
Sweeping, extensively researched

Leo McKinstry, Express
Butterworth points up anarchism's lurid side, but his book is underpinned by impressive research and genuine argument... Butterworth himself admits that this is a 'demimonde' of dizzying complexity...but for all the confusion, this is a thrilling and important book...

James McConnachie, Sunday Times
Butterworth writes lucidly, in fine detail

Peter Preston, Observer
This is an exhilarating gallop through the history of anarchism

Financial Times
Historian Butterworth makes a first-rate addition to the growing list of books dealing with terrorism's origins and history... Delivering a virtuoso performance, Butterworth adds the hope that history will not repeat itself and that a successful new bloody ideology will not create the next scourge

Publisher's Weekly
This is entertaining stuff

Sunday Times, Christmas Round Up
Butterworth's fascination with his subject drips from the page...this is entertaining stuff

Dominic Sandbrook, Sunday Times
An astounding story of bitter civil warfare that raged across many countries for decades. Butterworth's passionate account of the anarchist movements born in the late 19th century describes a conflict that spawned its own "war on terror"

Steve Burniston, Guardian