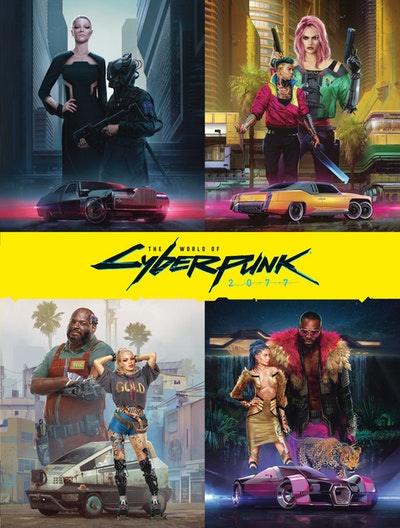 Published:

18 September 2020

ISBN:

9781506713588

Imprint:

Dark Horse Books

Format:

Hardback

Pages:

192

RRP:

$69.99
The World of Cyberpunk 2077
---
---
An insightful, captivatingly designed, full-color hardcover that transports readers to the futuristic megalopolis of Night City--the epicenter of the vibrant new action-RPG from CD Projekt Red.
Written by Marcin Batylda

Dark Horse Books
Category: Art - Video Game Art; Games & Activities - Video & Mobile; Art - Popular Culture
Format: Hardcover, 192 pages
On Sale Date: July 2020
Old On Sale Date (as of 6/10/20): July 2020
Price US: $39.99
ISBN: 9781506713588
Also available as an eBook.
Metadata Completeness Score: 90%
Content Types are in priority order.
Rules for Scoring
CONTENT TYPE% COMPLETEREASON FOR SCORELAST UPDATE
Cover
Marketing covers are uploaded to MyHouse by authorized and trained users. Unapproved (draft) marketing covers are for internal use only, and approved (final and/or placeholder) marketing covers are for full distribution. Please contact the appropriate department for questions about unavailable or missing covers. Please contact PRH Cover Support for feed issues. Once an approved cover is uploaded or the status of a cover is changed in MyHouse, it can take up to an hour for the Metadata Completeness score to update.
100OK11/27/2019
About This Book100OK4/28/2020
Publisher Keywords100OK8/29/2019
About This Author83Length < 50 words3/19/2020
BISAC
BISAC subject headings are an industry-standard hierarchy of subject classifiers maintained by BISG. BISAC codes are assigned to networks in SAP; changes made in SAP may take up to an hour to appear in MyHouse. Click here for complete BISAC guidelines.
100OK, OK, OK7/28/2020
Insight
Insight is the name of our Look Inside the Book program. All titles are eligible for inclusion into the program. However, there are rules in place that exclude titles based on, but not limited to: format, licensed material, title restrictions, and more. Phases of processing can be viewed on the Insight tab. Insight files are released 30 days prior to a book's onsale date unless additional restrictions are applied.
100OK8/3/2020
Reviews0Text missing--
Author Spotlight
The Author tab is the official repository for Author Spotlight information and photos at the author level for PenguinRandomHouse.com and similar websites run by Penguin Random House. Author Spotlight text does not feed to external retailers such as Amazon or B&N; instead, author bio text (at the title or ISBN level) from the Preview tab is fed to external retailers. The score for Author Spotlight is an aggregate based on all contributors for the ISBN.
100Exempt--
Excerpt0Text missing--
Series Description
If the title has been designated as part of a series in SAP then this content should describe the series. This content does not feed out in ONIX but it does feed to PRH websites. If the ISBN is not part of a series, it does not have an impact on the metadata completeness score.
--No series assigned--
Sent in ONIX: Yes
Refresh Score

The Metadata Completeness Score is temporarily unavailable

Please try again later.

About this Book...
An insightful, captivatingly designed, full-color hardcover that transports readers to the futuristic megalopolis of Night City--the epicenter of the vibrant new action-RPG from CD Projekt Red.
Step into the year 2077, a world dotted with dystopian metropoles where violence, oppression, and cyberware implants aren't just common--they're necessary tools to get ahead. Delve into incisive lore to discover how the economic decline of the United States created a crippling dependence on devious corporations and birthed the Free State of California. Explore the various districts, gangs, and history of Night City. Learn all there is to know about the technology of tomorrow and research the cybernetics, weapons, and vehicles of Cyberpunk 2077.
Dark Horse Books and CD Projekt Red present The World of Cyberpunk 2077--an extensive examination of the rich lore of Cyberpunk 2077. This intricately assembled tome contains everything you need to know about the history, characters, and world of the long-awaited follow-up from the creators of The Witcher video game series.
From TI 9781506713588 HC.
Published:

18 September 2020

ISBN:

9781506713588

Imprint:

Dark Horse Books

Format:

Hardback

Pages:

192

RRP:

$69.99