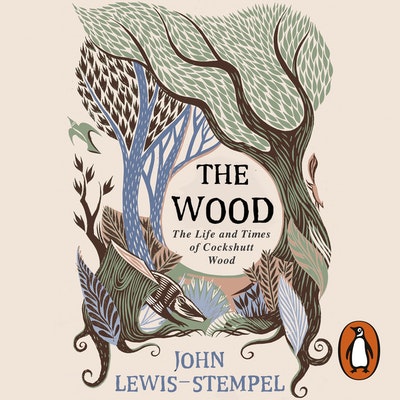 Published:

8 March 2018

ISBN:

9781473543904

Imprint:

Transworld Digital

Format:

Audio Download

Length:

6 hr 33 min

Narrator:

Leighton Pugh

RRP:

$19.99
The Wood
The Life & Times of Cockshutt Wood
---
---
---
From, the award-winning, Sunday Times bestselling author, an exploration of English woodland during the course of a year. A BBC Radio 4 BOOK OF THE WEEK.
Random House presents the audiobook edition of The Wood by John Lewis-Stempel, read by Leighton Pugh.
From 'one of the best nature-writers of his generation' (Country Life) and 2017 winner of the Wainwright Prize for Nature Writing, this BBC Radio 4 'Book of the Week' is the story of a wood - both its natural daily life and its historical times. Cockshutt is a particular wood - three and half acres of mixed woodland in south west Herefordshire - but it stands as exemplar for all the small woods of England.
For four years John Lewis-Stempel managed the wood. He coppiced the trees and raised cows and pigs who roamed free there. This is the diary of the last year, by which time he had come to know it from the bottom of its beech roots to the tip of its oaks, and to know all the animals that lived there - the fox, the pheasants, the wood mice, the tawny owl - and where the best bluebells grew. For many fauna and flora, woods like Cockshutt are the last refuge. It proves a sanctuary for John too.
To read The Wood is to be amongst its trees as the seasons change, following an easy path until, suddenly the view is broken by a screen of leaves, or your foot catches on a root, or a bird startles overhead. Lyrical, informative, steeped in poetry and folklore, it is both very real and very magical.
'John Lewis-Stempel is the hottest nature writer around.' - Spectator
'It sounds magical and you just know it will be gloriously written.' - Bookseller
Published:

8 March 2018

ISBN:

9781473543904

Imprint:

Transworld Digital

Format:

Audio Download

Length:

6 hr 33 min

Narrator:

Leighton Pugh

RRP:

$19.99
This is countryside writing crackling with vitality. I savoured every month spent in this exquisite sylvan zoo. And - the hallmark of a great read - I learned a lot.

Nicholas Crane
It sounds magical and you just know it will be gloriously written.

Caroline Sanderson, Bookseller
John Lewis-Stempel is the hottest nature writer around.

Spectator
It is a pleasure to be in the company of a man who is so attuned to his woody world ... He is good at sketching nature, fixing a vivid image in the mind's eye of a reader ... Lewis-Stempel has rightly won himself the reputation as being among our best nature writers ... The Wood is an entertaining, illuminating, well-turned read

Robbie Millen, The Times
Lyrical diary documenting a year in nature ... he's brilliant on birds and their habits.

Helen Brown, Daily Mail
A heartfelt and evocative diary of a year among the trees.it's his observation of the natural world - the sight, the sound, the smell of it - that is so memorable. He has a distinctively brisk, muscular style of writing that has a poetic intensity and concision.

Guardian
Another triumph. Natural, translucent, full of half-glimpsed depths....just like a wood itself.

Philip Marsden
Words burn on the page, as ash logs flame in an open fire while you journey with (Lewis-Stempel) through the four seasons ... his intimate knowledge sets him way ahead of his contemporaries .. A book not only for those who love the countryside but for those who enjoy the written word as set down by a master of the language.

David Hill, Western Morning News
Energetic narrative, tumbling with facts, judgements and observations, as well as bursts of humour.

Ruth Pavey, Times Literary Supplement
This is a memoir of 12 months in the life of a wood, stuffed with tales of dive-bombing owls, doomed voles and ancient trees. Beautiful writing and plenty of literary asides.

The Times
His prose is immaculate.

Mark Knopfler, Der Spiegel