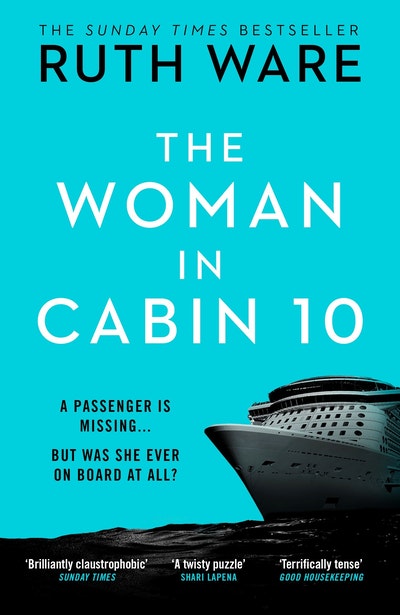 Published:

3 June 2021

ISBN:

9780099598237

Imprint:

Vintage

Format:

Paperback

Pages:

368

RRP:

$19.99
The Woman in Cabin 10
---
---
---
THE SUNDAY TIMES & NEW YORK TIMES BESTSELLER
A passenger is missing. But was she ever on board at all?
From the bestselling author of Richard and Judy pick In A Dark, Dark Wood comes Ruth Ware's next compulsive page-turner
'Reads like Agatha Christie got together with Paula Hawkins to crowdsource a really fun thriller' Stylist
A PASSENGER IS MISSING...BUT WAS SHE EVER ON BOARD AT ALL?
This was meant to be the perfect trip. The Northern Lights. A luxury press launch on a boutique cruise ship.
A chance for travel journalist Lo Blacklock to recover from a traumatic break-in that has left her on the verge of collapse.
Except things don't go as planned.
Woken in the night by screams, Lo rushes to her window to see a body thrown overboard from the next door cabin. But the records show that no-one ever checked into that cabin, and no passengers are missing from the boat.
Exhausted and emotional, Lo has to face the fact that she may have made a mistake - either that, or she is now trapped on a boat with a murderer...
_________________
Praise for THE WOMAN IN CABIN 10:
' Scary and unsettling, it's' edge-of-your-seat stuff' The Sun
'A tense, moody drama set on a press trip that goes horribly wrong... a brilliantly claustrophobic setting' Sunday Times
'A twisty puzzle' Shari Lapena
'Terrifically tense' Good Housekeeping
Published:

3 June 2021

ISBN:

9780099598237

Imprint:

Vintage

Format:

Paperback

Pages:

368

RRP:

$19.99
Praise for The Woman in Cabin 10
Agatha Christie meets The Girl on the Train in this stupendously good read… Scary and unsettling, it's edge-of-your-seat stuff

Sun on Sunday
A tense, moody drama set on a press trip that goes horribly wrong… Ware has produced a fantastic variation on the woman-in-peril theme, with a plucky protagonist and a brilliantly claustrophobic setting

Joan Smith, Sunday Times
A rollicking page-turner that reads like Agatha Christie got together with Paula Hawkins to crowdsource a really fun thriller

Stylist
A fantastic read. A fog-enshrouded cruise ship, a twisty puzzle of a murder mystery reminiscent of Agatha Christie, and unrelenting suspense. Batten down the hatches and prepare to read it in one sitting!

Shari Lapena, author of The Couple Next Door
The Woman in Cabin 10 is an edge-of-your-seat thriller full of great characters and twists

Reese Witherspoon
[It] channels Agatha Christie's murders at sea in a satisfying contemporary direction.

Mark Lawson, Guardian, Book of the Year
Taut and provocative

Independent
With a flawed but likeable heroine, and a fast moving plot, it makes for a stylish thriller

Sunday Mirror
A claustrophobic story of paranoia and deception

Metro
This atmospheric thriller will have you gripped

Closer
Agatha Christie meets Gone Girl

Stellar
Terrifically tense

Good Housekeeping
Ware's virtues are gloriously old-fashioned: an ability to combine a sense of menace with the lightness of touch...and sharp prose.

Sunday Express
I absolutely swallowed it whole; she takes that classic golden-age premise of a locked room and turns it into something completely right for the twenty-first century

Erin Kelly
A deeply intriguing slow-burn mystery that has you wondering if anyone can be trusted. Ware draws you in deep and holds you tight until the very end. Fantastic

S.J.I. Holliday
A claustrophobic page-turner that'll have you suspecting everyone. Agatha Christie for the Whatsapp generation

Tammy Cohen, author of When She Was Bad
The Woman in Cabin 10 is a deliciously compulsive read. At once up-to-the-minute and timeless, it blends classic suspense writing with twenty-first-century twists and turns. A book to keep you reading late into the night and leave your mind and pulse racing long after the final page

Ann Morgan, author of Beside Myself
A compelling thriller… It gave me nightmares – but only in the way a juicy thriller ought to do.

Running in Heels
All the glamour of Agatha Christie's Murder on the Orient Express with a titanic dose of intrigue and mystery… fast and addictive and will keep you guessing until the very end

T.R. Richmond, author of What She Left
A dark and gripping thriller that will enchant readers

Sarah Ward, author of In Bitter Chill
A tense, twisty delight that powers along at a heart rattling pace

Angela Clarke, author of Follow Me
Agatha Christie-style whodunit… With a flawed but likeable heroine, and a fast moving plot, it makes for a stylish thriller.

Deirdre O'Brien, Sunday Mirror
[An] engrossing holiday read.

Breda Brown, Irish Independent
I was absolutely gripped the whole way through the book, and I couldn't go to sleep until I found out how it ended! I definitely recommend it!

Milk and Nappies
If you know someone that loved Gone Girl or The Girl on the Train then this is certainly the book for them. This was a holiday read for me a few months back and it really gripped me.

Makeup Savvy, Book of the Year
If you like your thrillers pacy, intriguing and well handled, then The Woman in Cabin 10is a good option… A catchy, captivating mystery.

Sunday Business Post, Book of the Year
Agatha Christie meets The Girl on the Train in this stupendously good read… Scary and unsettling, it's edge-of-your-seat stuff

Sun on Sunday
A tense, moody drama set on a press trip that goes horribly wrong… Ware has produced a fantastic variation on the woman-in-peril theme, with a plucky protagonist and a brilliantly claustrophobic setting

Joan Smith, Sunday Times
A rollicking page-turner that reads like Agatha Christie got together with Paula Hawkins to crowdsource a really fun thriller

Stylist
A fantastic read. A fog-enshrouded cruise ship, a twisty puzzle of a murder mystery reminiscent of Agatha Christie, and unrelenting suspense. Batten down the hatches and prepare to read it in one sitting!

Shari Lapena, author of The Couple Next Door
The Woman in Cabin 10 is an edge-of-your-seat thriller full of great characters and twists

Reese Witherspoon
[It] channels Agatha Christie's murders at sea in a satisfying contemporary direction.

Mark Lawson, Guardian, Book of the Year
Taut and provocative

Independent
With a flawed but likeable heroine, and a fast moving plot, it makes for a stylish thriller

Sunday Mirror
A claustrophobic story of paranoia and deception

Metro
This atmospheric thriller will have you gripped

Closer
Agatha Christie meets Gone Girl

Stellar
Terrifically tense

Good Housekeeping
Ware's virtues are gloriously old-fashioned: an ability to combine a sense of menace with the lightness of touch...and sharp prose.

Sunday Express
I absolutely swallowed it whole; she takes that classic golden-age premise of a locked room and turns it into something completely right for the twenty-first century

Erin Kelly
A deeply intriguing slow-burn mystery that has you wondering if anyone can be trusted. Ware draws you in deep and holds you tight until the very end. Fantastic

S.J.I. Holliday
A claustrophobic page-turner that'll have you suspecting everyone. Agatha Christie for the Whatsapp generation

Tammy Cohen, author of When She Was Bad
The Woman in Cabin 10 is a deliciously compulsive read. At once up-to-the-minute and timeless, it blends classic suspense writing with twenty-first-century twists and turns. A book to keep you reading late into the night and leave your mind and pulse racing long after the final page

Ann Morgan, author of Beside Myself
A compelling thriller… It gave me nightmares – but only in the way a juicy thriller ought to do.

Running in Heels
All the glamour of Agatha Christie's Murder on the Orient Express with a titanic dose of intrigue and mystery… fast and addictive and will keep you guessing until the very end

T.R. Richmond, author of What She Left
A dark and gripping thriller that will enchant readers

Sarah Ward, author of In Bitter Chill
A tense, twisty delight that powers along at a heart rattling pace

Angela Clarke, author of Follow Me
Agatha Christie-style whodunit… With a flawed but likeable heroine, and a fast moving plot, it makes for a stylish thriller.

Deirdre O'Brien, Sunday Mirror
[An] engrossing holiday read.

Breda Brown, Irish Independent
I was absolutely gripped the whole way through the book, and I couldn't go to sleep until I found out how it ended! I definitely recommend it!

Milk and Nappies
If you know someone that loved Gone Girl or The Girl on the Train then this is certainly the book for them. This was a holiday read for me a few months back and it really gripped me.

Makeup Savvy, Book of the Year
If you like your thrillers pacy, intriguing and well handled, then The Woman in Cabin 10is a good option… A catchy, captivating mystery.

Sunday Business Post, Book of the Year