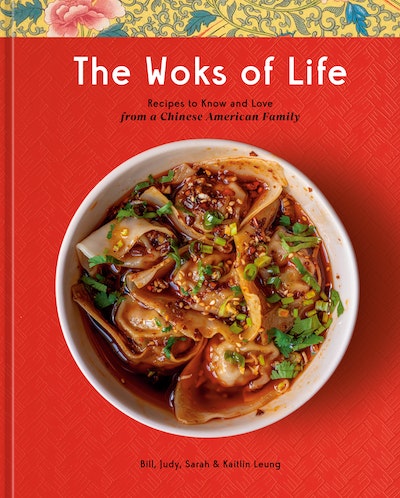 Published:

15 December 2022

ISBN:

9780593233894

Imprint:

Clarkson Potter/Ten Speed

Format:

Hardback

Pages:

320

RRP:

$59.99
The Woks of Life
Recipes to Know and Love from a Chinese American Family
---
---
NEW YORK TIMES AND USA TODAY BESTSELLER • PUBLISHERS WEEKLY STARRED REVIEW • "The Woks of Life did something miraculous: It reconnected me to my love of Chinese food and showed me how simple it is to make my favorite dishes myself."—KEVIN KWAN, author of Crazy Rich Asians
The family behind the acclaimed blog The Woks of Life shares 100 of their favorite home-cooked and restaurant-style Chinese recipes in "a very special book" (J. Kenji López-Alt, author of The Food Lab and The Wok)
ONE OF THE TEN BEST COOKBOOKS OF THE YEAR: San Francisco Chronicle, Simply Recipes
ONE OF THE BEST COOKBOOKS OF THE YEAR: The New York Times, Food & Wine, NPR, Smithsonian Magazine, Delish, Epicurious
This is the story of a family as told through food. Judy, the mom, speaks to traditional Chinese dishes and cultural backstory. Bill, the dad, worked in his family's Chinese restaurants and will walk you through how to make a glorious Cantonese Roast Duck. Daughters Sarah and Kaitlin have your vegetable-forward and one-dish recipes covered—put them all together and you have the first cookbook from the funny and poignant family behind the popular blog The Woks of Life.
In addition to recipes for Mini Char Siu Bao, Spicy Beef Biang Biang Noodles, Cantonese Pork Belly Fried Rice, and Salt-and-Pepper Fried Oyster Mushrooms, there are also helpful tips and tricks throughout, including an elaborate rundown of the Chinese pantry, explanations of essential tools (including the all-important wok), and insight on game-changing Chinese cooking secrets like how to "velvet" meat to make it extra tender and juicy.
Whether you're new to Chinese cooking or if your pantry is always stocked with bean paste and chili oil, you'll find lots of inspiration and trustworthy recipes that will become a part of your family story, too.
Published:

15 December 2022

ISBN:

9780593233894

Imprint:

Clarkson Potter/Ten Speed

Format:

Hardback

Pages:

320

RRP:

$59.99
Praise for The Woks of Life
"For years, Bill, Judy, Sarah, and Kaitlin have been my go-to source for recipes and techniques that have roots firmly planted in Chinese tradition but with a uniquely American experience and voice. Their intergenerational approach makes The Woks of Life unique in its ability to inspire and educate, with an eye toward practicality and usefulness. This is a very special book."—J. Kenji López-Alt, author of The Food Lab and The Wok "The Woks of Life blog has been one of my absolute favorites for years—I am so excited to have the book in my kitchen! These recipes are not only delicious, but they make me excited to try new dishes and bring my family together to experience new flavors. The Leung family goes above and beyond in this book to help home cooks by explaining everything from cooking tools to pantry staples, and even providing QR codes to reference certain techniques you may not be familiar with. I cannot wait to cook through this book with my family!"—Alex Snodgrass, New York Times bestselling author of The Defined Dish and The Comfortable Kitchen "For years I was a fan, cooking many of the Leung family favorites for my loved ones. Then I became a friend when the whole gang generously agreed to come on one of my shows. We cooked all day and shared a meal I will never forget. This book allows everyone to get in the kitchen and effortlessly start cooking well-researched and delicious recipes while enjoying the personalities and tastes of Judy, Bill, Sarah, and Kaitlin. The Woks of Life cookbook is a must for any food lover."—Andrew Zimmern "Like so many of my friends that cook, The Woks of Life is one of the first places I go when I need a recipe that I know will be as knowledgeable as it is usable. Having a whole printed book of recipes to cook through at last is such a gift—I cannot find a single recipe in this book that doesn't entice me to cancel all of my plans and spend my evening cooking instead."—Deb Perelman, author of Smitten Kitchen Keepers "The Leung family, creators of The Woks of Life blog, have been my go-to source when I want to make everything from fried rice and scallion pancakes to spicy chili wontons and sesame-slicked Shanghai noodles. With clear instructions and step-by-step photos, anyone, anywhere, can make authentic and delicious Chinese food at home. I'm thrilled to have all their best recipes in one beautiful book!"—David Lebovitz, author of My Paris Kitchen & Drinking French "The Woks of Life became a staple resource for our family when we moved away from home and embarked on re-creating the flavorful memories of our childhood. Complete with takeout favorites, quick weeknight dinners, approachable recipes for dim sum specialties, and sweet treats, the Leungs' cookbook shares their expertise at weaving tradition with modern techniques that speak to the Chinese American experience. Even more, they equip you with all you need to outfit your pantry with every sauce, spice, and kitchen tool to create authentic flavors (and wok hei!) that are sure to impress."—Lena and Mei Lum, Wing on Wo & Co
Article
Article
Walnut Shrimp
Learn how to spice up your prawns with this tasty dish.
Article