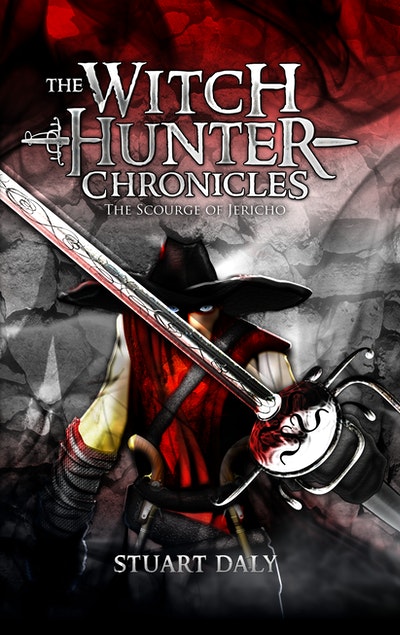 Published:

1 July 2011

ISBN:

9781742750538

Imprint:

Random House Australia

Format:

EBook

Pages:

292
The Witch Hunter Chronicles 1: The Scourge Of Jericho
---
---
---
Matthew Reilly meets Van Helsing in this insanely, relentlessly fast-paced series about the witch hunters who protect us from the forces of evil - any way they can. No reprieve, no surrender. This is the Hexenjäger.
It is 1666, and the forces of darkness are spreading across Europe. Dreaming of wielding a blade in epic battles like the father he never knew, Jakob von Drachenfels falsifies a letter of introduction to join the Hexenjäger - an elite military order of witch hunters. He soon learns a lesson in the dangers of ambition when he finds himself selected for a team sent to recover a biblical relic from a witch-infested castle. But when the team is betrayed from within, what was already a difficult mission turns into a desperate struggle for survival.
Epic battles, impossible quests, enemies on all sides, witch hunting and demon slaying . . . Strap on your swords for one hell of a ride.
Published:

1 July 2011

ISBN:

9781742750538

Imprint:

Random House Australia

Format:

EBook

Pages:

292
Praise for The Witch Hunter Chronicles 1: The Scourge Of Jericho
Back in the 19th century, Alexandre Dumas wrote some cracking good novels set in the 17th century, filled with sword fights, treason, spies and all kinds of good blokey fun stuff ... Stuart Daly takes us back to that time but pumps up the action. This is Dumas on steroids … Once this book takes off it never lets the reader go, with witches, demons and spies.

Troy Lennon, Daily Telegraph
The Witch Hunters Chronicles has started off with a bang in The Scourge of Jericho. Readers who crave action and adventure will eat this up and it's recommended for ages 10 and over.

Oliver Phommavanh, Buzz Words Books
Spoonful after spoonful of adrenaline-pumping action … Imagine a protein bar in the form of a fantasy book, and you pretty much have The Scourge of Jericho … I would highly recommend this book for boys between the ages of 12-16 who enjoy a good fantasy, and a whole slice of action on the side.

Duncan, Lindfield Bookshop
A magnificent read … The suspense and action grew and it kept me reading to find out what would happen next. I loved the main character, Jakob, because he explained things that happened to him so clearly that it felt like I was right beside him on his adventures.

Kieran, Year 7, www.littlebookroom.com.au
Imagine a Matthew Reilly blockbuster mixed with sword-wielding men fighting witches and demons. It is a great read, laden with cliffhangers at the end of each chapter, double agents and twists and miraculous escapes from certain death … Recommended.

Fiction Focus
From the moment I picked up this first entry in the Witch Hunter Chronicles I was hooked … I read it in one sitting because of its breakneck pace, and can highly recommend it to any readers wanting an action-packed novel with a bit of a darker side.

Holly Harper, http://www.readings.com.au